Swiss WorldCargo, Sonoco announce global master lease agreement
Deal paves way for pharmaceutical freight forwarders to access Pegasus ULD fleet directly through Swiss WorldCargo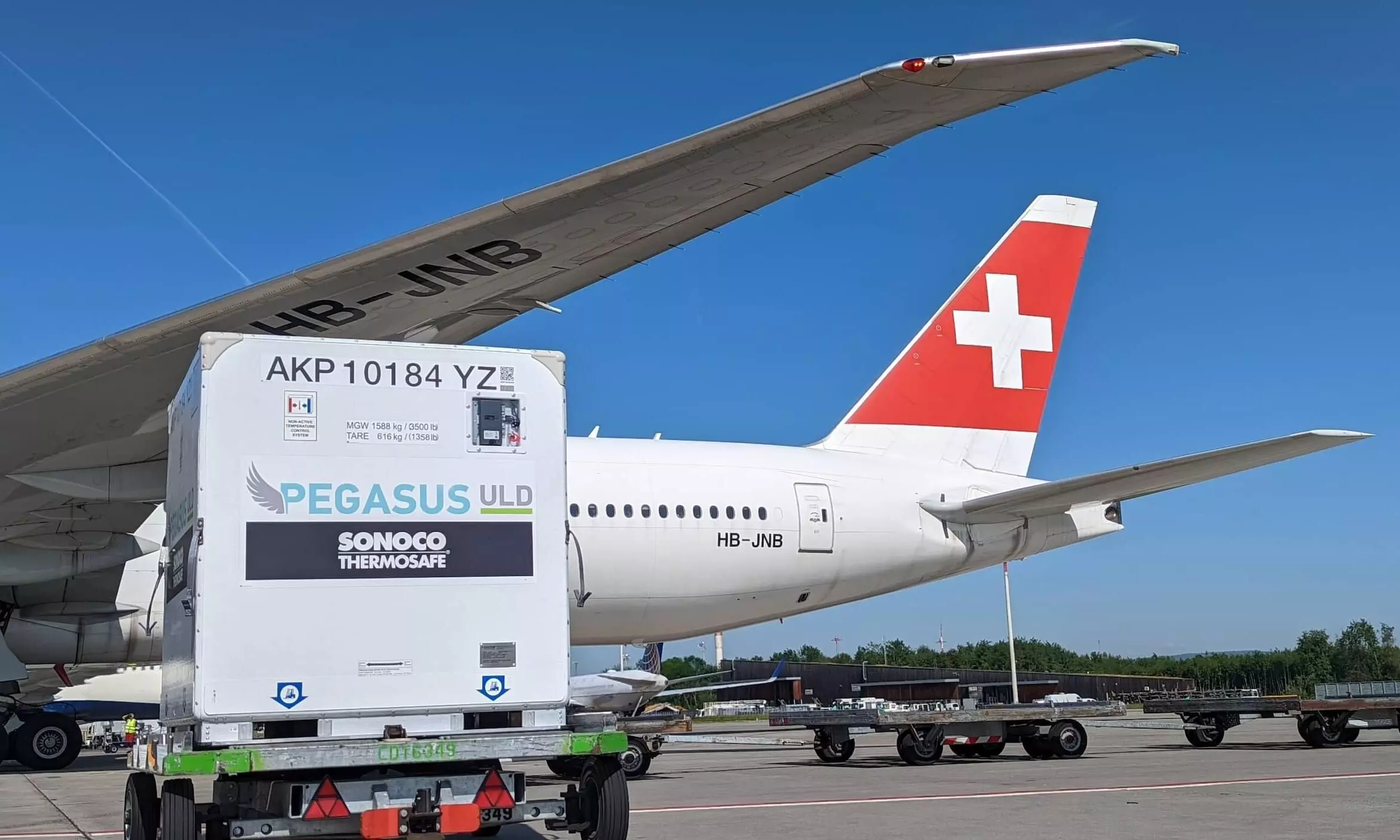 Swiss WorldCargo and Sonoco ThermoSafe have signed a global master lease agreement for the deployment of Sonoco ThermoSafe's innovative Pegasus ULD temperature-controlled bulk shipping container.
The collaboration paves the way for pharmaceutical freight forwarders to access the Pegasus ULD fleet directly through Swiss WorldCargo as of winter timetable 2023/2024, further enhancing the safe and efficient transportation of customers' cargo shipments, says a release from Swiss WorldCargo.
"Sonoco ThermoSafe's Pegasus ULD represents a modern, FAA and EASA-approved solution that enables cost-effective international airfreight handling and customs processes. With the creation of their Pegasus ULD with composite materials, Sonoco ThermoSafe is showcasing a strong commitment to sustainability, offering a solution that is both lighter and more damage-resistant compared to traditional metal containers. Additionally, the container incorporates a fully integrated, FAA-approved telemetry system, providing real-time, cloud-based data on payload, ambient temperature, and other critical environmental factors, all precisely synchronised with GPS location."
Bourji Mourad, Director, Global Logistics and Partner Management, Sonoco ThermoSafe's Bulk Rental Group says: "We are excited to partner with Swiss WorldCargo. Healthcare companies and their logistics providers can access the Pegasus ULD fleet via Swiss WorldCargo's extensive global network and through their branded products SWISS Pharma & Healthcare, General Cargo and Perishables. We are delighted that the Pegasus ULD will offer a unique choice for pharma shippers as a one-of-a-kind advanced passive Temperature Controlled Container (TCC)."
Christian Wyss, Head, Cargo Offering Development and Steering, Swiss WorldCargo adds: "Our Swiss Pharma and Healthcare product has been highly refined to meet the evolving demands of our customers when it comes to pharmaceutical consignments. We look forward to offering the Pegasus ULD as part of our transportation/temperature solutions for rental, ensuring further safe and efficient transport of time- and temperature-sensitive healthcare freight."