Zurich and Stockholm Arlanda airports get CSafe Global service centres
Nov 27, 2019: CSafe Global has expanded into Europe by opening two new technical service centres – one at the Zurich Airport (ZRH) in Switzerland and one at the Stockholm Arlanda Airport (ARN) in Sweden. The new centres strengthen CSafe Global's existing cold chain service offerings within the EU. The new Swiss and Swedish service […]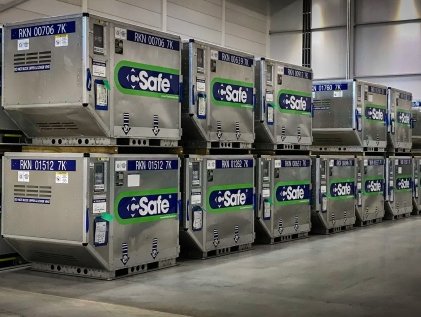 Nov 27, 2019: CSafe Global has expanded into Europe by opening two new technical service centres - one at the Zurich Airport (ZRH) in Switzerland and one at the Stockholm Arlanda Airport (ARN) in Sweden. The new centres strengthen CSafe Global's existing cold chain service offerings within the EU.
The new Swiss and Swedish service centre facilities will ensure that CSafe's innovative CSafe RKN and CSafe RAP active temperature-controlled containers are operating at peak system performance, keeping temperatures precisely where they need to be for vital shipments of pharmaceuticals as they are transported to patients around the world.
Earlier this month, CSafe Global opened a new service centre at China's Shanghai Pudong International Airport (PVG).
"As part of our continuing commitment to deliver value, effective, and quality temperature-sensitive shipping solutions to our customers across Europe, we opened the ZRH and ARN service centres to support the increasing demand for CSafe containers. We are certainly proud of CSafe's unprecedented growth and the expansion of our active container fleet by almost 100% over the past 24 months," said Tom Weir, VP of global operations at CSafe.
The new Zurich and Stockholm service centres will further strengthen CSafe's commitment to deliver on its promise of protecting what matters most to pharmaceutical companies, so patients can receive what matters most to them.
"We have more than enough capacity with our active fleet to continue with our accelerated growth strategy to expand geographically and serve our global customers with the most innovative temperature-controlled containers available," added Weir.
CSafe Global opens new service centers in Europe to meet soaring demand for CSafe active containers #KeepitCSafe https://t.co/pt9XVuqX2X pic.twitter.com/w68SC8tcE3

— CSafe Global (@CSafeGlobal) November 26, 2019