Yusen Logistics unveils new logistics center in Myanmar
July 14, 2017: Yusen Logistics has opened a new logistics center named Thilawa Logistics Center in the Thilawa Special Economic Zone (SEZ) in Myanmar.The event was attended by Thilawa SEZ Management Committee Vice Chairman Cho Cho Win; Ambassador Extraordinary and Plenipotentiary Embassy of Japan in Myanmar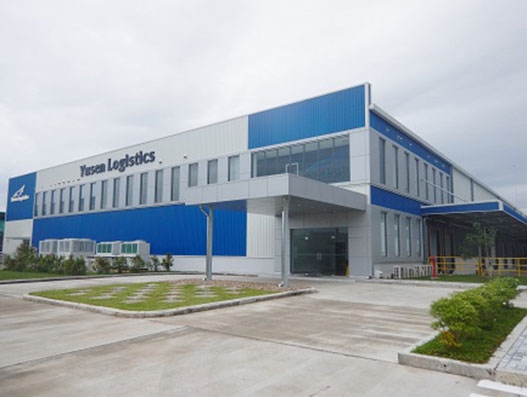 July 14, 2017: Yusen Logistics has opened a new logistics center named Thilawa Logistics Center in the Thilawa Special Economic Zone (SEZ) in Myanmar.
The event was attended by Thilawa SEZ Management Committee Vice Chairman Cho Cho Win; Ambassador Extraordinary and Plenipotentiary Embassy of Japan in Myanmar Tateshi Higuchi; Myanmar Japan Thilawa Development Limited (MJTD) Chairman Thein Han; Mitsubishi Corporation Chief Representative for Myanmar Mitsuo Ido, Yusen Logistics.; Kenji Mizushima; Yusen Logistics (Myanmar) President Yasuhiko Nojima; and Yusen Logistics (Thilawa) President Tatsuhiko Saeki.
This logistics center will be a cornerstone of our logistics business in Myanmar and an important part of our global network including the connection to surrounding countries, said Kenji Mizushima, President, Yusen Logistics. We can provide full logistics service from this center which has 6,300 ?of warehouse space, including temperature control and bonded areas, together with an assembled vehicles yard area. We will contribute to the development of the Myanmar economy by providing high quality logistics service that meet our customer needs.
The logistics facility is in the Thilawa SEZ in Yangon District, covering an area of approximately 6,300m2 out of a total area of 30,000 sq.m. Within the facility there will be temperature-controlled storage areas offering four temperature settings of -20°C, 5°C, 15–20°C, as well as room temperature. There will also be an assembled vehicles yard area to carry out logistics services related to assembled vehicles such as vehicle storage, pre-delivery inspections, and customs procedures. Yusen Logistics will use this facility as a base to offer a variety of storage and delivery methods for cross-border trade between Thailand and Myanmar. With the new facility, Yusen Logistics Thilawa will deliver supply chain logistics services that meet its customer needs in Myanmar.