Yusen Logistics equips its Shanghai Pudong airport warehouse with ULD Elevating Platform System
September 1, 2017: Yusen Logistics (China) has established a ULD Elevating Platform System with lifting functions, inside its Shanghai Pudong International Airport warehouse. It commenced import freight operations with the new facilities on July 10. As part of its new system, Guard Plates have been erected around the ULD unloading area and truck station. This […]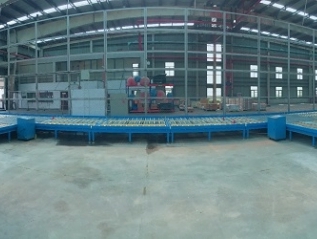 September 1, 2017: Yusen Logistics (China) has established a ULD Elevating Platform System with lifting functions, inside its Shanghai Pudong International Airport warehouse. It commenced import freight operations with the new facilities on July 10.
As part of its new system, Guard Plates have been erected around the ULD unloading area and truck station. This will prevent cargo damage from any mistakes made during the operation of trucks and forklifts. The new ULD Elevation Platform System eliminates the work in high places, which results in extremely safe and efficient operations and enables us to improve the quality of our entire service through the swift and smooth handling.
Previously, they carried out unloading and sorting operations from ULDs after arriving at the airport, and delivered it to customers in a high-quality process. Also, unloading operations required to use stepladders for work in high places and took a lot of time.
"Our Group Long-Term Vision "TRANSFORM 2025", defines the Area Theme for the East Asia Region as "Expand international freight forwarding business aiming to be one of top class forwarders."
"Yusen Logistics (China) is proceeding with the expansion of its ocean and freight forwarding services. By carrying out high-quality operation at Shanghai Pudong International Airport, which is a main location in Asia, we aim to improve our services and provide a supply chain logistics service that utilize of our global network," says the company through a statement.