Yusen Logistics Benelux to complete construction of new automated warehouse by Dec 2020
January 06, 2020: To meet the increasing demand, Yusen Logistics Benelux is further expanding its pharma facilities. Adjacent to the existing warehouse, Yusen will construct an efficient, sustainable and semi-automated 17-metre-high warehouse. This new warehouse will have an ambient temperature level (15-25°C) and a storage capacity of more than 13,000 pallets and it will fully […]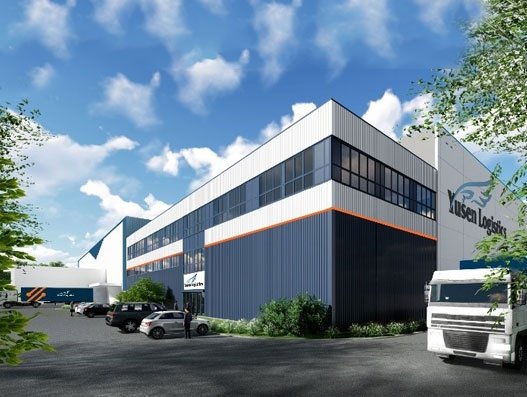 January 06, 2020: To meet the increasing demand, Yusen Logistics Benelux is further expanding its pharma facilities. Adjacent to the existing warehouse, Yusen will construct an efficient, sustainable and semi-automated 17-metre-high warehouse. This new warehouse will have an ambient temperature level (15-25°C) and a storage capacity of more than 13,000 pallets and it will fully comply with the European GDP regulations for storage and handling of pharmaceutical products.
The construction of the new warehouse will be directed by Takenaka Europe GmbH, Belgium Branch, in collaboration with local construction companies and suppliers. This complex project will take more than a year to realise. Preparations have already started: delivery and commissioning of the warehouse are planned for December 2020. The daily logistics operations on the Yusen Antwerp Logistics Campus will continue as normal. In order to support growth in the interim, Yusen has secured an additional temporary warehouse capacity of approximately 10,000 square metre in the city of Bornem.
The new 'smart warehouse' will operate almost completely autonomously: it will feature a 'narrow aisle racking' installation with induction-driven, unmanned trucks that locate the correct pallet through sensor-controlled positioning. This automation brings the great advantage that the warehouse will be operational 24×7, and it can be deployed extremely flexible. It also allows maximum throughput speed of pallets with minimum human error, reducing the risk of damage and accidents.
In 2018, Yusen Logistics Benelux opened its Antwerp Healthcare Center on Yusen's Antwerp Logistics Campus. The 8,000 square metre GDP-certified pharma warehouse, equipped with both cold store (2-8 °C) and ambient storage (15-25°C), soon reached its maximum storage capacity.
With the new warehouse included, Yusen Logistics has approximately 65,000 square metre of warehouse capacity on its Antwerp Logistics Campus. The various warehouses on the campus are specifically designed for the storage of products from customers in the automotive, hi-tech, retail & fashion and pharma & healthcare industries. For the latter in particular, the Yusen campus offers extensive GDP-certified facilities, including conditioned storage facilities at various temperature levels, freezer units, narcotics units and spaces for value-added services such as quality control.
Bruno Jacques, MD of Yusen Logistics Benelux commented: "This new project underlines our strategy to further develop the pharma and healthcare activities in Europe. We offer our customers extra value in their logistics chain through an increased focus on quality, lead times, service offering and cost-efficiency. We are grateful to our customers for their confidence in our services and for trusting us with their products. I look forward to working with all the parties involved to make this new project a huge success!"
The Antwerp Logistics Campus is a strategic hotspot for Yusen Logistics – at the Benelux and European levels for import and export flows, worldwide air and sea freight in combination with extensive road network connections for transit to destinations throughout Europe.