YOAC's new fibre optic plant is operational in Dube TradePort
<p id="yui_3_16_0_ym19_1_1481905280106_13736" class="yiv7752599942MsoNormal" style="text-align: justify;">Dec 16, 2016: Yangtze Optics Africa Cable's (YOAC), new R 150 million optical fibre cable manufacturing and distribution facility located within Dube TradePort Special Economic Zone is operational after just six months of construction, and just one year after its first meeting with Dube TradePort, Southern Africa's premier air logistics platform.</p> […]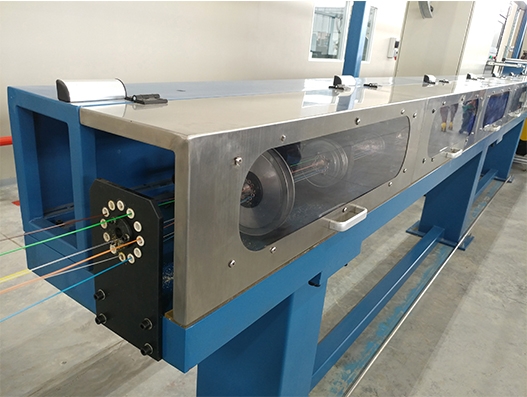 Dec 16, 2016: Yangtze Optics Africa Cable's (YOAC), new R 150 million optical fibre cable manufacturing and distribution facility located within Dube TradePort Special Economic Zone is operational after just six months of construction, and just one year after its first meeting with Dube TradePort, Southern Africa's premier air logistics platform.
The new facility has commenced functional testing of its production lines ensuring that they meet the international standards set by parent company Yangtze Optical Fibre and Cable (YOFC), before commercial production begins in early 2017.
The new facility is set to boost local manufacturing of a range of new generation optical fibre cable products for the South African ICT market, with an envisaged manufacturing capacity of more than one million kilometres optical fibre cable annually.
YOAC will play a significant role in enabling South Africa's development of a sustainable broadband future. This is especially important, given the demand as cellular operators migrate to 4G and LTE.
Sihle Zikalala, KwaZulu-Natal MEC for Economic Development, Tourism and Environmental Affairs, said, "In line with the National Development Plan goals, the government has set itself a target of achieving 100 percent broadband penetration and the deployment of a full range of government, educational and information services by 2030. This has given us the impetus, to commit ourselves to continue to drive the mass rollout of ICT infrastructure. ICT is an area where we have already invested millions towards various initiatives that are aimed at empowering all South Africans by improving access within the public and private sector, and in doing so we recognise the developmental challenges that face our country. These challenges have led us to focus on how we ensure that we don't leave any of our citizens behind, ensuring that we all have the opportunity to participate in the digital economy."
It is estimated that South Africa has around five million copper lines; under the government's National Development Plan, 180 000 kilometre of fibre optics broadband will be rolled out during the first phase of the programme, 160 000 kilometre of that has already been implemented.
KwaZulu-Natal has also accelerated access to broadband connectivity across the province. Since last year, just over 14 000 kilometre fibre optic cable has been put in place, which currently connects hospitals, including 119 clinics and 1,624 schools in the province.
In addition to this, the province has initiated another project that seeks to establish Wi-Fi hotspots in strategic areas across the province, including previously disadvantaged communities an example of this is the 250 planned wireless hotspots, which will be spread across the eThekwini Municipality in places like KwaMashu, Ntuzuma, Umlazi, the Durban CBD and Pinetown.
Hamish Erskine, CEO, Dube TradePort Corporation, remarked, "The opening of this world class optical fibre cable manufacturing facility is a part of Dube TradePort's strategy to attract a cluster of electronics manufactures into the Special Economic Zone. This strategic location will allow Yangtze Optics Africa Cable to service their local, regional and international clients through King Shaka International Airport, which has over 900 connections to destinations; while at the same time the strategy creates further opportunities for local jobs."
When fully operational in 2017, the multi-million Rand manufacturing facility will create sustainable jobs for 100 people in the surrounding communities of Inanda, Ntuzuma, KwaMashu, Phoenix, Ottawa and Waterloo.
This is in addition to the high-level technical skills development, which is the hallmark of Yangtze Optics Africa's skill development programme that will take place over the next four years.