Yet another urso makes its way from Salvador to Sao Paulo aboard LATAM Cargo
Oct 9, 2019: After moving two brown ursos from Fortaleza to Sao Paulo in August of this year, LATAM Cargo Brazil has transported one more bear on October 6. This time, the animal was shipped from the Salvador airport to Sao Paulo in association with the Brazilian Institute of Environment and Renewable Natural Resources (IBAMA). […]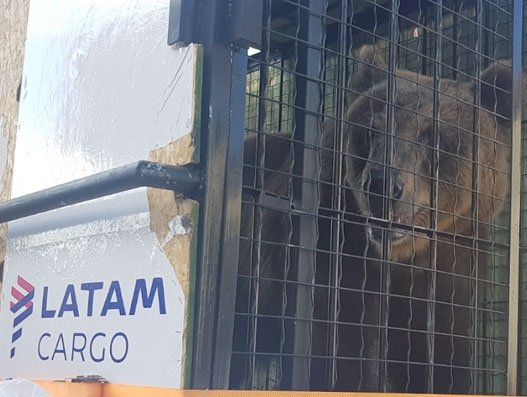 Oct 9, 2019: After moving two brown ursos from Fortaleza to Sao Paulo in August of this year, LATAM Cargo Brazil has transported one more bear on October 6. This time, the animal was shipped from the Salvador airport to Sao Paulo in association with the Brazilian Institute of Environment and Renewable Natural Resources (IBAMA). The animal will be taken to an ecological sanctuary in the inner area of Sao Paulo, where other two ursos already live.
For this trip, LATAM Cargo first transported the shipping box specially made for the transfer of this species. The box went from Sao Paulo to Salvador so the animal could travel safely. The bear journey was carried out in a model B767-300 aircraft with a total weight of more than 500 kg and was accompanied by veterinarians and specialists from the animal defense institute that will receive the animal in Sao Paulo.
The animal lived in the state of Sergipe and was transported by land to the Salvador airport, which has the capacity to receive larger aircraft, a necessary condition for the bear to be transported. The process of preparing the aircraft and boarding began 4 hours before the flight departure and involved more than 15 LATAM Cargo officials.
The bear will be received by the "Rancho dos Gnomos" Ecological Sanctuary Association (ASERG), a specialist in the preservation of wildlife that receives animals seized in caution and victims of mistreatment.
The partnership between LATAM Cargo Brazil and IBAMA began in 2009 and has already made possible the free transportation of more than 4,500 thousand animals in projects aimed at the preservation of Brazilian fauna.