X2 members jointly handle AOG air freight operations for Air Asia X
August 22, 2017: AGX a member of the x2 Logistics network has moved an AOG (Air on Ground) Shipment from all over the World simultaneously. The cargo move took place from different corners of the world at the same time — from Malaysia, Hong Kong, France, UK and USA handled by various X2 members. The […]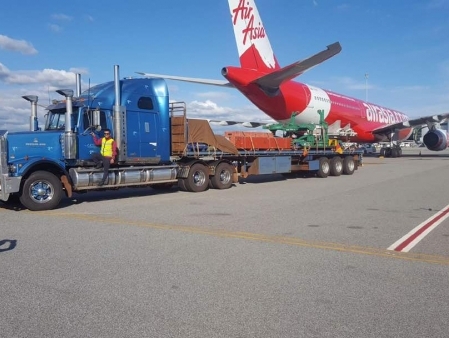 August 22, 2017: AGX a member of the x2 Logistics network has moved an AOG (Air on Ground) Shipment from all over the World simultaneously. The cargo move took place from different corners of the world at the same time — from Malaysia, Hong Kong, France, UK and USA handled by various X2 members.
The reason for this urgent collaboration was because an Air Asia X operated Airbus A330 was stuck in Perth due to a mid-flight engine failure. And all the replacement parts had to be sent from all over the world to Perth on an urgent basis to get the Aircraft back into service.
The experts at AGX chartered an Ilyushin Il-76 from Kuala Lumpur International Airport. The Ilyushin Il-76 is a multi-purpose four-engine turbofan strategic airlifter designed by the Soviet Union's Ilyushin design bureau. They also chartered a massive Boeing – 747 from Singapore. This was done to move the huge Trent 700 Rolls Royce Engine. The Trent 700 is a 3 Spool High Bypass Turbofan Aircraft Engine. The Trent 700 family powers the Airbus A330. It was definitely a massive move as the Trent 700 has a length and diameter of 5.639 m and 2.47 m respectively. It weights a tremendous 6,160 kg. This was an impressive move as the Trent 700 is listed at 23.25 million USD.
X2 Critical Member Royale international chartered another 747 from Hong Kong to move the engine nose cowl from Xiamen to Singapore, which was then picked up by team AGX to be delivered to Perth. The Nose cowl itself weighed a massive 11 tons. A major challenge faced during this move was that they needed to find space for such a heavy piece of equipment and that it had to travel on a freighter aircraft. Another challenge was the limited options of transfer into Perth.
X2 Elite Member Executive Air and Sea Logistics had to move the thrust reversals from the Charles De Gaulle Airport in France to Perth.
X2 elite and projects member JAG – UFS had to move every other single spare part and other spare equipment from the headquarters in London, the UK to the destination in Perth.
X2 Elite Member AWA moved the remaining spare parts and equipment from the headquarters in the US to the destination in Perth.
Key account manager for AGX Prabhu Raken said, "I want to thank and compliment the experts at Royale International, Executive Air & Sea, JAG-UFS, AWA and AGX Philippines. They did their best, and it was great to work with such professionals and looking forward to collaborating again soon."
X2 founder and CEO Richard Overton pointed out, "This is an amazing shipment, and what makes it even better is seeing multiple X2 Agents working together. This shows the level of professionalism within the X2 Network. And it is cases like this that make me proud of having started X2."