Worldwide air cargo capacity decreases by 1%: WorldACD
A lacklustre performance kept air cargo volumes tepid in November. In the last week of November (week 48), worldwide chargeable weight went down 2 per cent compared with the preceding week. We observe that three origin regions showed a decline in weight: Europe (-2 per cent), Central & South America (-3 per cent) and North America (-8 per cent). Thanksgiving clearly had an impact, both in volume and in capacity.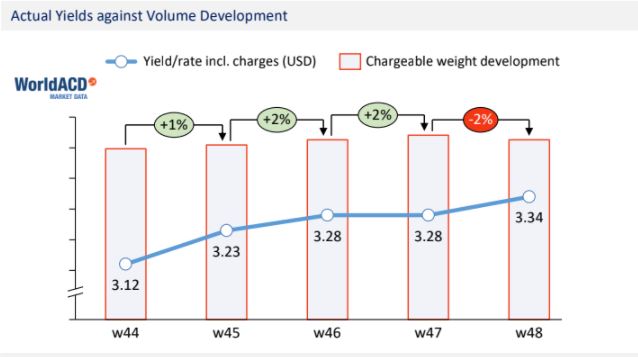 After three weeks of increases in worldwide capacity, week 48 bucked the trend with a week-on-week decrease of 1 per cent. Two origins still showed an increase: Middle East and South Asia (+1 per cent) and Africa (+4 per cent).
Last week, the WorldACD reported that the trend of five consecutive weeks of yield/rate increases was stopped in week 47, when the worldwide average remained at the same level as in week 46. In week 48, the worldwide yield/rate increased again: worldwide by 2 per cent, but by 7 per cent in the large market from China East to USA.