Wing begins first commercial drone deliveries in the US
Oct 21, 2019: On October 18, for the first time in the United States, drones completed scheduled commercial drone deliveries to homes in Christiansburg, Virginia. Google sister company Wing Aviation conducted the drone deliveries, as part of the US Department of Transportation's Unmanned Aircraft Systems Integration Pilot Programme (IPP). Wing's collaborators on this service — […]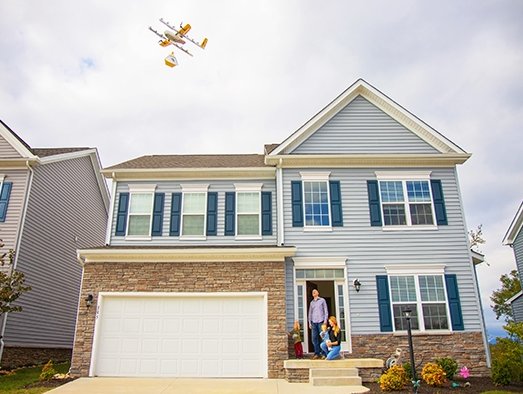 Oct 21, 2019: On October 18, for the first time in the United States, drones completed scheduled commercial drone deliveries to homes in Christiansburg, Virginia.
Google sister company Wing Aviation conducted the drone deliveries, as part of the US Department of Transportation's Unmanned Aircraft Systems Integration Pilot Programme (IPP).
Wing's collaborators on this service — FedEx Express, Walgreens, and local Virginia retailer Sugar Magnolia are the first businesses in the United States to offer this form of local air delivery to customers.
The first local drone delivery was of a FedEx Express package ordered by Christiansburg resident Paul Sensmeier. He ordered a birthday gift for his wife Susie. The last mile of the delivery, normally done by truck, was done via the Wing drone.
"We're always excited about new things," Paul told us. Wing's newness piqued their interest, as did the convenience: "It's not always easy getting up and getting out," says Susie. "Paul broke his leg in June. We know what it's like to feel stuck sometimes."
"Innovation has been part of the FedEx DNA since day one, and we are always looking for new and better ways to deliver the world to our customers' doorsteps," said Don Colleran, president & CEO of FedEx Express.
Nearby, in another first for unmanned aviation in the US, Michael Collver and his wife Kelly ordered a cough and cold pack from Walgreens.
"Usually, every time you need something like Tylenol, that's another car on the road," said Michael. "It's a hassle. With Wing, the kids love it, it keeps that car off the road, and it's good for the planet too."
Wing to conduct drone delivery tests in US with FedEx and Walgreens
Customers of FedEx who live within designated delivery zones in Christiansburg, Virginia, and who opt-in to the Wing delivery service, will be able to receive eligible packages via drone during the trial programme, provided certain operating conditions are met.
Wing's pilot programme also includes a collaboration with Walgreens, allowing programme participants to order health and wellness products through Wing's delivery app.
"Minutes after our customers order from the Wing app from Walgreens or local Virginia retailer Sugar Magnolia, our lightweight aircraft delivers directly to their homes. Similarly, customers can opt in to receive scheduled FedEx Express deliveries by drone. Upon arrival, the aircraft gently lowers the package to a small, designated location in the yard or driveway, before returning to Wing's "Nest" in North Christiansburg," informed Wing Aviation through a statement."
Flirting with cargo: Drones ready to deliver
Wing has received the first authorisation from the FAA to conduct scheduled, commercial drone package delivery to residences. Wing's FAA permissions are the first to allow multiple pilots to oversee multiple unmanned aircraft making commercial deliveries simultaneously to the general public, paving the way for the most advanced drone delivery service in the nation.
FedEx is also participating in the US DOT's Unmanned Aircraft System IPP in conjunction with the Memphis Shelby-County Airport Authority, conducting drone operations on airport property to generate data to help inform future UAS policymaking.