Why is air cargo grounded when the world needs it most?
As demand for air cargo is on the rise, red tapism is constraining aviation companies from meeting demand.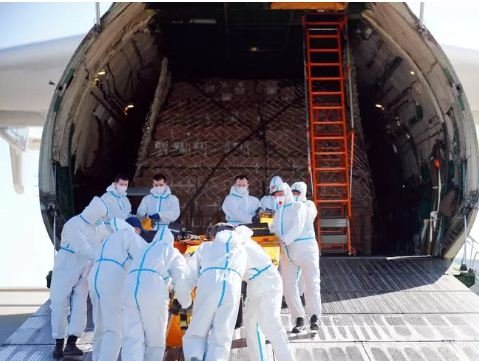 Back when things were "normal", passenger flights did much of the heavy lifting for the transport of air cargo. The vast passenger networks enabled the efficient distribution of the global supply chain to connect every corner of the globe and high-frequency schedules were able to meet the expectations for fast delivery from the booming e-commerce market.
New generation wide body planes have spacious bellyhold capacity: a passenger 777 can carry nearly 20 tonnes of belly cargo. The dedicated freighter version, the 777F, can hold around 100 tonnes overall. There is also an increasing prevalence of these widebodies in the global fleet, amounting to around 5,000 aircraft.
Airlines have been able to top up their passenger baggage load with significant cargo volume. But now with only around 20 percent of global widebody capacity in the air, the volume available for cargo on passenger flights is a fraction of "normal" and is resulting in a significant pinch on capacity.
The other 60 percent of annual global air cargo is usually moved around in dedicated freighter aircraft by freight forwarders and cargo operators. These cargo operations are primarily hub-focused and follow key trade routes, so are less comprehensive than passenger air networks.
Passenger fleets are helping to meet the shortfall
Amid the crisis, to supplement the continued cargo operations, airlines have been using their passenger aircraft fleets. This has been not only in the form of carrying sizeable cargo loads in the bellyhold on sparsely occupied passenger flights, but even dedicated cargo-only operations using these planes. Cargo is also loaded into the main cabin where it is distributed and balanced across the seats and secured with cargo netting. In some instances it has even involved the temporary conversion of the cabin by removing seats to create more useable space.
Around 20 airlines have undertaken the use of their passenger aircraft for dedicated cargo missions spanning the globe, including Delta, Qatar Airways and Cathay Pacific. These passenger aircraft are not only being operated by their respective airliners but are also being chartered by freight forwarders to boost their capacity. A positive side effect of these passenger-as-cargo operations is in keeping these aircraft flying, which minimizes the maintenance and operational effects of parked aircraft.
Low-occupancy flights and a low-fuel-price environment
Additionally, the favourable headwinds of a low-fuel-price environment has been easing some of the operational expenses of low-occupancy flights and of using less fuel efficient older and larger aircraft like the Boeing 747. Airframe manufacturers have also come to the table to offer up some capacity: Airbus transported 2.5 million face masks on flight test A330-800, while Boeing provided three Dreamlifters to transport critical supplies.
Despite these creative additions, there is still a shortfall in capacity or rather, access to capacity at a time when it is most needed. As the virus sweeps across the world, the task of dispersing essential supplies to virus hotspots is challenging. Excess medical supplies need to be moved from waning epicentres to developing ones. As production in China resumes, goods need to be dispersed to the world's supply chain.
The additional capacity needed sits with passenger aircraft collecting dust on unused airport runways and desert parking lots. The appetite to get these aircraft moving is significant, but what is lacking is a global market place to connect the supply and demand. So bottlenecks have formed and are constrained – not just by the capacity-access pinch – but from the lack of enabling environment for agile operations.
The coordination to date to match cargo supply and capacity demand has been time, labour and negotiation-intensive. It has been mostly undertaken through unilateral arrangements such as government-driven missions operated by their national carriers. There have also been some bilateral operator partnerships such as MASkargo and Ethiopian Airlines jointly operating a triangular route between Brussels, Dubai and Kuala Lumpur. But overall, efforts have been ad-hoc and de-centralized. This is setting aside other contentious considerations such as the prioritization of essential goods and competitive dynamics of pricing, with some concerns of price gouging being raised.
These challenges of mobilizing capacity and coordinating supply are only the start of the challenge. Next are the operational obstacles.
What are the operational obstacles to flying freight?
Before reaching the destination, operators face challenges including overflying regulations and charges, operational curfews of airports and fast-changing border restrictions. If the aircraft is allowed to land at the destination, then its crew is subject to destination regulations that are dynamic and unharmonized regarding testing and quarantine. Some operators have been faced with the tightened regulations upon arrival such as blanket 14-day quarantine for the entire crew.
There is the risk of losing not only the crew and aircraft for 14 days, but also the cargo to be moved. A two-week delay for essential supplies is clearly unacceptable. Airlines are lobbying for governments to respond with practical exemptions to these regulations such as exempting flight crew who do not interact with public from the quarantine regulations, supporting temporary traffic rights for cargo operations and fast-track procedures for overflight and landing permits.
These obstacles highlight the challenge for just one mission. Applying this to a global scenario shows a shortfall of timeliness and also scale. Looking ahead to the post-crisis world when passenger travel can resume at scale, it will face similar challenges: non-harmonized policies, differing national regulations and uncoordinated border restrictions.
What's next for aviation and how can cargo operations offer a model?
If this is a glimpse into the resumption of passenger air services, it is very concerning. There is an opportunity now to use cargo operations as a model for the resumption of passenger travel. It could serve as a pilot for the types of conversations and coordination needed by industry and government to enable a return to normal. The need is clear. If the aviation industry is to rebound and if the world is to benefit from air operations, the approach must be coordinated. Industry and governments must cooperate to establish responsive and adaptable policies. The constricting red tape needs to be replaced with elastic to create a system that has flexibility, that can be stretched without breaking and can rebound after the tension is relaxed.
This piece has been written by Isobel Fenton, Platform Curator, Aviation & Aerospace, World Economic Forum
Disclaimer: The views expressed in this article are those of the author alone and not the World Economic Forum or that of STAT Media Group.