FROM MAGAZINE: Who is changing the game for air cargo?
Up until five years ago, the air cargo industry was considered less digitally mature than other sectors marked by rigid legacy systems. But with the onset of Industry 4.0, innovation is on every business manager's agenda and exciting changes are transforming this industry. Also, as consumer habits change and customer expectations grow, clients demand end-to-end […]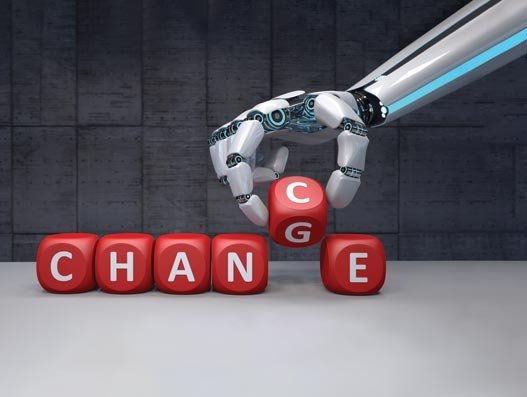 Up until five years ago, the air cargo industry was considered less digitally mature than other sectors marked by rigid legacy systems. But with the onset of Industry 4.0, innovation is on every business manager's agenda and exciting changes are transforming this industry. Also, as consumer habits change and customer expectations grow, clients demand end-to-end visibility of their delivery. With emerging technologies like Blockchain, Artificial Intelligence and IATA's initiatives One Record and Interactive Cargo, technology is definitely making changes to efficiency.

According to Google Trends 2019, the word Blockchain is googled worldwide on average 246,000 times a month, while blockchain technology 40,500 times. The chart and the numbers are good indicators for how big the hype is around this technology and the air cargo industry is not left far behind as far as adoption of blockchain goes.
Nearly two thirds of the world's largest corporations are considering deploying their own blockchain application. Many organisations in the air cargo industry are also currently testing the technology with the intention of building their own blockchain ecosystem. With overall savings estimated at around $38 billion, the expected business value of blockchain in the travel and transportation industry is substantial.
Managing today's supply chains—all the links to creating and distributing goods—is extraordinarily complex. Due to the complexity and lack of transparency of our current supply chains, there is interest in how blockchain might transform the supply chain and logistics industry.
"The value of blockchain is undeniably that it has accelerated the consideration of collaborative processes by providing the promise of ensuring data reliability and a common data access framework. Even if blockchain only plays a partial role in such applications, it has been seen to be a key element in early acceptance of collaborative solutions by visionary participants," said Paul Delbar, solutions architect at Nallian. Nallian offers the world's first open data sharing platform for business collaboration.
Today, the key players in a supply chain are separate organisations, with different priorities and ways of working, operating across different countries. Yet they frequently need to exchange information with one another. Airlines rely on the data they receive and need to trust the parties they pass data onto. They have a legal responsibility to share the right data, with the right organisation, at the right time. However, the current system is often vulnerable, inefficient and costly. Despite some digitalisation attempts, many of the documents are still being processed manually for every shipment. If an incident occurs or something changes, stakeholders struggle to keep track and cargo are sometimes delayed or even disappear—or at least, it seems that way according to the paperwork. Consequently, dispute resolution for shipment delays and damaged or lost goods cost cargo companies billions of dollars in lost revenue. These issues stem from two root causes: lack of visibility and lack of trust. Blockchain technology is an effective antidote, as it has the power to establish visibility, consensus and trust across the entire supply chain.
At the same time, blockchain comes with a considerable operational cost, limitations in performance and a steep learning curve for those who wish to implement it. From a business point of view, this makes the technology less likely to be accepted by more risk-averse companies. Strong and powerful players such as Maersk and IBM, who have pioneered one of the first large-scale applications (Tradelens), have learned the hard way that collaboration cannot be built on technology alone, and that trust requires more than data security. "Within the blockchain technology ecosystem itself, the winners have been the marketers who have massively embraced blockchain as a silver bullet solution (as is the case in every hype cycle), the consultants who have educated customers and helped them build their prototypes and the technology providers who are offering blockchain hosting and services," said Delbar.
ONE Record data model
Blockchain is also a key enabler of the One Record vision advocated by the International Air Transport Association (IATA) to promote data standards and consistency. Going forward, industry leaders are optimistic that blockchain will solve many of the key business challenges that air cargo is currently facing and ultimately drive digitalisation in the industry.
Speaking of its initiative ONE Record, IATA's head – digital cargo Henk Mulder said that it aims to take digitisation to the next level by creating a standard for data sharing. In his observation, as of today, information is shared within the air cargo supply chain using messaging systems, which is a very old technology which goes back to the 1970s. "Information is shared on a push basis - the problem is that if someone doesn't push it, if someone doesn't provide the data then it could pose a lot of problems, and in many cases, systems are not compatible and even if we do push the data, we sometimes have to re-key the data so that there is quality content." ONE Record will create a single record view of the shipment and this standard defines a common data model for the data that is shared via standardized and secured web API. The standard is based on mature but progressive data sharing technologies that are well aligned with the best practices used by leading airlines. This makes it directly accessible to IT teams and service providers.
With already various freight data models in the industry. How do all these models fit together in One Record? Mulder explains that the ONE Record data model has been designed to be data centric rather than document centric. "If you try and mix two different models then it can be really hard to make them connect because you need to write special programs to interconnect both of them. With One Record, we use a different approach which is much more advanced to managing data. There are different names for it. Instead of just defining data models, we are defining a language - basically it is the language of freight. So if you look at all these different models, they are like dialects of the same language. With One Record, it is something that gives context to the language which means when two computers of different models talk to each other they can understand the context of what they are saying," Mulder reasons.
Making cargo talk
Meanwhile, logistics companies are making the use of big data and artificial intelligence to operate their global logistics network. For instance, UPS developed its chatbot, UPS Bot, in house and released it for use just three months after it was ideated upon. This AI-enabled tool mimics human conversation and can respond to customer queries such as "Where is the nearest UPS location?" and can track packages and give out shipping rates. Customers can ask the bot questions either through text or voice commands through mobile devices, social media channels and virtual assistants such as Alexa and Google Assistant. The UPS Bot is able to recognize these requests and then takes the appropriate steps to complete them. The more 'conversations' the bot has, the more learning it experiences to take the appropriate action in the future. The technology used by UPS generates a cache of data that opens up even more opportunities to become more efficient, improve the customer experience, innovate delivery solutions, and more. UPS invests $1 billion annually in technology to enhance efficiency, improve customer service and support the ever increasing consumer demand to have as close to immediate delivery of packages as humanly possible.
As interactive air cargo becomes more prominent, every air cargo carrier needs to adopt a combination of intelligent systems and standard-setting activities. Air cargo carriers also need to give their planes, trucks, and facilities the ability to communicate with the cargo. This is leading to the creation of smart air cargo facilities. Many cargo carriers are already making huge investments here.
For instance, Finnair opened its Cool Nordic Hub at Helsinki Airport in 2017. This smart hub relies on warehouse automation systems to facilitate cargo flow and get temperature-sensitive shipments moved to the proper areas. Finnair has unified its warehouse operations at its new cargo terminal and has been one of the first carriers to deploy Mercator's Warehouse App which allows warehouse agents to capture air cargo data through a single mobile interface and achieve full visibility into every stage of the warehouse management process.
Part of Simplifying the Business Cargo (StB Cargo), IATA's Interactive Cargo project aims at developing responsive air cargo services based on intelligent systems that are able to self-monitor, send real-time alerts, respond to deviation to meet customers' expectations and report on the cargo journey to allow data-driven improvements. Interactive air cargo gives carriers and logistics companies the ability to see and solve issues in real-time, or proactively. It also automates processes to guarantee all cargo shipments are given the proper attention.
Technology is also making changes to the efficiency, with UPS using the Amazon Alexa to help provide shipping rate information, Delta Airlines creating an Internet of Things (IoT) network from low-cost Bluetooth devices to provide real-time tracking and Amsterdam Airport Schiphol deploying its own network of IoT applications. The in-house network makes the implementation of new applications quick and straightforward. Schiphol plans to test applications involving sensors at aircraft stands, so that real-time information about the equipment can be provided on-site at the aircraft stand. This could make it possible to check whether the necessary equipment is present before the aircraft and the handling personnel arrive at the gate. At the same time, this information is expected to help resolve disruptions quickly and prevent delays.
"Amsterdam Airport aims to be the world's most sustainable travel hub, and in doing so, we have come up with different programs in achieving our goal. Among the six main pillars, one of them is digitalization," said Bart Pouwels, head of cargo, Amsterdam Airport Schiphol. Pouwels further goes on to say that the airport is working with different partners for making the flower chain fully digital. "I am working with my home carrier, the largest freight forwarder, importers, growers, customs in this initiative." One such strategy is a data sharing portal that has been developed by the airport as part of its Smart Cargo Mainport Program. The portal was developed after a poll of the Schiphol cargo community on their priorities in the perishable cool chain found that the ability to track and trace at a box level from farm to auction was the top priority for all parties. The portal is aimed at increasing trust and transparency in the supply chain by linking flower shipment data to air waybill numbers at source. Flower shipment data such as number of boxes, flower type, and number of flowers and stems in each box, is linked to air waybill numbers by the portal, which then generates a unique global standard code that gives all users access to all the data in one place.
This feature was originally published in STAT Trade Times' January 2020 issue.