From Covid-19 Issue: While passenger flights stay on ground freight rates are flying high
In the pre-Covid-19 era, it was pretty clear about what needs to fly and air cargo's share in global trade volumes was neatly defined. SARS- CoV-2 has not just changed these equations, but the virus has turned it upside down and then turned it inside out with freight rates breaking all known records. 
Airfreight is the most expensive mode of transporting goods, but also the fastest, reliable and secure style of moving it. Roughly, airlines handle just one percent of all the global trade volumes but at the same time enjoy 35 percent of its value. 
In that sense, the pre-Covid-19 world was pretty sure about what sort of goods must move in the ocean and what in the air. But in the world hit by Covid-19 pandemic, air cargo has moved from the premium mode to the super-premium with freight rates climbing new heights each day. 
First is the constrained capacity, second is the increasing demand for medical supplies and third is the directional imbalance that shoots the rates up. The rates are also not without implications as airfreight may lose some of its customers to rail and ocean forever. 
Revenues of cargo-only airlines
The WorldACD report for March 2020 noted that the cargo-only airlines improved their market share considerably, whilst recording a whopping 81 percent growth in revenues. 
"In the Asia-Pacific, unit prices increased year on year by more than 1/3 (from China by even 2/3, getting up to an average of $3.58 per kg)," reads the report. 
Capacity, demand and imbalances 
The aviation intelligence provider, Seabury Consulting reported a decrease of 35 percent in the global air cargo business, while passenger belly capacity plummeting 85 percent. There is a huge demand for medical equipment, medicines, food and other essential goods to fight Covid-19 pandemic around the world and particularly in from China to Europe which influences the pricing. There is more demand towards the US and Europe from China than in the opposite direction. As airlines have almost nothing to carry in one direction it has to charge for both directions.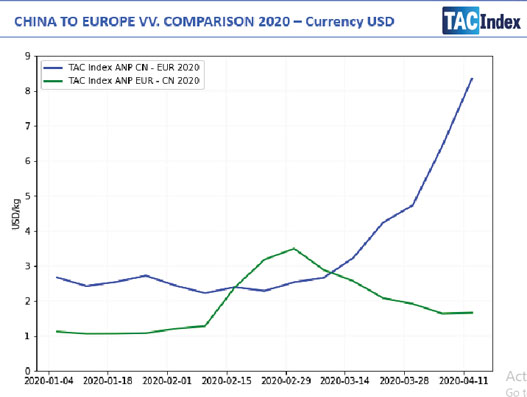 Between China and Europe
According to TAC Index, on April 13, 2020, the airlines reportedly charged a new record price of $9.64 per kg to move cargo from Shanghai to Frankfurt compared to $2.46 on March 9, a jump of 291 percent in just one month. Meanwhile, on the Frankfurt-Shanghai route, it fell around normal rates of $1.17per kg as of April 13 compared to $2.78 on February 17, when the rates were at its peak. 
The average air freight rate to transport goods from Shanghai to Europe is around $8.65 per kg, while from Frankfurt to China is $1.41. The same for Hong Kong to Europe is $4.66 compared to $5.11 on April 6 and $2.58 on March 9.
The falling rates from Hong Kong are reportedly due to the new regulations introduced by the Chinese government in April to clamp down the low-quality Personal Protective Equipment (PPE) exported from the country. The government made it mandatory for PPEs to have customs clearance which pushed the companies to ship them from mainland airports instead of trans-shipping through Hong Kong.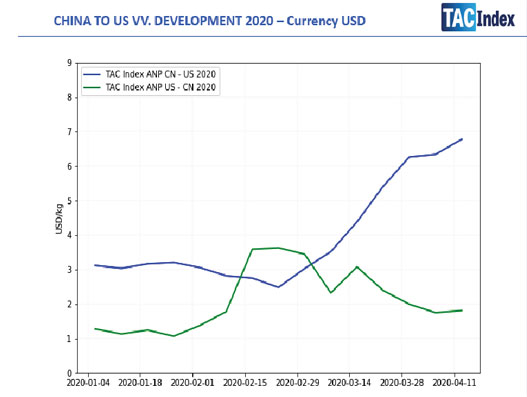 Between China and the US
Airfreight rates on Shanghai-Dallas/Fort Worth route rose to $8.72 per kg on April 13 compared to $4.91 on March 9, while Hong Kong-Dallas is at $4.88 compared to $5.79 on April 6 and $3.53 on March 9. On average, air cargo from Shanghai to the US is now available at $6.92 compared to $3.36 on March 9, an increase of 105 percent in one month. Meanwhile the same from Hong Kong is available at $5.55 per kg compared to $3.35 on March 9.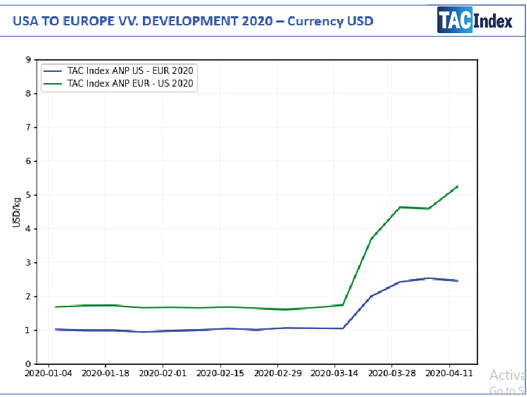 Between Europe and the US
As per the index, rates from London to the US stood at $4.04 per kg compared to $1.12 on March 9, an increase of 260 percent, while Frankfurt to the US reported $4.12 compared to $5.31 on March 30, when it witnessed a steady increase of 223 percent, from $1.64 on March 9. While on the other side, from Chicago to European destinations, rates reported an increase of 173 percent. From $0.96 on March 9, it went up to $2.63 per kg on April 13. 
Airfreight may lose customers permanently to rail
In the meantime, a large section of cargo that used to travel in the air is moving to more predictable rail route between Europe and China. Stakeholders of air cargo fear that a significant amount of cargo will move to rail, permanently.
On April 3, 2020, the freight forwarding company, Davies Turner announced that its weekly rail import service from China to the UK has broken previous records in transit times amid demand spike.
Philip Stephenson, chairman, Davies Turner said "The impact of Covid-19 will push many shippers to rethink their supply chains, and that could see a lot more Asia-Europe air and ocean freight traffic moving permanently to the rail."
In March 2020, the integrated logistics provider, cargo-partner introduced two new weekly rail services on Duisburg-Hefei and Linz-Xi'an routes.
"Since rail is 50 percent faster than sea freight and 60 percent cost-efficient than airfreight, an increasing number of our customers are benefiting," says the cargo-partner release on April 3. 
This feature was originally published in April 2020 Covid-19 Special Issue of STAT Trade Times.