FROM MAGAZINE: When animals call the shots
With show jumping equines and other animals becoming frequent fliers, the air cargo industry is paying greater attention to the safety of live-animal cargo now more than ever before. While the International Air Transport Association (IATA) launched a new certification programme called CEIV Live Animals last year, airlines are opting for new pet transportation strategies […]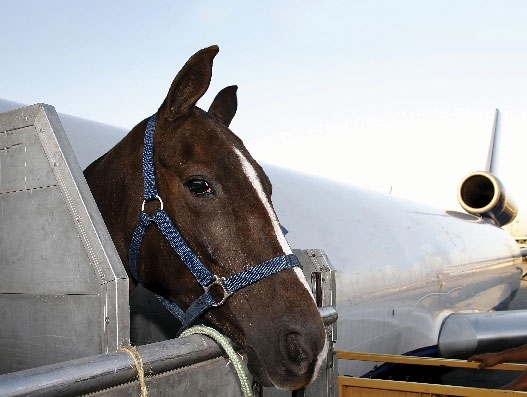 With show jumping equines and other animals becoming frequent fliers, the air cargo industry is paying greater attention to the safety of live-animal cargo now more than ever before. While the International Air Transport Association (IATA) launched a new certification programme called CEIV Live Animals last year, airlines are opting for new pet transportation strategies to ensure animal safety, comfort and security during transit.
Surya Kannoth
Every year, millions of animals are transported over long distances across the globe to be bred, reared or slaughtered, as well as for competitions and pet trade or just rescued from severe conditions.
Recently, four young lions were rescued from a circus in Ukraine and transported to their natural habitat of South Africa. Three lionesses Luca, Charlie and Kai along with a young male Nathan were being used as circus animals and had been housed in a 35 sq m concrete and steel cage without direct sunlight and clean air.
Saved by the Lawrence Anthony World Organization (LAEO), a group that champions animal rights, Istanbul-based Turkish Cargo embarked on a mission to transport the lions in specially designed containers to their natural surroundings and then set free at KraggaKamma Natural Park in South Africa. The lions were put on a flight from Kiev with a stopover in Istanbul. They were accompanied by their keepers, specially-assigned veterinarians, and an authorised person from LAEO and IATA Live Animals Regulations-certified Turkish Cargo personnel during the 9,000-km flight. Such is the kind of attention and care taken to make them feel at home by creating real-like natural habitats in the skies during the transit.
In a similar yet extraordinary mission, Luxembourg-based all-cargo carrier Cargolux flew down two captive beluga whales, Little Grey and Little White, from China all the way to Iceland. The two belugas were transported in custom-made slings designed to their exact physical requirements, and were then placed in tailored containers. The whales were monitored by their care teams, including two trainers and two vets who oversaw the complete transport process, to ensure they remained safe and comfortable throughout the nearly 12-hour flight. One of Cargolux's engineers was also on board to handle the operational side related to the transport containers and assist the care team with the water system.
Speaking about the complexities of the transportation, Michael Verhuelsdonk, ground engineer at Cargolux, who accompanied the whales said, "The animals themselves did not pose any operational concerns, but the movement of the water inside the tank was a huge challenge. To avoid the water movement (5-7 tonnes of water) having any impact on flight safety, we had to come up with a dedicated plan to restrain the container inside the aircraft. Besides the restraining, we also needed to avoid any kind of water spillage inside the aircraft."
As an advocate for animal welfare, Cargolux has introduced an increasing number of measures in an effort to promote environmental awareness and best practices in the air cargo industry. The beluga project is the first of its kind and an initiative that is the latest demonstration of the Cargolux's commitment to a noble cause. By operating such a flight free of charge, the airline has highlighted its commitment to environmental awareness and conservation. The airline has signed the United for Wildlife International Taskforce on the Transportation of Illegal Wildlife Products to fight illegal animal trafficking.
Just like Cargolux and Turkish Cargo, LATAM Cargo recently transported five big wild cats - two lions, one lioness and two tigresses, from Santiago del Estero in Argentina to sanctuaries in Johannesburg, South Africa. Melena and Tika, a male and a female lion aged 6 and 18 years respectively, were the first of five big cats transported to their new home. The felines lived in a decommissioned zoo in Santiago del Estero; it was the local authorities, who arranged their rescue and obtained the permits required for their relocation. The total journey, including land portions, lasted approximately 70 hours. Freight forwarder Newport Cargo entrusted the Latin American carrier to ferry the animals by air. The animals were flown onboard a freighter aircraft from Buenos Aires to Sao Paulo, where they were transferred to the belly of a passenger airliner for the trip to Johannesburg. During the air segments, the animals were under the careful supervision of the LATAM Cargo team.
"When planning and during the actual operation, we ensured full compliance with IATA and LATAM Cargo's highest standards of safety in live animal transportation. Also, the care provided included securing regular access to water for these animals and taking every measure to reduce their exposure to heat and noise sources. This difficult task is especially hard to achieve in a cargo warehouse and air freighter environment but is nonetheless crucial to making their journey as stress-free as possible. And we certainly delivered," said Esteban Bojanich, LATAM Cargo's operations manager in a press statement.
Another interesting shipment that was delivered recently was 40 tonnes of live honeybees that made their way to Ras Al Khaimah from Cairo aboard an Egypt Air Cargo flight. Speaking about the shipment from Al Najeh Honey, Ras Al Khaimah International Airport's (RAK) CEO Sanjay Khanna said, "The entire team at RAK Airport put in immense efforts to join all the dots together. Lot of planning has gone behind this to achieve the final goal of handling and delivering live bees. It has been our endeavour to establish benchmark standards in our airport."
Flying horses
Among the most frequent fliers are equines that travel all over the world every year to get to destination competitions. In September last year, Emirates flew more than 500 horses from Europe to the United States in the world's largest ever commercial equine airlift.
The horses were flown on 19 separate Emirates SkyCargo flights from Liege in Belgium to Greenville-Spartanburg International Airport in South Carolina in readiness for the World Equestrian Games.
"Emirates regularly carries horses on our freighter flights and we take good care to ensure the comfort of our precious cargo on-board during the flight," said captain Esteban Pacheo in a video posted by the airline following the first of the flights.
"From a technical point of view, there aren't any significant changes. However, during the flight we carry additional personnel to look after the horses," he added. Emirates SkyCargo worked with Peden Bloodstock, an international horse transportation specialist, to plan and carry out the charter. In addition to the horses, the airline transported 244 tonnes of equipment and 51 tonnes of horse feed. More than 220 grooms accompanied the horses on the flights.
The Boeing 747 and 777s are usually the popular models in equine air travel as the upper deck is well designed to carry human passengers (vets, grooms, farm managers), while the lower deck fits horses and cargo efficiently.
The horses were first led into specially designed horse stalls which were then loaded directly into the cargo aircraft for a smooth boarding experience. On these flights, the horses were accommodated two per horse stall, considered the equivalent of business class travel. The horse stalls were also fitted with hay nets to ensure that the equine champions were well-fed. Emirates Equine has executed 39 such charter flights over the last 12 months, carrying more than 2,000 horses across six continents.
Meanwhile, Etihad Cargo transported a special consignment of show jumping horses from Belgium to Hong Kong for the annual Longines Masters of Hong Kong, that took place on 15-17 February, 2019. A dedicated charter flight from Liège Airport to Hong Kong International Airport delivered 68 horses accompanied by professional grooms and a veterinarian for the round-trip journey. The horses for the Longines Masters of Hong Kong were transported on a Boeing 777 freighter equipped with a specially designed ventilation structure and temperature control system - two vital components when transporting horses. It was also equipped with EASA and FAA certified - horse 'air stalls'. Designed with non-slip floors which are covered with absorbent materials, the stalls were stocked with hay and water for the horses to remain fed and hydrated throughout the flight. Etihad Cargo's equine product 'SkyStables' achieved a number of milestones with SkyStables in 2018, including its largest transportation of 90 horses in one day, as well as the transportation of 99 horses from Miami to Amsterdam, as they returned from the horse racing season in Miami.
Improving competency levels for animal transport
The air cargo industry has voiced concerns over non-compliance with handling and transport practices, along with the need to reinforce training requirements and create visibility for best players who adhere to regulations. Not following requirements can lead to consequences such as additional stress, injury and even death of animals.
Driven by industry standards, The International Air Transport Association's (IATA) Center of Excellence for Independent Validators (CEIV) for Live Animals Logistics has established baseline standards to improve the level of competency, infrastructure and quality management in the handling and transportation of live animals throughout the supply chain.
Organisations that undergo training, an assessment and validation requirements are granted a certificate issued by IATA and are listed in a registry on the IATA webpage upon successful completion and compliance with the programme standards. IATA launched the new standard to improve the safety and welfare of animals travelling by air in April 2018. Air Canada Cargo and London Heathrow Animal Reception Centre were chosen to undergo a pilot for the programme.
Air Canada Cargo became the first airline to receive IATA's CEIV Live Animals certification. The Montreal-based airline received the certificate after successfully completing the pilot programme, which was launched in April 2018.
"Handling live animals requires constant vigilance, as there are changes in regulations, requirements and trends in consumer demand that push us to adapt our policies and procedures. We're CEIV Live certified for our Montreal station and our headquarters, which is also in Montreal, so we work closely with our team in the operations to review and adapt current processes," said Karl Chamberlain, procedures and operations support manager, Air Canada Cargo.
Chamberlain stressed upon how the CEIV certification has brought increased awareness, and with that awareness comes improvement. "We're constantly changing our materials to better reflect what we're seeing in the operations and make sure our employees have the information they need to make the best decisions where animal safety is concerned. For example, this year, we updated the live chapter of our publication to include an updated chart to include more species for oxygen validation. There are strict specifications per aircraft for the total gross weight of animals per aircraft to ensure there is always sufficient oxygen. With the additional or more species contained on the chart, the easier it is for our employees to make the right call," he added.
"CEIV certification brought significant internal benefits to elevate our service from good to great. The process allowed us to review our procedures, training and requirements to ensure our offering is aligned with the highest industry standard. While our AC Animals product is a small portion of our portfolio, the safety and comfort of any animal travelling with us is an absolute priority," said Jason Dacosta, general sales manager, commercial and sales development, Air Canada Cargo.
Air Canada Cargo has now reviewed temperature embargoes to protect delicate animals like chicks. For pets, the airline's team in Vancouver has flagged the extra attention needed to be brought to micro-breeds to ensure they meet the minimum age requirements for cargo. "We've had more dogs being transported into the US from Canada due to changes in health requirements from the Center for Disease Control and Prevention, so the influx of traffic also means paying extra attention to make sure shipments meet all the requirements. All of this is done out of concern for animal safety," Chamberlain explained.
Airlines forge new partnerships for pet travel
In an attempt to provide a better experience for pets and their owners, Atlanta-based Delta Cargo has entered into an exclusive long-term partnership with CarePod, a Singapore-based pet technology start-up.
The "pod" product, designed to safely transport live animals in the bellies of aircraft, uses internet of things (IoT) technology to offer customers real time updates on the status of their pets and their GPS-location.
Delta's team of specialists continuously reviews processes and policies to identify areas of improvement to ensure the safety and health of pets. The airline has specially trained ground handlers who take care of pets at every step of their journey and recently appointed a staff veterinarian.
Meanwhile, IAG Cargo launched its new pet transportation service on flights from the UK in partnership with PetAirUK, alongside its sister company British Airways. The new service offers customers an improved online booking experience and custom crates to suit each pet. The new service also coincides with the unveiling of IAG Cargo's new meet-and-greet pet area at London Heathrow. As part of the partnership, PetAir UK offers a UK-wide home pet collection service and also manages all import permits, export documents and fulfil the veterinary requirements in house. All pets are flown in a temperature-controlled environment in customised crates that are lined with layers of absorbable vet bedding that wicks away moisture and provides warmth and comfort, helping to ensure pets remain comfortable through the journey.
Such customised offerings coupled with trained personnel and setting standards in live animal transportation, the air cargo industry hopes to move animals in a manner that does not jeopardise their well-being and ensures their safe arrival at their destination in good health, with minimal distress.
This story was originally published in STAT Trade Times' July 2019 issue.