West Atlantic to lease four 737-800 BCFs from GECAS
Jun 21, 2017: West Atlantic Airlines, a European dedicated cargo airline, will lease four 737-800 Freighters from GE Capital Aviation Services (GECAS). The airline will be the first operator to take delivery of the Boeing standard-body converted freighter. GECAS launched the program and provided the prototype aircraft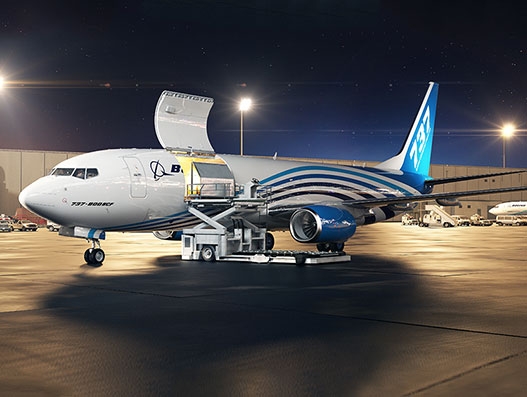 Jun 21, 2017: West Atlantic Airlines, a European dedicated cargo airline, will lease four 737-800 Freighters from GE Capital Aviation Services (GECAS). The airline will be the first operator to take delivery of the Boeing standard-body converted freighter. GECAS launched the program and provided the prototype aircraft to Boeing in 2016.
Conversion of the aircraft is currently underway at Boeing's modification facility in Shanghai, with subsequent aircraft delivering in 2018 and 2019. This order will provide additional capacity to West Atlantic's existing fleet of more than 50 freighters.
With 55 years of operating experience and detailed knowledge of the requirements of the express package and mail industries, West Atlantic is a proven supplier of custom-made capacity solutions throughout the EMEA region.
GECAS is proud to provide these 737-800 converted freighters to West Atlantic, said Richard Greener, GECAS' SVP & Manager Cargo, noting "transitioning into the Next Generation 737 is a logical step as West Atlantic defines its future fleet requirements."
The 737-800 Boeing Converted Freighter will be equipped with CFM56-7B engines, and carries up to 23.9 tonnes of cargo with 12 main deck positions over 2,000 nautical miles and is an exceptionally cost-effective standard-body freighter.
Boeing's Next-Generation 737 provides extraordinary value to freight carriers through its superior payload, range, reliability and efficiency, said Mike Fleming, vice president of Commercial Services, Boeing Global Services.
"We're excited to be the first operator of the 737-800BCF" stated West Atlantic's CEO, Fredrik Groth, adding "The additional capacity and Next Generation efficiency offered by this new aircraft will deliver real benefit to our customers and we're delighted to be at the forefront of deliveries of this new technology. The 737-800BCF will be an enabler for us to make a leap in reliability, capacity, and ability to expand in areas of the world away from our traditional markets, such as Asia."