WebCargo to assist Etihad's cargo schedules, rates and eBookings
February 11, 2020: Etihad Cargo entered into a new partnership for Digital Air Cargo with WebCargo by Freightos, an air cargo rates and eBooking platform. While the Etihad cargo website takes care of almost 50% of its overall bookings, the new platform will serve as an additional strategic channel for the cargo bookings. The partnership […]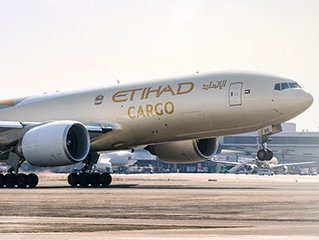 February 11, 2020: Etihad Cargo entered into a new partnership for Digital Air Cargo with WebCargo by Freightos, an air cargo rates and eBooking platform.
While the Etihad cargo website takes care of almost 50% of its overall bookings, the new platform will serve as an additional strategic channel for the cargo bookings. The partnership is expected to extend Etihad cargo's digital reach to more than 1,700 logistics providers and forwarder customers globally.
Rory Fidler, head of technology & innovation at Etihad Cargo, said "Our latest API capabilities will facilitate the roll-out of our product through WebCargo over the next couple of months and they will become a key partner in strengthening our digital connection to forwarders around the world with a special emphasis on European markets."

Following the announcement, Etihad Cargo's flight schedules and market rates in mainland
Europe and the UK will be live on the WebCargo platform allowing all platform members to review and compare airline offers, whilst instant eBookings functionality will follow in April upon the successful completion of API testing and systems integration.
E-bookings will be first made available in Spain, France and UK, with a gradual rollout to more markets to ultimately cover all of Europe throughout 2020.