Volga-Dnepr delivers Nippon Express' 197 tonnes of automotive cargo
<p style="text-align: justify;">July 10, 2017: Volga-Dnepr Airlines transported 197 tonnes of sensitive automotive machinery from Japan to the United States for Nippon Express.</p> <p style="text-align: justify;">The airline's Hanoi-based load planning experts quickly assessed the cargo and prepared the most efficient plan for its delivery from Tokyo to San Francisco. The outsized shipments were transported onboard […]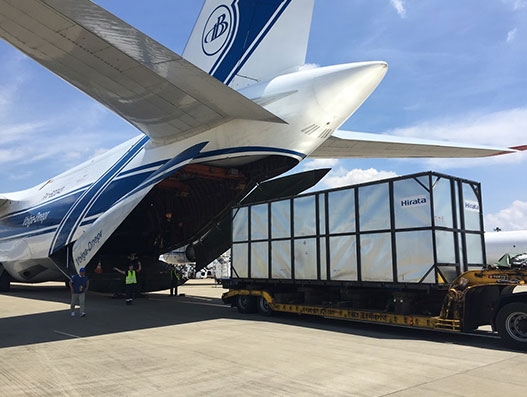 July 10, 2017: Volga-Dnepr Airlines transported 197 tonnes of sensitive automotive machinery from Japan to the United States for Nippon Express.
The airline's Hanoi-based load planning experts quickly assessed the cargo and prepared the most efficient plan for its delivery from Tokyo to San Francisco. The outsized shipments were transported onboard four Volga-Dnepr An-124-100 freighter flights.
Hiro Tsukada, Volga-Dnepr's representative in Japan, said, "Nippon Express is a very important and long-standing customer of Volga-Dnepr, so its team is well aware of the unique capabilities of our An-124-100 freighters. Given the need for a fast response for this delivery, the fact that we have a full team of planning specialists located in Hanoi to serve customers in the Asia-Pacific region was another big advantage we were able to provide. Having local experts in the same time zone as our customer made our cooperation even easier and meant we could reduce the required planning time and meet the short delivery deadline."
As part of the airline's solution, Volga-Dnepr's load planning engineers in Hanoi gave recommendations for cargo packaging, including giving advice on securing the machinery to the An-124-100's cargo floor. They also confirmed the requirements to transport the cargo in low air pressure conditions to protect the integrity of the shipment during the climb and descent phases of the flight. Volga-Dnepr was able to load and unload the cargo using the An-124-100's onboard handling systems.
"My special regards to Volga-Dnepr's engineers and load planning specialists who developed the packages that provided maximum safety during the transportation of the high sensitivity equipment. A rapid response by the airline's team helped us to carry out our obligations to our customer within a challenging timetable," said Makoto Hayashi, the Nippon Express representative who managed the delivery from Tokyo to San Francisco in cooperation with the Volga-Dnepr team.