Virgin Atlantic, Delta Cargo unveil new tech-enabled export facility at London Heathrow
Oct 10, 2019: Virgin Atlantic Cargo and Delta Cargo have opened an export facility at London Heathrow to future-proof the joint venture's growth plans in the UK market. This is supported by new technologies that will enhance business continuity, as well as deliver significant improvements and transparency in the customer delivery experience. Opened on schedule, […]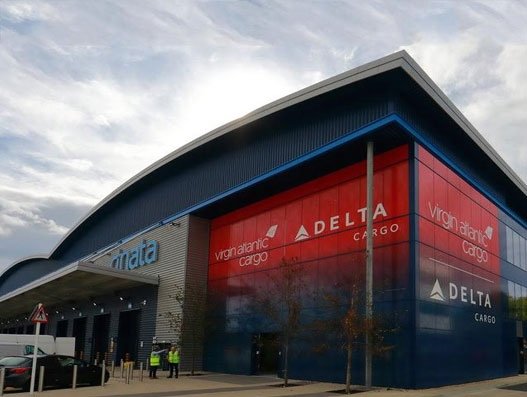 Oct 10, 2019: Virgin Atlantic Cargo and Delta Cargo have opened an export facility at London Heathrow to future-proof the joint venture's growth plans in the UK market. This is supported by new technologies that will enhance business continuity, as well as deliver significant improvements and transparency in the customer delivery experience.
Opened on schedule, the new facility is the first phase of Virgin Atlantic Cargo and Delta Cargo's expansion programme to double cargo handling capacity at Heathrow to meet both airlines' projected growth.
Compared to Virgin Atlantic Cargo and Delta Cargo's former export operation at the airport, the new dnata City East facility offers 18 customer delivery doors, which is double the amount previously. It also offers an expanded ETV (Elevated Transfer Vehicle), capable of full automation, with 245 pallet positions, up 20 percent, which enables the loading of flights in 'trim order' to support the airlines' on-time performance. There is also high-rise racking with 1,350 positions for storing export freight, eliminating unnecessary movements of shipments, a dedicated Pharma Zone and increased capacity for temperature-controlled and perishables cargoes, special facilities for dangerous goods and live animal shipments, new x-ray technology with enhanced imaging capability, reducing the need for secondary cargo screening and advanced internal and external high-definition CCTV systems to ensure a safe and secure working environment.
"These world-class expanded facilities position us for success in this important market," said Rafael Figueroa, Delta Cargo's managing director – operations and customer experience. "The technology enhancements and the transparency across the export operation, with increased temperature-controlled facilities, are designed to make it easier for our customers to work with both airlines."
The new facility also features the Gatehouse concept, meaning drivers arriving at the facility no longer need to leave their vehicles to complete documentation processes and are then immediately assigned to a cargo door to offload their freight. Drivers also receive text message updates to help expedite cargo deliveries. Real-time acceptance using the operation's door management system and hand-held technology also provides instant freight status update messages for customers to confirm their cargo is being handled and flown as planned. Screens inside the facility, linked directly to the airlines' operations control centres, enable flight monitoring and the management of service level agreements.
Tania Boyes, director - cargo operations at Virgin Atlantic, said, "We now have an export operation at our main UK hub which is designed around the current and future needs of our business, and which will further improve customer experience. By embracing new technology and ways of working, the building gives us the capacity to grow efficiently as we enter the next exciting phase of expansion for Virgin Atlantic."