va-Q-tec expands in Southeast Asia with new Singapore subsidiary
Nov 28, 2018: Temperature-controlled containers specialist va-Q-tec has expanded its presence in the Asia-Pacific (APAC) region with new entity in Singapore. The company already has subsidiaries in South Korea and Japan. To implement temperature-sensitive logistics chains, va-Q-tec operates a fleet of globally available rental containers and boxes meeting demanding thermal protection standards under the "TempChain" […]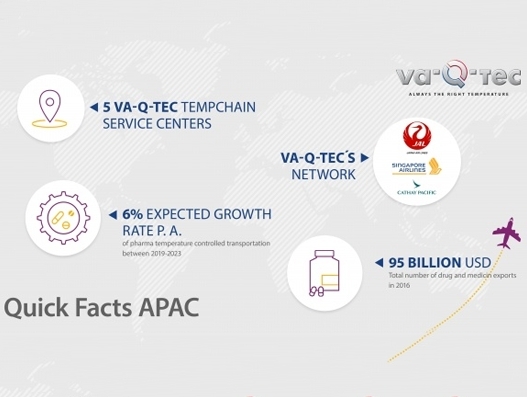 Nov 28, 2018: Temperature-controlled containers specialist va-Q-tec has expanded its presence in the Asia-Pacific (APAC) region with new entity in Singapore.
The company already has subsidiaries in South Korea and Japan.
To implement temperature-sensitive logistics chains, va-Q-tec operates a fleet of globally available rental containers and boxes meeting demanding thermal protection standards under the "TempChain" umbrella. Singapore and the whole region with its hot and humid weather conditions is one of the most challenging temperature environments for TempChain transportation on the globe.
With its new site and a TempChain Service center in Singapore, va-Q-tec broadens its TempChain Service Network and product offering in the region, together with local partners such as Singapore Airlines, Japan Airline and Cathay Pacific Airlines.
Singapore is a central logistics hub with modern airport and infrastructure facilities for Southeast Asia. On top of that, it is one of the most open economies in the world and EU's most important trading partner in the region. This opens up opportunities to attract new customers and partners for va-Q-tec.
More than 30 of the world's leading pharmaceutical technology firms have built up offices and manufacturing plants in Singapore.