US seaports Port of Long Beach, Port of Los Angeles report October cargo volumes
Nov 11, 2019: The Port of Los Angeles recorded decline in October cargo volumes, while Port of Long Beach, recorded its second-best October in its 108-year history. Although tariffs continued to impact cargo volumes at both the major US seaports, the Port of Long Beach still managed to handle 688,425 twenty-foot equivalent units (TEUs), 2.4 […]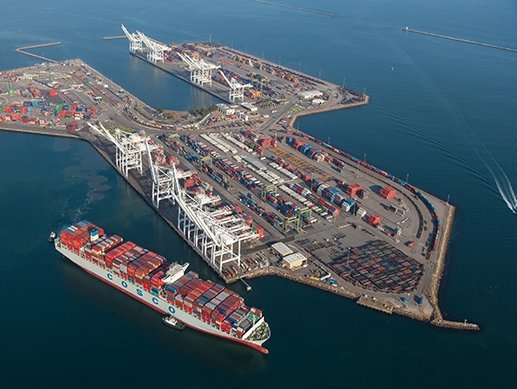 Nov 11, 2019: The Port of Los Angeles recorded decline in October cargo volumes, while Port of Long Beach, recorded its second-best October in its 108-year history.
Although tariffs continued to impact cargo volumes at both the major US seaports, the Port of Long Beach still managed to handle 688,425 twenty-foot equivalent units (TEUs), 2.4 percent less than the same month last year.
Port of Long Beach hits new cargo record in September

"As the trade war lingers, these tariffs continue to impact the US economy and have created uncertainty for the business of importers and exporters," said Mario Cordero, executive director of the Port of Long Beach. The port moved 6,366,787 TEUs during the first 10 months of 2019, 5.4 percent down from last year's record-setting pace.
"We are hopeful for a prompt resolution of the tariff situation between the US and China. In the meantime, we are moving forward with capital improvements that should bring long-term growth."
Meanwhile, Port of Los Angeles reported that it has recorded a significant decline of 19.1 percent year-on-year compared to 2018's record-breaking October.
After 10 months of 2019, total volumes have increased 1.8 percent compared to last year, which was the busiest year ever at America's major shipping port, Port of Los Angeles.
Port of Los Angeles' Sep exports slump 11% as trade war wreaks havoc

"With 25 percent fewer ship calls, 12 consecutive months of declining exports and now decreasing imports, we're beginning to feel the far-reaching effects of the US-China trade war on American exporters and manufacturers," said Gene Seroka, executive director, Port of Los Angeles.
"We expect soft volumes in the months ahead and with the holiday season upon us, less cargo means fewer jobs for American workers. We need a negotiated settlement and the tariffs lifted."