UPS to buy 14 B747-8 cargo jets and 4 B767 to enhance its air cargo capacity
February 2, 2018: United Parcel Service (UPS) has recently ordered 14 B747-8 cargo jets and four new B767 freighter, to augment its air cargo capacity. The 14 new aircraft will be added to the existing fleet of UPS, in addition to the existing ones, said the company. The new aircraft is expected to add over nine […]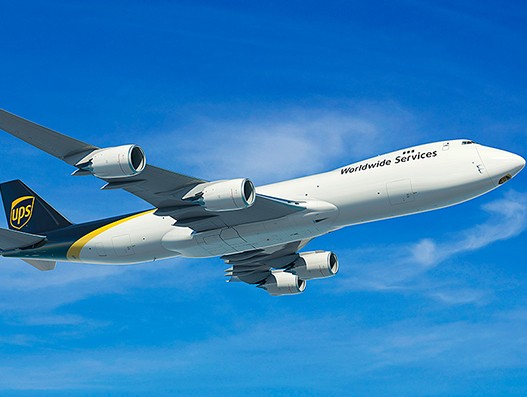 February 2, 2018: United Parcel Service (UPS) has recently ordered 14 B747-8 cargo jets and four new B767 freighter, to augment its air cargo capacity.
The 14 new aircraft will be added to the existing fleet of UPS, in addition to the existing ones, said the company. The new aircraft is expected to add over nine million pounds of cargo capacity. Currently, its global airline network comprises over 500 owned and leased aircraft.
According to UPS, 32 cargo jets, including its recent order for 14 additional aircraft is expected to be delivered by the end of 2022 by Boeing. In 2017, it received three new 747-8 freighters.
"We are fast expanding our intra-US next-day and deferred air shipments. In the last consecutive quarters, our international segment garnered a double-digit growth in shipment exports," said David Abney, chairman and CEO of UPS.
"To support the strong customer demand, we have made investments to augment our air capacity to meet the need of our customers across various markets, globally," said Abney.
"There has been an unprecedented demand for our air products. The new freighters will allow us to enhance our aircraft services, which will help boost our capacity on regional routes across the globe," said Brendan Canavan, president of UPS Airlines.
The B747-8 freighter is equipped to carry 46 shipping containers, 34 in its main deck and 12 in the lower compartments. Similarly, the B747-8 freighter has a cargo capacity of 307,600 pounds, or approximately 30,000 packages with a range of 4,200 nautical miles. The freighter has a robust industry safety, reliability and environmental record.
On the other hand, Boeing 767 freighter has cargo capacity of 132,200 pounds, and is equipped to carry 31 air containers, 24 in the main deck and seven in its lower compartments. It has a range of approximately 3,000 nautical miles. UPS currently operates 59 Boeing 767 aircraft.
"UPS has clearly tapped into the power and efficiency of the Boeing 747-8 freighter," said Kevin McAllister, president and CEO of Boeing Commercial Airplanes.