UPS increases air cargo capacity between Hong Kong and Europe
Feb 28, 2018: UPS has deployed larger capacity aircraft, Boeing 747-8s to service major trade routes connecting Hong Kong and Europe, via its European air hub in Cologne, Germany.
The logistics giant says that the deployment of three Boeing 747-8s through August 2019 replaces existing Boeing 747-400s, and increases cargo capacity by 19 percent, on four weekly direct flights.
Given the fact that Hong Kong is one of the key gateways for UPS in Asia Pacific through which the Atlanta-based company links the city to the rest of the world with 60 weekly flights, this expansion will bring in major benefits for the company.
%u201CThe total export market value between Hong Kong and Europe grew by over seven percent in 2018 according to the Hong Kong Census & Statistics Department. We can help businesses of all sizes take advantage of such cross-border trade opportunities,%u201D said Lauren Zhao, managing director of UPS Hong Kong and Macau.
%u201CHong Kong is an attractive market for European businesses as the EU continues to engage with Asia through bilateral free trade agreements (FTA) in Japan, Singapore and Vietnam.%u201D
The company through a statement informs that it is adding 40 additional aircraft to its fleet, including 28 Boeing 747-8 aircraft, to increase its intercontinental air express capacity.
This expansion along with the company%u2019s existing offerings aim at accelerating growth between Hong Kong and Europe, including a service commitment with one-day time-in-transit for delivery by 9am or 12pm to major Europe cities via UPS%u2019s European air hub in Cologne, Germany.
In 2018, UPS opened two new advanced technology package sorting and delivery hubs %u2013 outside Paris, France and in London, United Kingdom %u2013 as part of this investment, adding capacity and providing even faster services across Europe.
The Cologne air hub serves nearly 300 flights per week to 56 intra-Europe and 12 intercontinental airports. Therefore, customers in APAC and other regions get access to European markets.
You may also like:-
---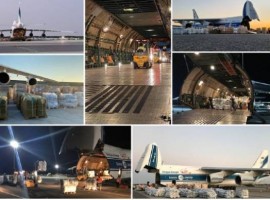 Air Cargo
As the operation has been organised by the Austrian Federal Ministry of Interior, in the framework of the Union Civil Protection Mechanism (UCPM), the costs for the transport are co- financed up to 75 per cent by the European Commission.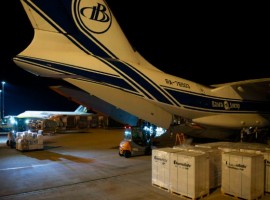 Air Cargo
Freight volumes handled at Europe's fifth-largest air cargo hub, Leipzig/Halle Airport, grew significantly in August. The volume of air freight rose by 12.7 percent to approximately 109,048 tonnes.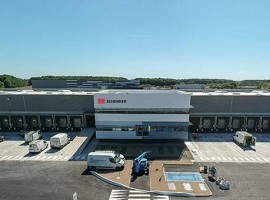 Logistics
In order to reduce its ecological footprint, DB Schenker has equipped the new Orleans building with the latest technologies such as LED lighting, and maintains its premises without chemicals.