Unilode hits major milestone with 25,000 digital ULDs
Unilode has hit the milestone of 25,000 digital ULDs in their fleet and 300 readers in their network. The ULD management company are also on track to have 40,000 units equipped with Bluetooth tags by the end of this year, according to their latest Linkedin post. The tags able to transmit data on the geolocation of the aviation containers and pallets, in addition to providing other relevant information on the cargo, including temperature, humidity, shock, light and pressure.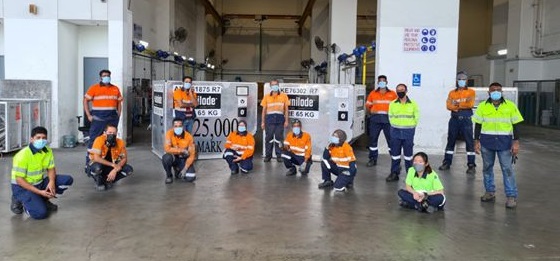 Unilode's MRO team in Singapore celebrating the digitisation of 25,000 ULDs
Unilode's entire fleet of 140,000 ULDs is expected to be digitised within the next 18 months and will be by far the largest digital ULD fleet in the industry. The smart sensors installed in Unilode's ULDs provide valuable data on the location and condition of the cargo. With the increased demand in temperature-controlled supply chain, the possibility of temperature monitoring will become more and more important.