Ubisoft partners with Geodis for the supply chain in Italy
July 26, 2019: Ubisoft, French videogames publisher, has awarded three-year Italy logistics contract to Geodis. As part of the agreement, Geodis is responsible for the development of its supply chain, aimed at distributing its products on the Italian territory. Geodis informed through a statement: "For this tailor-made project, Geodis has integrated different activities for the […]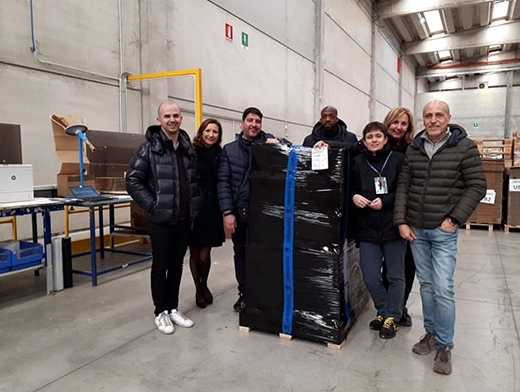 July 26, 2019: Ubisoft, French videogames publisher, has awarded three-year Italy logistics contract to Geodis.
As part of the agreement, Geodis is responsible for the development of its supply chain, aimed at distributing its products on the Italian territory.
Geodis informed through a statement: "For this tailor-made project, Geodis has integrated different activities for the client: from the management of warehouse and inbound and outbound operating flows, to process optimization through performing IT solutions, thanks to its WMS system - a single communication platform - for monitoring, sharing and synchronizing data with the counterpart."
In addition to this, Geodis will a provide a state-of-the-art IT system.
The main objective is to give to Ubisoft's entire supply chain a new imprint of efficiency and standardisation: from warehousing to sorting, from shipments to transport, to labeling for groups and products checking, with a relevant saving in terms of time both in order fulfillment and delivery. At the same time, Geodis grants specific customizations of the parcels and deliveries to satisfy the end-users' needs.
This partnership is result of the need to coordinate at the best the different product's categories, paying particular attention also to the database's updating and shipping procedures.
"The peculiarity of this new logistic partnership consists in giving the customer the continuity of Geodis services in Italy, after the excellent performance of our French colleagues, in a view of a true global partnership between the two companies," said Francesco Cazzaniga, CEO of Geodis in Italy.
"The digital era has profoundly changed the buying habits, and also the peculiar geography of the Italian territory makes it the market with the most important retail share in Europe," states Ricardo Cones, managing director of Ubisoft Italy.
Ubisoft, leader in the development and publishing of video games, counts twenty-five main studios worldwide, in about seventeen countries.