UberCargo launched in Hong Kong
Uber, an app-based transportation network and taxi company, has been moving people in 200 cities across 53 countries. It made millions and attracted investment of billions of dollars. The company's ambitions are turning bigger. It now wants to move not just people but even goods. Therefore, from delivering flower and stationery, to moving your household […]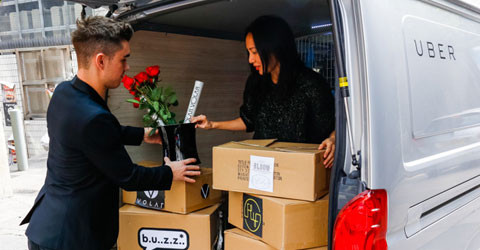 Uber, an app-based transportation network and taxi company, has been moving people in 200 cities across 53 countries. It made millions and attracted investment of billions of dollars. The company's ambitions are turning bigger. It now wants to move not just people but even goods. Therefore, from delivering flower and stationery, to moving your household goods anywhere within a city; Uber has a new service called UberCargo. Launched in Hong Kong, UberCargo promises to offer a "reliable ride for your items". The company promises that the "goods will travel like a VIP".
"With UberCargo, a van arrives wherever you want it to be in minutes. You can load your items in the back of the van yourself or request the driver's assistance if you need an extra hand. Deliveries can easily be tracked in real-time through the app, the item's location can be shared with the recipient and you can even ride along with your goods so you'll have ease of mind that your items are safe," says an Uber blog post.
Perhaps, this is an indication of Uber's ambition to be a global logistical service provider or a completely integrated transportation company in a highly attractive global market that is driven by affordable technology and supported by a flourishing e-commerce industry. "If you own a business, UberCargo provides an easy way to cover on-demand logistical needs without complicated and costly delivery arrangements," adds the Uber blog post.
As usual Uber, known for launching a service in a city and testing it before taking it to other cities, UberCargo had its inaugural launch in Hong Kong and it is still unknown whether the service will be available soon in other cities as well.
Last year Uber launched UberRush, a bike courier service for delivering small items quickly in New York. UberEssentials in Washington offers customers the service of getting their goods ordered in convenience stores delivered to their homes.
With such services, last mile deliveries are now more momentous. Over the past few years e-commerce has attracted interest of every quarter, be it consumers, entrepreneurs, capitalists or media. These attractions tag along logistics sector when it comes to supporting services for e-commerce. The delivery logistics companies have notably increased their expenditure on technology and supply chains necessitating fresh funds. Investors are also lining up to provide the funds needed. The higher level of private equity investments is mainly drawn in by increased interest in e-commerce. The reason is that the e-commerce is seeing more significant opportunity for growth and returns than other sectors in India.
There are a handful of startups which have enhanced the situation for the sector by feeding in the demand. Depending on which city you are positioned in, there are different local delivery partners available. Selecting a local delivery partner for deliveries within the city of your business would be the most appropriate decision. Then for national deliveries deciding on a popular e-Commerce delivery partner would cost less on pockets. eCom express, Delhivery, Grofers, Blowhorn , urDelivery are few of the companies that specialize in the 'last mile delivery'. To provide complete access to its customers, these companies are backed by robust technology platform which offers complete visibility to customers.