UAE to expand existing investments in Vietnam across new sectors
Oct 17, 2019: UAE and Vietnam discussed the establishment of a mechanism to increase the current trade exchange between the two countries during a bilateral meeting held recently in Hanoi, on the sidelines of UAE-Vietnam Trade and Investment Week in Hanoi and Ho Chi Minh. In addition to this, Sultan bin Saeed Al Mansoori, UAE […]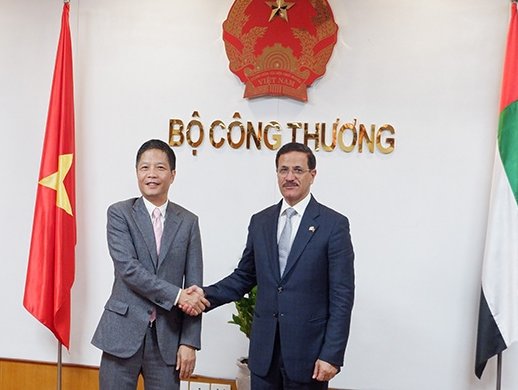 Oct 17, 2019: UAE and Vietnam discussed the establishment of a mechanism to increase the current trade exchange between the two countries during a bilateral meeting held recently in Hanoi, on the sidelines of UAE-Vietnam Trade and Investment Week in Hanoi and Ho Chi Minh.
In addition to this, Sultan bin Saeed Al Mansoori, UAE Minister of Economy and Tran Tuan Anh, Vietnamese Minister of Trade and Industry, have decided to expand cooperation frameworks to include logistic, infrastructure, technology, cultural aspects, international relations in addition to the trade and investment.
Both sides agreed to jointly form a specialized team ensure the realization of these goals, focusing on five key sectors in the first phase.
The sectors will be identified through coordination and dialogue between officials and relevant experts in the two countries, prior to developing a roadmap for targeted partnerships in the next five years.
Al Mansoori also held a bilateral meeting with Vietnamese Deputy Prime Minister Trinh Dinh Dung.
"We look forward to strengthening joint efforts with Vietnam to increase trade and expand existing UAE investments across new sectors, particularly those supporting the knowledge economy, innovation-related areas and food security, as well as developing a business model," Al Mansoori said.
The UAE is a bustling tourism market and thanks to its highly developed aviation sector, serves as a hub that promotes tourism exchanges between Vietnam and many international tourism markets."
"Despite our excellent cooperation, I believe that we are still in the preliminary phase, and there exist great opportunities for partnership in the coming phase to elevate this cooperation to new heights. We are keen to capitalize on the pioneering experience and development achievements of the UAE in many economic areas, which makes it an important destination to expand our trade and investment activities towards the markets of the region. We look forward to deepening our trade and investment partnerships with the UAE and work closely with the UAE Government to encourage mutual investments," said Dung.
Dung also highlighted underscored his country's keenness to participate in Expo 2020 Dubai, highlighting its importance as an ideal platform to find business partners from around the world and to showcase Vietnam's products and opportunities, and to inform the world of its economic capabilities, culture and heritage.
In addition, the Vietnamese Deputy Prime Minister reviewed a wide range of specific sectors and activities during the meeting. He pointed out that his country's government is keen to develop and explore prospects for cooperation and exchange of experiences and building investment partnerships with the UAE in the services sector, smart cities, technology, transport infrastructure, road and airport networks, ports, urban development, telecommunications infrastructure and tourism.
Highlighting the growing relations between the UAE and the Socialist Republic of Vietnam, the UAE Ministry of Economy pointed out that Vietnam is a strategic partner of the UAE and a vital Southeast Asian trade hub. It is also the UAE's largest ASEAN trading partner, recording a total non-oil intra-trade worth more than USD 8.2 billion in 2018.