Turkish Airlines, ZTO Express, PAL Air eye global ecommerce market with new JV
June 12, 2018: Turkish Airlines, Chinese cargo giant ZTO Express and Hong Kong based PAL Air Limited have inked MoU to form a Joint Venture company to operate as a global express/courier company mainly focusing on global e-commerce market with full door to door services. The partnership is a big strategic step not only for […]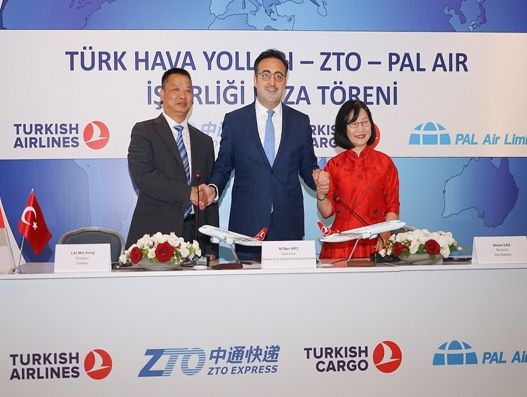 June 12, 2018: Turkish Airlines, Chinese cargo giant ZTO Express and Hong Kong based PAL Air Limited have inked MoU to form a Joint Venture company to operate as a global express/courier company mainly focusing on global e-commerce market with full door to door services.
The partnership is a big strategic step not only for Turkey prior to the opening of the Istanbul New Airport but a game changer for the global express transport business.
The new JV Company which will be based in Hong Kong will how to buy xanax online provide all door to door logistics activities; trucking, collection & distribution, freight transportation, cross docking and final mile delivery. It will also include warehouse management, order and supply chain management when necessary.
The agreement was signed by Milker Ayc, chairman of the Board and the Executive Committee, Turkish Airlines, Mei Song LAI, chairman, ZTO Express and Vivian Lau, vice-chairman, PAL Air.
"Today, I feel privileged to welcome you all for the signing ceremony of a great partnership agreement between the biggest brands of China and Turkey. We are now delighted to make this strategic move into Global Express business together with the strong partnership of ZTO, the best and largest Express company from China and our long term cross border forwarding partner PAL Air Ltd. from Hong Kong. The Joint Venture, after reaching quickly to fully functional and operational levels, is expected to take place within the world's largest integrators. In 5 years' time it will generate over 2 billion USD of revenue. The growth is expected to continue gradually parallel to the e-commerce demand."
"The Istanbul New Airport will be opened by October 29 this year and it will function as Turkish Airlines main operating hub. This mega hub, will gradually provide Turkish Cargo up to 4 million tonnes of cargo handling capacity. The flow of e-commerce products globally with this JV and via Istanbul mega hub; will provide maximum value to our customers worldwide," said Milker Ayc.
Turkish Airlines will expand its business scope and provide a seamless service to its customers from pickup to line-haul to door-to-door delivery. At the same time, ZTO and Pal Air will broaden their market focus from domestic China to global markets by using Turkish Airlines' world-wide exposure and network capability.
ZTO is the world's largest parcel distributor, by daily 28 million parcels and additionally having the widest express delivery coverage in whole China. In fact, very recently global giant Alibaba Group announced that they were to buy 10 percent of the ZTO Express through an investment of USD 1.38 billion, deal expected to close within June.
On the other hand, PAL Air has launched a B to C Wholesales Postal Express Service including last mile fulfillment to the Retail Express Services Providers in Hong Kong, China, Thailand, Vietnam, India and the USA.
Mei Song LAI, ZTO Express commented: "Because of the innovation and globalisation of new retail and e-commerce, China's logistics industry is provided with tremendous new growth opportunities. ZTO will continue to solidify and strengthen its competitive advantage for domestic growth, and will actively explore and expand international markets, building cross-border business as an important growth engine for the future."
Vivian Lau, Pal Air said: "We are in one of the most exciting times of the human history. The IoT, robotics, artificial intelligence, 3D printing, VR/AR/MR will unleash unprecedented opportunities and challenges. To add to this list, the world is awaiting the launch of 5G which promises 10 gigabits per second, a hundred times faster than the current 4G technology. All these will provide further fuel to the already explosive e-commerce development."
"Turkish Airlines, ZTO, and PAL looks forward to the creation of a world class integrator," added Vivian Lau.
Along with booming e commerce volumes, global express/courier industry continues to show outstanding growth rates.