Turkish Airlines plans to operate new non-stop routes with its first B787 Dreamliner jet
June 28, 2019: Turkish Airlines, Turkey's flag carrier, has received its first 787-9 Dreamliner from Boeing. The airline said that it plans to use the airplane's fuel efficiency, range, reliability and size to operate new non-stop international routes such as Bali, Bogota-Panama, Washington and Atlanta. Turkish Airlines' Dreamliner has seating capacity for 300 passengers, including […]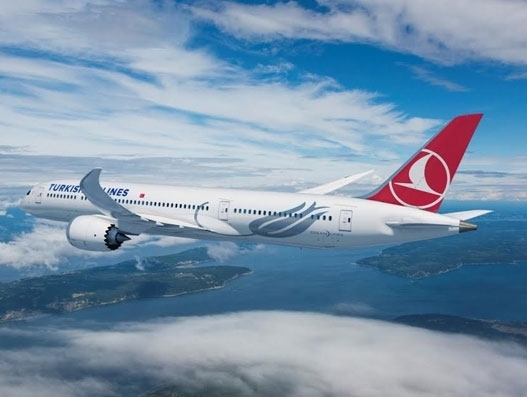 June 28, 2019: Turkish Airlines, Turkey's flag carrier, has received its first 787-9 Dreamliner from Boeing.
The airline said that it plans to use the airplane's fuel efficiency, range, reliability and size to operate new non-stop international routes such as Bali, Bogota-Panama, Washington and Atlanta.
Turkish Airlines' Dreamliner has seating capacity for 300 passengers, including 270 economy class seats and 30 business class seats. The carrier's 787 includes long haul economy class seats and business class monuments produced in Turkey by Turkish suppliers.
More than 80 customers around the world have ordered more than 1,400 Dreamliners since the program's introduction, making it the fastest-selling widebody jet in history. The 787 Dreamliner allows airlines to reduce fuel use and emissions by 20 to 25 percent and serve far-away destinations.
????
Here is the first video from our new plane, Dreamliner. #TurkishAirlines pic.twitter.com/tWxVUSR2tl

— Turkish Airlines (@TurkishAirlines) June 19, 2019
The combination of fuel efficiency and long range has helped airlines flying the 787 family of airplanes save more than 36 billion pounds (16 billion kilograms) of fuel and open more than 235 non-stop routes.
"Turkish Airlines' growth has been remarkable in recent years, both in expanding flight options and supporting Turkey's aviation industry. We are honored that Turkish Airlines is embarking on its next chapter of expansion with the 787 Dreamliner," said Ihssane Mounir, senior vice president of Commercial Sales and Marketing for The Boeing Company.