FROM MAGAZINE: Turbulent-free sky for e-commerce
While the North American margin compression led to a minor setback for Amazon in 2019, the takeover of ground handling operations at Baltimore-Washington airport proves that 2020 is not going to be a feeble year for ecommerce segment. With the investments in warehouse facilities by Tigers and Brussels Airport renovating its E-commerce Gateway Centre, there's […]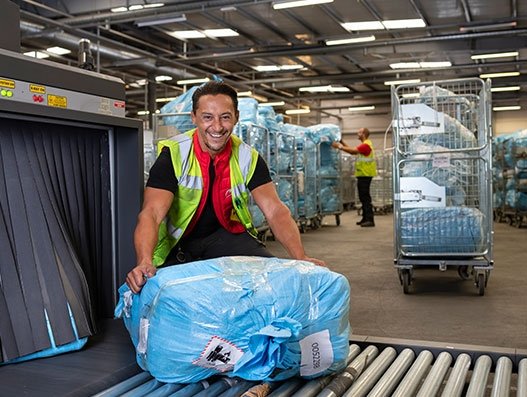 While the North American margin compression led to a minor setback for Amazon in 2019, the takeover of ground handling operations at Baltimore-Washington airport proves that 2020 is not going to be a feeble year for ecommerce segment. With the investments in warehouse facilities by Tigers and Brussels Airport renovating its E-commerce Gateway Centre, there's no looking back for the e-commerce sector.
In 2020, the total e-commerce revenue is estimated to reach $3.52 trillion, growing year-over-year (YoY) at nearly 19 percent, as per ABI Research forecast, a global market advisory firm. This is an explosion that will force retailers to find faster and more convenient modes to reach the final mile. Amazon already felt the financial pressure in 2019, with North American margin compression due to the investments in next day Prime delivery; which is expected to impact Walmart as well. Therefore, other retailers have been pushed into offering expanded shipping options and reverse logistics in order to compete, the research states.
Brussels Airport believes that for them and for all logistics platform in Belgium, e-commerce will be an important driver for the growth of cargo volumes this year. "For e-commerce, we are refurbishing an 8,000 square metres of fully dedicated E-commerce Gateway Centre. Our gateway centre has direct access to the cargo apron and enables fast and transparent handling of e-commerce shipments," says Johan Leunen, business & network development manager cargo, Brussels Airport Company.
Observing on the 2020 e-commerce business in air cargo, Andrew Jillings, CEO, Tigers states, "We do not expect a reduction given the growth in e-commerce / cross-border services. For e-commerce, organic growth from higher capacity will increase the need for cross-border solutions. Current and emerging cross-border players will be forced to offer more cost-effective final mile delivery solutions that meet the lead time demand. Perishable movements out of Australia will also play its part in volume increase in 2020 as the demand for Australian produce is strong, particularly in China. In the South African market, we are expecting growth of around 20 percent on our airfreight volumes, mainly in exports into Africa. E-commerce will have an important role to play in this growth, as e-commerce volume increases, processing volumes increase in our warehouses."
Perishables have been gaining traction in the Tigers' e-shop, particularly for wines and fresh seafood. Growing Chinese demand for lobsters and powdered milk from Australia has also spurred e-commerce growth. The company is aiming to enter into health supplements in Australia this year.
In January 2020, Amazon made the move to take over Pinnacle Logistics' ground handling services for cargo operations at Baltimore-Washington International Thurgood Marshall Airport at Maryland, as it plans to build its own domestic air freight shipping network.
The new customs platform - BE-Gate, launched last year at the Air Cargo Munich aimed at the e-commerce market, is designed to speed up customs processing for cross-border supply chains and make it more efficient. The platform supports four Belgium e-commerce gateways – Port of Antwerp, Port of Zeebrugge, Brussels Airport, and Liège Airport. BE-Gate requires the agents at destination to push the shipment details into the customs portal before arrival of the flight. Using automated algorithms, customs performs a risk analysis on all shipments, which can be custom-cleared upon arrival of the flight on the spot. As a result, the total transit time at the airport is reduced and shipments are on their way to the consumer in no time.
Leunen comments, "From an administrative point of view, identifying and separating e-commerce shipments from general cargo is quite difficult. At Brussels Airport e-commerce shipments arrive as general cargo, integrator express shipments and via postal operator. Using the BE-Gate platform is not only beneficial for improved customs clearance but can also enable the operational flows and the track & trace of shipment throughout the import process. In the future, BE-Gate will allow us to clearly identify e-commerce shipments more accurately."
Tigers' ScanPak App used in Johannesburg, South Africa facility is an innovative product that allows extracting sales order data received electronically from the e-commerce client. The data is then converted to specifications defined by the appointed courier, which then books the pick-up and populate the waybill automatically, allowing Tigers to print the waybill and attach it to the packages.
On the innovation front, Tigers will implement new features and upgrades for their unique SmartHub:Connect platform, a combined freight, e-commerce, and logistics portal. It includes introducing 4PL functionality to allow customers with more than one logistics provider to view all shipping and track and trace options. Jillings observes, "We will continue the roll-out of our new purchase order (PO) suite for SmartHub: Connect to enable customers to track factory orders and plan marketing campaigns related to stock availability during peak periods, such as Black Friday, after we extended its functionality to the Australian and Chinese markets."
Tigers has recently opened a new omnichannel facility in Sydney to meet demand during peak surges. Jillings continues, "In Australia, our focus is aligned to supporting retailers and e-tail companies that are established within the Australian market as well as emerging Australian companies that are concurrently serving local markets with global expansion strategies. The peak surge experience to date has changed the way facilities operate as greater emphasis is placed on 'on the spot' scalability response and recovery to meet the 'unpredictable' market demands. As cross-border shipments increase from retailer/e-tail companies that run on a single inventory holding philosophy, the growing demand to serve multiple markets has impacted the scale of air cargo movements."
Tigers is also working to partner with Australian companies that are looking for global support through better visibility on the Tigers SmartHub: Connect. In South Africa it will continue to target the renewable energy sector after witnessing significant growth in 2019 and expects this trend to continue through 2020. Pharma, health, and foodstuffs are the other verticals it will be targeting in 2020.
At the same time, Brussels Airport has strengthened its air cargo team at the start of the year to further improve and deepen relationship with the air cargo stakeholders. The airport business will grow, if the stakeholders have top-class infrastructure and efficient processes connected by innovative digital tools. For meeting this requirement, Brussels Airport is investing heavily to become a leading logistics platform.
Concentrating on core areas to keep businesses simple
How are you looking forward to Vietnam as it is one of the fastest-growing e-commerce markets?
DHL eCommerce is a part of every single division including DHL Global Forwarding, DHL Express, and DHL Supply Chain. Our division looks more at solution provisions. In Vietnam, we have a strong business for DHL Express. We have a domestic start-up there, where we are doing last-mile delivery domestically as we do with Blue Dart in India. It is a relatively new business; the operations began only 1.5 years back. We are trying to come up with a last-mile delivery solution in three key markets in Southeast Asia - Thailand, Malaysia, and Vietnam. In e-commerce, the pricing is aggressive. We probably are the fourth or fifth entrant into that market as a lot of Chinese and domestic companies are present there. We are trying to build low cost IT and process engineering capabilities to see if we can provide cost-effective last-mile delivery solutions and still make a profit.
Could you tell us more about your book 'Radical Simplicity'?
I wrote the book as it was the 50th anniversary of DHLExpress in 2019 and I was finishing 10 years as global CEO at the end of 2018, and it just seemed to be the right time to put some perspective behind what had happened to the company. When DHL started in 1969, we were a very disruptive company. There was no way to send documents and packages around the world as fast as what we were doing. Now, with the advent of technology and e-commerce, a lot of people are talking about disruption. We made many mistakes in the past as a new company. We grew very fast and did not make any money. We were sold out to Deutsche Post AG in 2002, as we lost $150 million. Then by 2008, we had lost $2.2 billion. The corporation thought to turnaround the business by adding more businesses to DHL, which was not the right thing to do. If you cannot make money out of your existing core business, how can you make money by adding more things to it? The whole idea behind 'Radical Simplicity' was to make sure that we are just focused only on our core business. To make sure that everybody who worked for us, especially at the senior level, was an expert who can explain in a simple way to others. You cannot explain anything simply if you are not an expert. So in the book, I laid out a process that enables radical symmetrical self-reflection. 'S' stands for simplicity, 'E' for execution, 'L' for leaders, and 'F' for focus. I tried to look at what brings people together as human beings - music, sports, love, and logistics.
What kind of revolution is witnessed in the logistics industry?
E-commerce is going to be the big driver of change in the logistics industry. As a result of this, warehousing and fulfilment are changing rapidly. Now, there are massive warehouse and fulfilment centres distributed around and they generally operate in the evening. A lot of people are not willing to do fulfilment jobs late at night. To keep the work uninterrupted, Amazon has deployed robotics and automation at fulfilment centres. The e-commerce revolution will continue to lead globalisation.
At the moment, a lot of stuff delivered by e-commerce is relatively small, light and low by value. I would say 70 percent of e-commerce is less than two kilogrammes. Overtime, it will go to seven or eight, which does not sound like a lot but is four times bigger than handled currently. This will drive a lot of investment in warehousing and fulfilment centres.
Amazon is investing $1 billion in digitising SMBs in India with an aim to export $10 billion worth 'Made in India' goods by 2025. Being your customer, how are you looking forward to this opportunity?
That is exactly my point. We just do not want a system where cheap imports from various parts of the world come to India. We want a platform where Indian artisans and businesses can export. I'm a big supporter of Amazon, Alibaba, as these marketplaces give you entrepreneurship. Even you could sell self-made earrings and Amazon gives you instant access to millions of customers around the world. We want logistics to help every small and medium sized enterprise in the world to be able to sell more and more products. It levels the playing field on a global basis.