Travel for pets made easier and safer by Delta Cargo using CarePod solutions
January 23, 2020: With the real-time update pet travel carrier — CarePod, Delta Cargo is innovatively putting safety concerns of the pet owners to rest. CarePod is an International Air Transport Association (IATA) compliant pet travel carrier that can accommodate dogs and cats, permitted in a 300 series crate, or smaller. And can be booked […]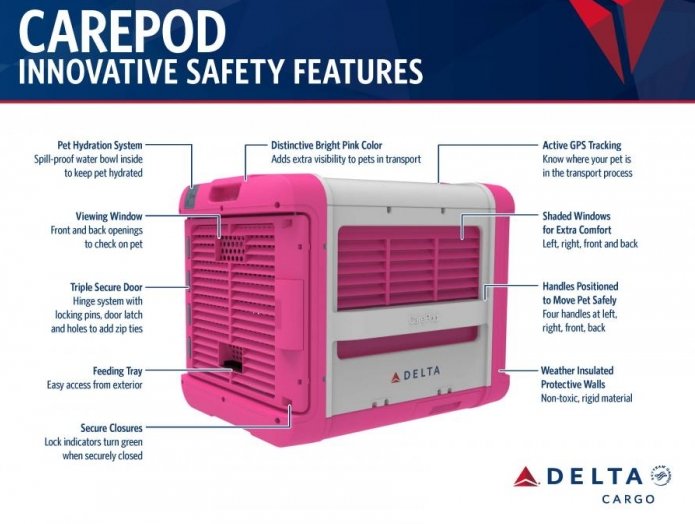 January 23, 2020: With the real-time update pet travel carrier — CarePod, Delta Cargo is innovatively putting safety concerns of the pet owners to rest. CarePod is an International Air Transport Association (IATA) compliant pet travel carrier that can accommodate dogs and cats, permitted in a 300 series crate, or smaller. And can be booked between three and thirteen days prior to departure.
The pet travel carrier will be exclusively operational at eight US locations: Atlanta, Boston, Los Angles, Minneapolis, New York (JFK and LaGuardia), San Francisco and West Palm Beach, with the promise of rolling out CarePod service, in phases, across Delta's US Network. These operational decisions are products of a successful two-month trial and five years of development and testing research.
"Continuous innovation is in Delta's DNA and the launch of the CarePod pet travel carrier, an industry first, is an example of us seeking out innovative partnerships and looking at ways to improve the customer experience throughout all parts of their journey," said Shawn Cole, vice president, Delta Cargo. "As the only airline to offer this premium pet travel solution, it represents a significant improvement for the millions of people who want to travel with their four-legged family members."
CarePod has elaborate safety features, which technically address safety concerns of the pet owners: the pod is made of stronger, industrial strength walls that are insulated to protect pets against potential temperature fluctuations, while moving thorough different climates and conditions. The carrier consists of multi-layered windows and doors with specially angled blinds that help in creating a calming environment for pets by blocking out visual stress from unfamiliar environments.
CarePod comes with a built-in hydration system, holding up to a liter of water that auto replenishes the spill-proof water bowl, ensuring pets always have easy access to fresh water. Also, the pet travel carriers are made with human grade materials that are non-toxic, UV and antibacterial treated for longer lasting strength and protection.
Delta Cargo Control Center has a dedicated, enterprise level GPS tracking and monitoring system that directly connects the pet's journey to the Center, which is managed around the clock and around the year by trained experts who then send out the right staff on the ground to check on the pet as in when needed. The Center also enables the use of mobile phone to view pet's key travel updates throughout their journey via deltacargo.com.
"We're thrilled that pet owners can now vacation and fly their pets with Delta's best-in-class CarePod solution, having the peace of mind that their pets are protected in smart pet travel carriers, that are also digitally supervised by the Delta Cargo Control Center throughout the entire journey," says Jenny Pan, founder and CEO of CarePod. "With the Delta partnership, we aim to raise the benchmark for pet air travel to allow families and pets to stay connected and travel safely together."
Delta's team of specialists and staff veterinarian constantly review processes and policies to identify areas of improvement to ensure the safety and health of pets. Delta also has temperature-controlled holding areas and vehicles in numerous locations and overnight kenneling services. The Cargo Control Center in Atlanta also gives the airline 24/7/365 visibility into all shipments, including pets.