Transforming ideas showcased at Airbus Bizlab Bengaluru
<p style="text-align: justify;">July 20, 2017: The second season of <a title="Airbus" href="http://www.airbus.com/" target="_blank">Airbus</a> BizLab witnessed exceptional ideas that could transform the aerospace segment. Through the Airbus BizLab, the start-ups who were selected to work with different Airbus teams in India and across the world over the last six months showcased their concept models and ideas […]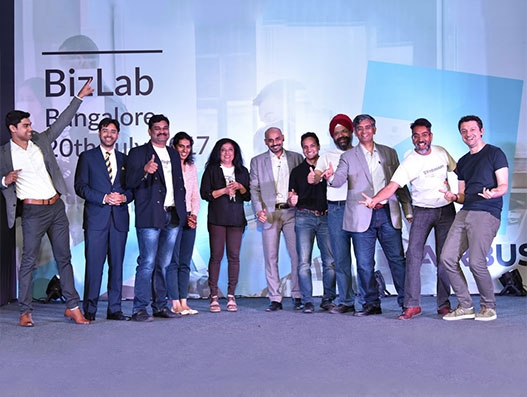 July 20, 2017: The second season of Airbus BizLab witnessed exceptional ideas that could transform the aerospace segment. Through the Airbus BizLab, the start-ups who were selected to work with different Airbus teams in India and across the world over the last six months showcased their concept models and ideas that could bring in major changes in the aerospace sector.
The season two was launched in January 2017. It had received 137 applications from nine countries. All the five selected start-ups – Neewee, Stelae Technologies, EFLIGHT, SYmbosim and Qualitas Technologies have today either started working with Airbus or are associated with the aerospace sector.
The successful culmination of its second season was announced during an event in Bengaluru that was attended by Bruno Gutierres , head of Airbus BizLab; Pierre de Bausset, president and MD, Airbus India; Srinivasan Dwarakanath, president, Commercial Aircraft, Airbus India and Siddharth Balachandran, Airbus BizLab leader, India. The concluding event also had a panel discussion on the importance of B2B start-ups across various sectors.
Commenting on the success of the second season, Bruno Gutierres said, "We are thrilled to have worked with such exciting start-ups in season two. It is re-assuring to see the potential and quality of entrepreneurs in the Indian start-up ecosystem. We are hoping to create more opportunities for start-ups to work in the aerospace and defence sectors."
Apart from working with the start-ups in the cohort, Airbus BizLab in India will soon be launching a community of B2B start-ups working in areas such as Data Analytics, Artificial Intelligence, Machine Learning, Electric Propulsion, Factories of the Future, Space Tech & Solutions, Image Processing, Cyber Security, IOT & Robotics.
"Every season we can accelerate only five or six start-ups but we keep receiving adhoc requests from Airbus teams globally checking if we have a start-up working on a specific problem that they face. So, from now on, we will have a ready pool of registered start-ups in the community to pick from. We will also organize regular events for the community to help these start-ups better understand the world of Aerospace and Defence," elaborated Siddharth Balachandran.
Bizlab is a part of Airbus' innovative strategy to bring together start-ups and Airbus "intrapreneurs" to work and speed up the transformation of their innovative ideas into valuable businesses. Through its six month "acceleration programme" for early stage projects, Airbus Bizlab gives access to a large number of coaches, experts and mentors in various domains.
The call for applications for Season three in Bengaluru is now open and BizLab is inviting interested B2B start-ups to apply for the acceleration program.