This Valentine's season, American made bouquets 15% thicker
February 14, 2020: American Airlines Cargo gets happily busy delivering Valentine's Day flowers and marks the season – from Jan. 29 through Feb. 13 – one of the busiest. Typically, the airline ships more than 1 million lbs. of flowers during the season every year, keeping the floral expression of love growing, especially in Amsterdam. […]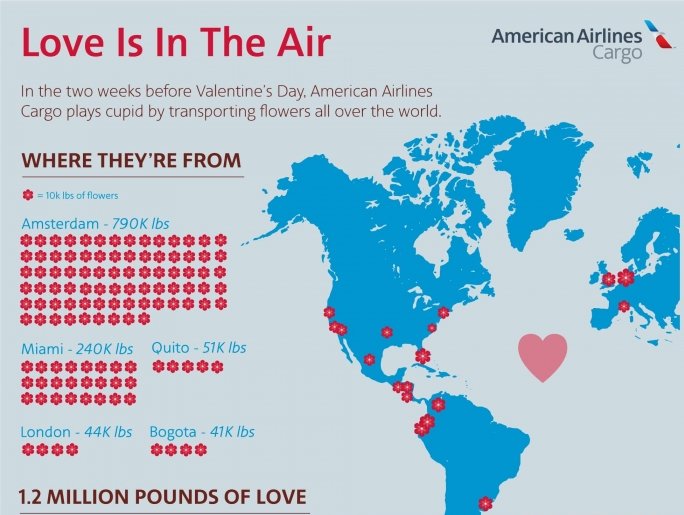 February 14, 2020: American Airlines Cargo gets happily busy delivering Valentine's Day flowers and marks the season – from Jan. 29 through Feb. 13 – one of the busiest. Typically, the airline ships more than 1 million lbs. of flowers during the season every year, keeping the floral expression of love growing, especially in Amsterdam. This year American moved 417 tons of cut flowers from the Dutch capital, or 920,000 lbs. – a 15% increase over the 358 tons (790,000 lbs.) of flowers moved in 2019.
From the farm to the famous Aalsmeer flower auction, exporters buy the blooms to send off around the world. From there, American either flies them directly to Philadelphia International Airport (PHL) or trucks them to London Heathrow Airport (LHR) to be flown to destinations such as New York, Chicago, Philadelphia, Dallas/Fort Worth, New York, Los Angeles, and Miami. While Amsterdam and London are both top exporters for the Valentine's rush, Miami also plays a large role in flower traffic during this time of year.
Last year, American shipped 235,000 lbs. pounds of flowers – notably roses and gypsophilia (baby's breath) from its Miami hub during the two weeks leading up to Valentine's Day. Many of these shipments originated in South America – primarily Quito, Ecuador, and Bogota, Colombia – destined for the U.S. and other international locations.