The mad scramble to lock in capacity keeps cargo charters buzzing
The air cargo industry has gradually become accustomed to chaos this year. The uncertainties coming with the pandemic, the demand for ecommerce and new product launches in the holiday season and the much-anticipated Covid-19 vaccine transportation has seen cargo charters buzzing with activity as air freight rates hit the roof and capacity shrinks.
Back in March-April 2020, when the pandemic was at its peak across the globe, when travel restrictions grounded flight operations, which put immense pressure on air cargo capacity, there were new types of buyers of freight capacity in the market. These were governments that were trying to protect their citizens and their healthcare staff by getting PPE kits into their country. At that time, these were non-price sensitive buyers in the market which pushed rates through the roof.
However, this time around, with the release of new iPhones, Sony PlayStations, and other gadgets ahead of the holiday season, and the upcoming popular mega shopping days such as 'Black Friday' and 'Cyber Monday', all available air cargo capacity seems to be soaked up by shippers of ecommerce products, which has led to a surge in air freight rates all over again.  Apart from ecommerce, automotive, pharma, textiles and PPE material have also seen good demand.
On lanes across the Atlantic, if capacity gets really tight, prices do not increase linearly, but might increase exponentially as it changes the dynamic for the shippers, forwarders and airlines
Niall van de Wuow, managing director, CLIVE Data Services 
"According to our latest analysis, the global dynamic load factors have reached 72 percent last week and that's a record high level that we have seen. This means that at the start of the peak season, we are already at record utilization of capacity, which must be reflected in the rates. As load factors go up, rates go up. If volumes continue to increase more than the capacity being supplied, this will put even more pressure on price. What we believe and what we've seen that on lanes across the Atlantic, if capacity gets really tight, prices do not increase linearly, but might increase exponentially as it changes the dynamic for the shippers, forwarders and airlines," said Niall van de Wuow, managing director, CLIVE Data Services.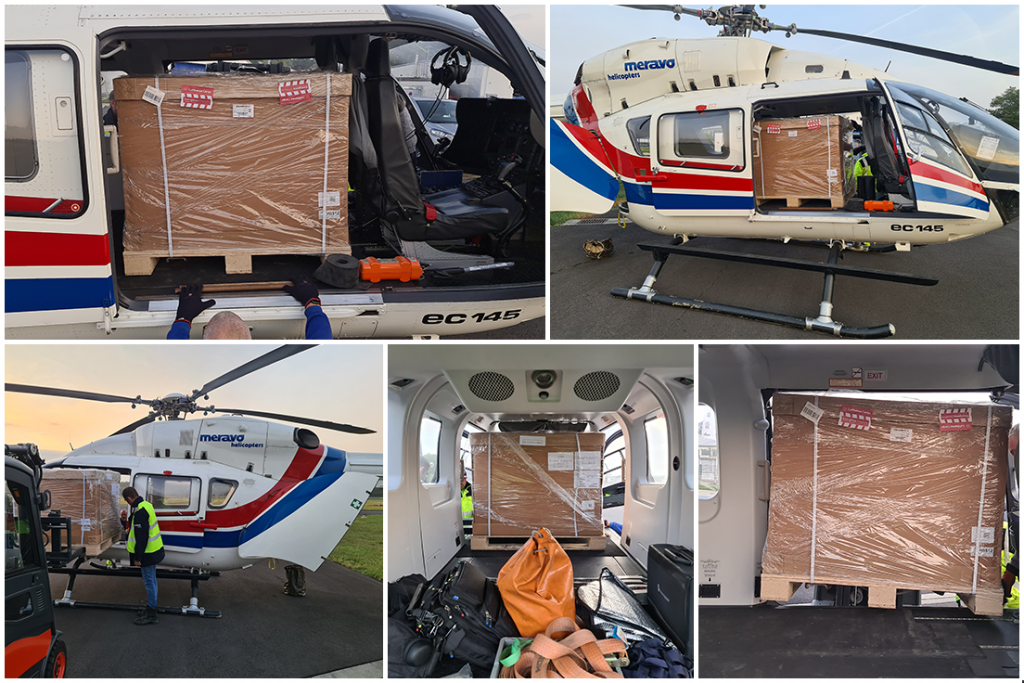 The Chapman Freeborn team transported a fragile 600kg cargo charter from China to Frankfurt carrying automobile parts. In the second leg of the journey, the cargo was carried aboard a helicopter which landed in a production plant car park in Mühlheim an der Ruhr. Photo Source: Chapman Freeborn
 
The lack of capacity has led to higher rates into the US from Asia and Europe compared to the same time last year, according to figures from the TAC Index. This has obviously kept the charter market buzzing with activity.
"Much anticipated Covid-19 vaccine supply chain has started. There is speculation in the market of 60 charters being booked ex-Tianjin to USA and many more from Beijing/Tianjin to Middle East.
Chaminda Gunashekara, senior director - Air Freight/E-Commerce/Network Development (APAC & MEA), SEKO Logistics
Some of the charter operators have started to cancel agreements signed for commercial traffic and handing back the payments taking advantage of the situation," revealed Chaminda Gunashekara, senior director - Air Freight/E-Commerce/Network Development (APAC & MEA), SEKO Logistics in a LinkedIn post. 
Gunashekara added that prices spiralled over $850,000/flight to the US. "In the middle of a peak, losing the available capacity in the market is not the ideal situation going into November, which is considered the new air freight peak season. This has a major capacity impact on other lanes ex-China and Hong Kong," he said.
It's kind of a toxic mix with high load factors at the start of the peak season and the uncertainty is making it a difficult position for buyers of capacity, Niall van de Wouw opined. "This uncertainty may lead to buyers of capacity looking for stability; they may try to bring the capacity in-house through charters or see the spot rates increase substantially because of the pressure on capacity. With very high load factors, one would expect that buyers of capacity are weighing their chances on whether they should remain on the spot if things continue like this and secure their capacity."
The demand remains high across most of the markets. The market ex-China to both the US and to Europe has been booming. Also, the demand between China and India has been witnessing significant uptick. Besides this, there is very high demand ex-Europe to the US. There is also still a high demand for PPE material ex-Vietnam, Thailand and Malaysia to the US as well as to Europe.
Global forwarders have been scrambling to lock in cargo capacity on major trade lanes to keep up with the high demand. DSV added capacity to its airfreight charter network, it announced mid-October. It has added two flights per week from Belgium to New York and a weekly flight connecting Luxembourg and Huntsville, Alabama, according to the announcement.
"Production is picking up across the Transatlantic, and with belly capacity down by 50 percent YoY, we are again expanding the DSV Air Charter Network to meet demand," Mads Ravn, head of global air freight procurement at DSV, said in a statement.
Dachser has also been adding peak season charters to connect Asia and Europe to its weekly Frankfurt-Shanghai charter rotations that began this week for the autumn peak. Weekly charters have also been provided on the Hong Kong-Frankfurt route, and the Frankfurt-Chicago rotation service.
"The market in Asia has now picked up speed again with production ramping up, and we are seeing increasing tonnages for export. With passenger flights not likely to resume to pre-Coronavirus level, we can expect a lively peak season this year," said Edoardo Podestà, COO Air & Sea Logistics explained the situation. He added, "Additional capacities have been created for this purpose."
From mid-October until the end of the year, a Boeing 747-400 will be flying once a week as a full charter between Frankfurt and Shanghai. Dachser is also handling Europe-wide distribution with its own road network via the Frankfurt Import Gateway.
When quizzed about how leading charter operator Chapman Freeborn is gearing up for the holiday season, Reto Hunziker, group cargo and OBC sales director, revealed,
We secured capacity a long time ago to be prepared and to serve the additional demand of our customers. We also use the group airlines like Magma, Bluebird, Arcus Air, Avion Express, Klasjet and Smartlynx to a maximum level to serve the additional demand moving forward
Reto Hunziker, group cargo and OBC sales director, Chapman Freeborn 
In the US, UPS used its fleet of freighters and all-cargo planes chartered from other operators to fly the newly launched Apple devices - iPhone 12, iPhone 12 Pro and iPad Air to its global air hub in Louisville, Kentucky, where they were temporarily stored. The integrated logistics provider ran a special sort operation at the Worldport dedicated solely to collecting the phones and tablets in groups by destination. On October 22, the day prior to launch, package handlers at Worldport unloaded hundreds of thousands of shipments onto conveyor belts for sorting throughout the 5.2 million square foot facility. The high-tech system has scanners that read the smart label on each package and route it through 155 miles of conveyor belts to an outbound chute, where they are placed in containers for loading onto outbound UPS flights head for destinations across the US.
"It's a big launch, it's a lot of package volume, which is why we have the special sort dedicated just to Apple shipments," said Garry Kelley, Worldport Second Day air hub manager said in a UPS news release.
Most of the global service providers have contracted freighter operators and cargo charter services to enable them to control capacity during the anticipated peak season demand on the Asia-Europe and trans-Pacific trades.
Interestingly, shipping giant Maersk recently launched airfreight forwarding operations. The first of multiple charter flights was launched to move cargo for a leading tyre manufacturer from Thailand to Japan on October 11. The company said its airfreight services would complement its existing ocean freight transport provisions.
"By combining the speed of air with the cost savings of other modes, customers will be able to reduce inventory and improve their service offerings by fast response time at an affordable price," Maersk said. The expansion in airfreight forwarding comes following the integration of former forwarding subsidiary Damco earlier this year.
Meanwhile, international transport and info-logistics provider cargo-partner announced that the extension of its weekly air charter schedule from Asia to Europe until the end of the year. The company handles transports from all of Mainland China via the key gateways Shanghai, Beijing, Qingdao, Shenzhen, Xiamen and Guangzhou as well as distribution to any destination in Europe. 
Stefan Krauter, CEO of cargo-partner, anticipates that the demand for charter services will remain high. "Since the beginning of the year, we have received numerous requests for full- and part-charter transports of urgently needed goods, the majority of which came from the pharmaceutical, healthcare and PPE sectors. In recent months, we have also noticed a growing demand from the high tech and automotive industries. In view of the expected peaks in the coming months, we advise our customers to start planning early to secure their supply chains."