The long journey of Valentine Roses
Every year, hundreds of millions of flowers are grown, cut and flown to markets around the world in the weeks ahead of Valentine's Day. We trace the journey of flowers and the role of the supply chain in delivering them on time and in the best of condition while ensuring that your valentine receives the flowers without any delay. Deeba Kazi
Naivasha is a market town in Nakuru County in Kenya, lying 90km North-West of Nairobi. It is home to a large freshwater lake set in the plains of the Rift Valley offering a scenic landscape. Naivasha boasts of being the largest flower industry in the world. Some 25 percent of Europe's cut flowers come from Kenya. And it is said that one in three flowers sold in Europe come from Kenya. One of the reasons for the region's flourishing flower industry is because of Naivasha's perfect intensity of sunlight and days of near-constant length. Roses need labour-intensive watering, pruning and treating before they can be cut and flown to buyers in Amsterdam, London and other destinations. The best are sold through auctions to florists even before they are freighted out of Nairobi; the less good end up in European supermarkets.
Therefore, if you are one of the many lucky ones being given roses by your Valentine this year, it is most likely that you are enjoying the romantic fragrance of roses flown from farms in Kenya or from its neighbouring country Ethiopia. The cut flower market today has reached a global scale where flowers are sourced from flower growing regions in Africa, South America and India and transported in the best of conditions to key market destinations in Europe, Russia, North America and Japan. The high export value of cut flowers has led to dramatic increases in production in many countries. Due to the increase in the global production system and the high perishability of flowers, exporters usually opt for air transportation considering its speed-to-market value proposition. Valentine's Day is a big day for the transport and logistics industry and there is a huge network of supply chain companies around the world working relentlessly to ensure on-time deliveries. "If you look at the volumes coming in from the UK, they go up six or seven folds during Valentine's Day. In the old days it used to be a mad rush two days before Valentine's Day, now you will find the activity starts even two weeks before this day with sub tropical plants. We bring in additional staff, additional transports, if required we bring in additional cold storage as well. Twenty four hours in a day is not long enough, you wish you had thirty six hours in a day. It's a very chaotic and important time for not just us but if you look at it from a profitability view it's probably one of our lowest profitable periods but we support importers and exporters shipping 365 days a year as it is their moment," says Colin Wells, global head specialty vertical perishables, Panalpina, UK. For Narendra Patil, VP, Soex Flora, India, Valentine's Day is considered as the bread and butter for the flower industry. It's one of the events when the flower industry flourishes. The production goes up by 30 to 40 percent and so does the demand. People involved in this industry right from the grower to the retailer wait for this big day.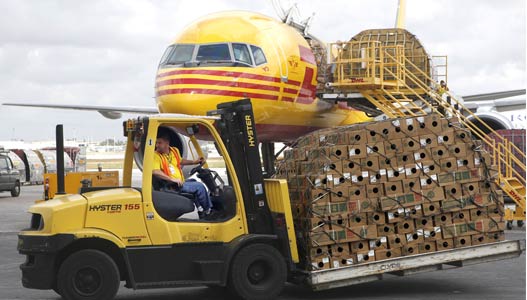 "We make special arrangements including surplus workforce, extra refrigerated trucks and the space to hold the product to make sure planning is executed smoothly. We have cold storage facilities at our farm which is five times the required capacity to store our regular production. These cold rooms are deliberately built to store huge volumes during peak harvests," says Patil. Soex Flora is the leading grower and exporter of fresh cut flowers. It exports huge volumes of rose varieties to a number of countries across the globe, with the major clients being in UK, Europe, Japan, Middle East, Australia & New Zealand. The annual exports sale goes up to 20 million flowers of which 3.5-4 million are exclusively exported for Valentine's Day, setting a benchmark for the Indian floral business. At each step in the flower industry's value chain, there are myriad procedures to follow in order to keep the roses fresh on their arrival and make sure they stay that way on your table for a good number of days. The process starts with the snip of a stem, since then the urgency is inflicted on the entire supply chain. Post harvesting, flowers are sorted and inspected after which they're hydrated and moved into large coolers. Once cooled, flowers are then boxed and readied for their journey. This is where handlers and freight forwarders come in. The freight forwarders inspect and document flower and temperature conditions, palletize packed flowers, store them in cold storage facilities at the airport, clear them through export customs, obtain phytosanitary certification, and load the cargo onto commercial or charter flights. Valentine's Day is as important for airline companies worldwide as it is for flower growers, making flowers as the single most important cargo items carried by them. In 2015, Lufthansa Cargo transported around 1,500 tonnes of flowers for Valentine's Day, most originating in Kenya or South America. The flowers only remain in Frankfurt Airport for a short while. Just a few hours after landing, the roses are transported onwards from there out into all of Europe. "Special charter flights are arranged in addition to the scheduled connections at this time each year in order to serve the high demand for Valentine's Day. The cargo airline has developed the special Fresh/td product specifically for the transportation of perishable goods," states Oliver Blum, head of perishables at Lufthansa Cargo. For American Airlines (AA) Cargo, flowers are a top export from Latin America through Miami. On average around Valentine's Day, AA Cargo transports 10 to 15 tonnes of fresh cut flowers a day. In 2015, AA Cargo shipped more than 19.2 million pounds of flowers around the world. Carmen Taylor, MD South America, American Airlines Cargo, says, "The bulk of flower traffic for American originates in Bogota, Colombia, but giving our increase of capacity to/from Miami and Ecuador, effective this past June, we expect to move a very large quantity of flowers this Valentine's Day season as well. Over the years, we expanded our flower business into the European market, where places like Amsterdam are major floral producers. We also see a lot of flower shipments coming through our Los Angeles hub, where we have a 60,000 square-foot facility equipped with cooler facilities, full freight screening capabilities and the ability to take shipper-loaded units across an automated bypass system. While in Dallas, there are plans in place for a new cooler facility to support the amount of perishable business coming through our hubs." It's not just Lufthansa Cargo and AA Cargo that have witnessed a positive trend for its flower traffic; another major airline that makes the most of this season is Air France-KLM-Martinair Cargo which is known to increase its capacity during peak seasons. Its director for perishables Pieter Fopma, says, "We serve the main freight corridors for high-end flowers between Schiphol and flower exporting countries like, amongst others Colombia, Ecuador and Kenya. Given the strategic position of Schiphol, the logistic hotspot of global flower trade, we are one of the main capacity providers to the worldwide floriculture industry, with a steady worldwide market share of round about 50 percent."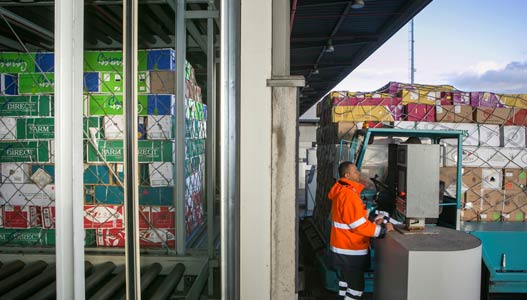 According to Fopma, Air France-KLM-Martinair Cargo carries up to 100 tonnes of flowers and re-export via Amsterdam-Schiphol to various European destinations, Russia, China and North America. "Between the end of January and beginning of February, on top of regular flower traffic, an average of 800 tonnes of flowers originating from Kenya and Andean countries are flown to Europe for Valentine's Day, where Air France-KLM Cargo holds the strongest market share. The largest part of this additional capacity is meant to primarily supply the British, Dutch and Russian markets," explains Fopma. When it comes to shifting floral cargo from growers to consumers efficiently, air cargo terminals play a critical role in the supply chain logistics of the same. Hong Kong Air Cargo Terminals Limited (Hactl), the world's largest and the most technologically-advanced air cargo terminal operator, is involved in the import of flowers from a number of producer markets, destined for Hong Kong itself, China, and other onward destinations. Mark Whitehead, chief executive, Hactl, says, "Clear handling instructions and pre-alerts from operating carriers are crucial to ensuring smooth and speedy handling of perishables. With pre-alerts, Hactl staff is able to segregate perishables traffic from general cargo, and allocate the necessary resources and fast-track handling. Where perishables are not being picked up immediately by consignees, clear handling instructions enable us to keep the shipment in the appropriate temperature-controlled storage facility which aims to uphold the quality of the shipment." To streamline processing of perishables and minimise the time taken, Hactl's perishable handling centre is located closest to the apron area. With cargo volumes increasing weeks before Valentine's Day, Whitehead adds, "Although Valentine's Day creates a considerable upsurge in our normal flower volumes, the high capacity of our perishable handling centre together with Hactl's inherent ability to meet unexpected peaks in demand, mean that we are fully prepared for all festive occasions like Valentines' Day or Mother's Day". One of the key components in the journey of fresh flowers is the cold chain supply. Just like all perishable products, flowers also require specific temperatures and airflow to maintain freshness and the overall quality of the same. The ability to monitor and control the temperature of the flowers during transit is a key responsibility to ensure the flowers look and smell as fresh as when they were picked. "Major challenge in transporting perishables like flowers is the lack of uniform implementation through the entire supply chain at the airport: not all stakeholders in the cool chain are properly equipped to handle temperature controlled products," says Halit Anlatan, Cargo VP, Sales & Marketing for Turkish Airways. Turkish Cargo has a tracking system on its website and offers the capability of remote temperature and humidity tracking using smart sensors. "If there is any temperature excursion in the cold chambers, the system sends you an alarm message. Every corner of the warehouse including the open areas in the airside and landside are being watched and recorded 24/7 by 330 cameras," Anlatan adds. Along similar lines, Daniel Johnson, manager of global products at IAG Cargo, says, "When it comes to the shipment of flowers there are two major considerations: time and temperature. Both are essential in ensuring that flowers arrive at market in optimum condition. As a carrier, we are therefore presented with the challenge of maintaining an appropriate ambient temperature at all times for flower shipments while delivering them as quickly as possible." IAG Cargo uses state of the art handling facilities at its Madrid and London hubs offering refrigerated zones in which flowers are stored while they are awaiting collection. These facilities are supported by refrigerated trucks at the Madrid hub to transport them between the aircraft and handling facility.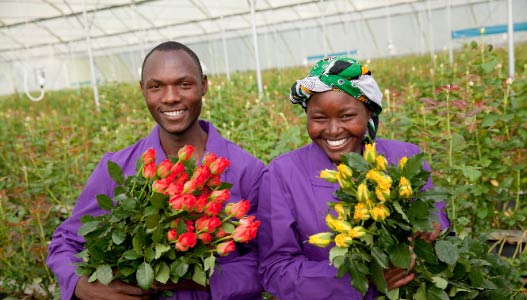 "When it comes to timely delivery, we have introduced a range of measures to ensure flowers are with us for as little time as possible. For instance, in London customers are able to collect flowers directly from our handling centre at the airport, enabling a 90 minute collection timeframe from landing. This helps them get shipments from the plane to florists as quickly as possible," Johnson says. The logistics of transporting flowers is not an easy task and requires a lot of coordination right from the grower till the florist, if not monitored correctly; the entire shipment is at risk. Patil of Soex Flora recollects an incident in which poor service from an airline made an entire consignment of 100,000 fresh roses to Netherlands go waste. It was a consignment ahead of Mother's Day and with no direct flight to Amsterdam, Patil used the service of an airline with a plus one stop. While the shipment reached on time; when it was opened it was found that the shipment arrived in high temperatures and the flowers inside were cooked and arid. "This happened as the cargo was not kept in the cold storage during the lay over period. Amsterdam is always a demanding sector as very few airlines operating from Mumbai accept perishables for this destination," says Patil. The company managed to replace the shipment using another airline with better connectivity. From an exports perspective, it's very important to get the documentation process right before the import starts. Panalpina's Colin Wells says, "We ensure that the documentation process is done correctly at the export origin before forwarding all the necessary paperwork through to the clearing agent on the import side from our own branches." Panalpina recently acquired a majority stake in Airflo, Kenya's second largest air freight forwarder specialized in the export handling of flowers. Airflo is part of Dutch Flower Group (DFG), the world's largest flower and plant trader. The acquisition reflects Panalpina's continued expansion in Africa and its increasing focus on the perishables business. On an average Panalpina Airflo transports 150-170 tonnes of flowers per day which come from farmers within Tanzania and Kenya. It is the perishability of flowers that make the job hard for flower logisticians. Markus Fellmann, global vice president, Hellmann Perishable Logistics says, "Our entire trucking fleet is equipped with reefer containers and roller beds. This allows us to perform cool and quick transfers to and from the airport of entire aircraft containers. This way we can breakdown aircraft pallets in our own cold storage facility rather than an ambient warehouse at the airport." Hellmann's cold storage facility in Los Angeles is divided in seven different sections at different temperatures to cater to the different requirements of its clients. Furthermore it has pre-cooling machines in three of those seven rooms. This helps drop the temperature of flowers before the final mile delivery or before they board the next plane to their final destination. Technology innovations in the industry have translated into quality predictability, which is no easy task to accomplish when doing business with perishable goods. Ameet Sareen, manager, Cargo Solutions at Air Canada says, "Flowers are shipped with AC Fresh, our AC Cool Chain solution for perishables, to ensure these delicate shipments are handled with care and under the conditions they require, and this of course applies to all shipments that move beyond our hubs by interline or truck." Out of Bogota and several other cities, Air Canada Cargo offers Dupont Tyvek air cargo covers, which are designed specifically to protect sensitive shipments like flowers from weather-related threats to the cold chain, which is good, given that these shipments are often travelling from one weather extreme to another. Air Canada Cargo is also in the midst of introducing RFID technology. "This system allows for real-time tracking and proactive intervention for delivery and recovery of freight, and provides us with superior visibility on the status of shipments. While we are just in the introduction phase with this technology, down the line, we see it as being an added benefit for our AC Cool Chain solution," Sareen promises.