The changing landscape of logistics in e-commerce era
The global flow of goods and services is taking place and is becoming a multi-trillion dollar opportunity. The air express industry is enjoying the benefits of this opportunity. Placing the consumer who is the king in middle of all that the industry is doing, the industry is moving from B2B focus to addressing B2C-related requirements. The carriers and other stakeholders in the express industry continue to see surge in the e-commerce shipments handled, unmoved by foray of e-tailers such as Amazon into logistics space.
Shreya Bhattacharya & Twinkle Sahita
The air logistics industry has largely seen two eras: pr(e)-commerce era and post e-commerce era.
In the pr(e)-commerce era, logistics was all about transporting goods from one place to another with no transparency or product tracking option provided to the shippers or the consumers. Suppliers passed on the raw material to the manufacturers who then distributed finished goods to consumers via distributors or retailers.
Contrary to the conventional supply chain, post e-commerce era has brought unprecedented zeal in the sector. Consequently, the business landscape of the entire parcel and air express industry shifted gear from a pure Business-to-business (B2B) focus to also including Business-to-consumer (B2C)-related requirements. In this highly competitive industry, effective and efficient logistics are critical success factors. E-commerce players can succeed only when they are customer-centric, fast and transparent; this has resulted in parcel traceability and speed becoming the new standards in e-commerce logistics.
Supply chain giant UPS says it has passionately adopted technology to smoothen its supply chain as they become more customer-centric.
"Supply chains certainly are becoming more customer-centric, and UPS is meeting that challenge with $2 billion in capital investment so far in 2017 to increase capacity and enhance operational technologies. From an air cargo standpoint, we are seeing an increase in volume from freight forwarders, who have the expertise to assist e-commerce shippers navigate the often complex rules for international shipping. Air cargo enables e-commerce shipping across borders at reduced cost through consolidation of multiple shipments," said Jim Mayer, Public Relations manager, UPS Airlines.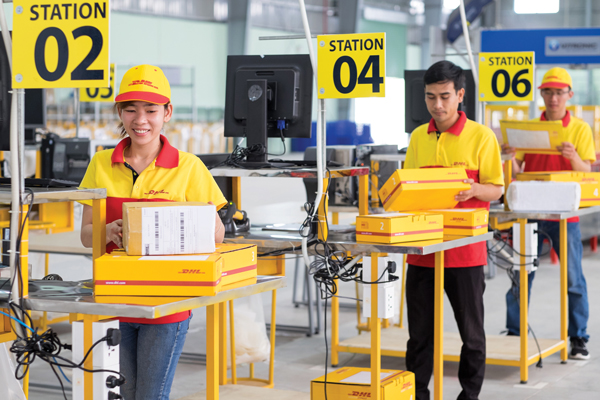 Photo: DHL
Worldport, UPS's main air hub in Louisville, Kentucky, is highly automated. "Most packages are only touched twice, once when unloaded from an air container and then again when loaded into another container for departure. The sorting process through 155 miles of conveyor belts is all automated. Now the automation technology perfected at Worldport is being implemented at new and expanded ground hubs around the country, most notably in Atlanta, where a new $400 million regional package sorting hub is now under construction. And a $300 million project underway in Louisville will nearly double the sorting capacity of the company's Louisville Centennial hub, a facility that both services the region and provides an end-of-runway gateway to more than 150 shippers who have re-located to be close to Worldport," informs Mayer.  
Ahead of what's predicted to be another strong peak season for e-commerce, the Atlanta-based shipping giant announced that it is seeking 95,000 employees nationwide, to support the anticipated increase in package volume that will begin in November and continue through January 2018. The count is the same as last year. Most are package handlers making $10.20 an hour, but UPS also is looking for delivery truck drivers, over-the-road tractor-trailer drivers and driver helpers.
Another player in the sector, who is benefitting on a big scale from the e-commerce business is DHL. DHL eCommerce is focused on three product lines: cross border, fulfillment and last mile delivery. Being a pioneer in the field of innovation, DHL's alternative delivery options such as parcel lockers, parcelcopter, in-car delivery, robotics and augmented reality have captured lot of attention and also have been seen as cost-effective options.
Talking about its recently introduced innovative in-car delivery option, Charles Brewer, CEO, DHL eCommerce, said, "With the in-car delivery option, customers' cars are now available as a parcel drop-off location. Last year we piloted a project with SMART cars, and most recently together with Volkswagen in Berlin. Car owners use their car as a mobile delivery address and get their parcels delivered directly to the car wherever they may be parked. Once customers decide on a specific time window, couriers are given a one-time access during the selected time period to unlock the car boot and deliver the package. Safe, secure with fantastic convenience is a winning combination."
E-commerce is the traditional business of the integrators, hence their volumes are so strong. However, postal authorities around the world are enjoying a new "lease of life" from greater involvement in this sector, and are working together with the airlines and airports to provide cost-effective solutions.
Singapore Post (SingPost) became the first anchor customer for the new eCommerce Airhub opened officially by SATS in April 2017. This new fully automated facility has enhanced the consignment handling capabilities for both SATS and SingPost, through improved efficiency and space utilisation. With mailbag processing capability increasing by more than three times and automation to reduce mail processing time by 50 percent in this new facility, e-commerce shipments can be loaded more quickly onto flights.
This development has augmented Singapore's value proposition as a leading air cargo hub in the region, and presents opportunities for the cargo community in Singapore to leverage on the state-of-the-art automation to handle e-commerce goods more efficiently.
"With our extensive air connectivity and vibrant postal and logistics sector, Singapore is well-positioned to capture the e-commerce growth in the region. Changi Airport has more than 5,500 weekly flights to 43 cities in Southeast Asia, which puts us in a strong position to be an e-commerce gateway airport for Southeast Asia," said LIM Ching Kiat, managing director, Air Hub Development, Singapore Changi Airport.
Informing about the new initiative taken by the Singapore government on the information flow side, he adds, "E-commerce businesses and supply chain players can soon look forward to the launch of the National Trade Platform (NTP) by the Singapore government, a new and enhanced one-stop B2B and B2G trade portal (replacing the current TradeNet and TradeXchange). The NTP will help businesses improve their productivity through the digital exchange of information and re-use of data, with their business partners and the Singapore government."
Asia is being seen as the next big market in terms of e-commerce. Speaking to Bangkok Post, Marc Woo, Google's head of e-commerce, travel and financial services, is quoted as saying APAC now accounts for 40 percent of global e-commerce sales, with China, Japan, Australia, South Korea and India dominating the region's e-commerce business. He sees Southeast Asia as the next frontier for e-commerce in the region.
Agreeing with the fact already mentioned, Mark Whitehead, chief executive of Hong Kong's cargo handler, said, "Asia, and particularly China, are forecasted to be the major global focus of this growth. China continues to import and export e-commerce commodities, and so Hactl (via its value-added logistics arm, Hacis) will continue to enjoy further growth." Hong Kong Air Cargo Terminals Limited (Hactl) has attributed e-commerce as a driver for the 16.6 percent increase in handled tonnage in the first half of 2017.
Aiming to tap the potential in this next big market, Budapest Airport says through a statement, "We want to attract more regional distribution centres for e-commerce to Budapest Airport, especially in relation to China. The potential for Budapest Airport is enormous and we already have several opportunities on the table. China is pushing e-commerce and the trends in Central Europe show a preference for this form of shopping." Online shopping in Hungary increased by 20 percent in the first half of the year (+HUF25 billion = EUR80 million) compared to the same period in 2016, and is becoming more and more popular among Hungarian shoppers, following worldwide trends. Information Communication Technology (ICT) items, clothes, books, and toys are among the most popular products purchased online.
Many other players are benefitting from this rapid growth in e-commerce. China-based SF Express has been adding freighters to its fleet to capture major share of the booming e-commerce market.
India is also one of the rapidly growing markets when it comes to e-commerce sector. Indian air express industry approximately handles about 30 million shipments on daily business. And over the last two years, DHL has also invested in e-commerce logistics covering a wide range of activities and across multiple markets – from EUR 70m in India to ongoing investments and network expansions across Southeast Asia.
The e-commerce scenario in India has been changing with the introduction of uniform taxation market. On one hand, GST has encouraged the warehousing sector to evolve rapidly from traditional 'godowns' to fulfillment centres. Companies are trying to consolidate all the smaller warehouses into larger ones because there are no tax implications in putting a warehouse to 'x' location.
Increase in compliances for e-commerce operators and as well as the express industry may impact the operational efficiency of the entire value chain. With the implementation of Goods and Services Tax (GST), and e-way bill which will also be implemented shortly, (this is an electronic bill required for the movement of goods in case the value of the goods are above 50 thousand rupees. A new bill has to be generated every time a shipment moves from one vehicle to another, this is expected to impact the operational efficiency of the time-bound movement of goods.
Commenting on the post GST market, PC Sharma, CEO and Whole Time director, TCIEXPRESS, said, "A new e-way bill is required to be generated every time a consignment moves from one vehicle to another. In the express industry, which is primarily dominated by real-time deliveries and tracking of the vehicle for the shipments are critical for the customers. In such a scenario, operational efficiency might be impacted to some extent. Having said that, it is also notable that the e-way bill portal allows the transporter, supplier and the recipient to be on a single platform through which tracking of goods will be enabled through Radio Frequency Identification (RFID). This way the process will be transparent and seamless, thus enabling hassle-free movement of goods from one point to another." TCIEXPRESS is one of the major express delivery companies in India.
There has been a net shift of volumes in the parcels sector from road to air, with 40 percent of respondents agreeing there is modal shift, according to Transport Intelligence (Ti's) Global Express and Small Parcels report.
Analysing the trend of modal shift from road to air, Mario Patyk, head of Business Development Cargo/Logistics, Leipzig/Halle Airport (LEJ), said, "We have noticed that shipments consisting of many pieces, which have traditionally been transported by road, have been turned into air cargo. Clients benefit from a shorter transport time and a reliable and more cost-effective service, which allows them to continuously grow their customer base and business." Online trade (e-commerce) has also contributed immensely to the growth in volumes at Leipzig/Halle Airport. Strategically Leipzig/Halle Airport aims to position itself as a multimodal e-commerce gateway by further developing its air cargo, road and rail freight facilities, which are all situated at the airport's premises.
The high levels of growth seen recently in air cargo can also be partly attributed to growth in cross-border ecommerce, says Ti's Global Express and Small Parcels report.
Cross border e-commerce has boosted the volume of e-commerce shipments handled by the carriers, airports, freight forwarders.  Accordingly, companies are adapting to the evolving needs of the consumer. They are investing in technology and broadening their range of offerings.
Supply chain major Tigers, highlights its IT solutions in the e-commerce arena. "Our IT systems are fully omni-channel, allowing us to combine both standards B2B with an advanced B2C offering. Customers can rapidly deploy to new markets at a reduced technical overhead on their in-house IT departments. We look at typical problems that may arise in customs, foreign courier companies, and web design for new markets, and then tailor our systems to help customers overcome these issues. We offer two products: eTigers and Tigers eShop. eTigers provides the processes and software for full end-to-end e-commerce solutions, and Tigers eShop is a digital marketplace that offers a one-stop-shop solution for cross-country e-commerce," said Andrew Jillings, CEO and Group MD of Tigers.
There is still room for improvements when it comes to adopting technological solutions. The major problem is - there is lot of data. But the data needs to organised. Also, the cloud based data system should not only collect the data regarding the shipment, but also the necessary content for customs and other authorities.
"Data, data, data: Data needs to be accurate starting at source and needs to be enriched with the appropriate information through collaboration between parties in the supply chain.  Only by submitting data in an accurate way, and sharing this date so as to inform parties at the other end of the supply chain, will cross border e-commerce become more and more successful," suggests Saskia van Pelt, director Business Development Cargo, Amsterdam Airport Schiphol.
The air express industry should look at another solution suggested by Hactl. "We believe in online solutions, and in ensuring that air cargo spends more time in the air and less time on the ground. This can be achieved via more direct flights closer to the destination/origin and fewer long-distance inefficient road trucking. Time is critical for air cargo and trucking always has more risks on in-time delivery. Having more than eight hours trucking and 700-800 kilometres in your air cargo supply chain is inefficient," adds Whitehead.
There are many e-commerce suppliers entering the market. More suppliers entering the market means more competition. Competition not just between the suppliers, e-commerce operators but also amongst the logistics providers. In this case, price becomes the most important differentiator. The companies can look at reducing the logistics costs as logistics is every time the obvious target when it comes to reduction of prices.
Global e-commerce players have different approach to logistics. Alibaba relies heavily on 3PL players. The Chinese e-commerce firm has taken control of logistics unit Cainiao and pledged to spend $15 billion over five years to build out a global logistics network. Alibaba will invest 5.3 billion yuan to boost its stake in Cainiao Smart Logistics Network to 51 percent from 47 percent.  Amazon, on the other hand, has acquired freighters to handle the growing volumes.  JD.com, China's second-largest e-commerce company after Alibaba, has recently separated its logistics arm and has created a new business group called JD Logistics, that will serve the needs of other e-commerce players as well.
What the future has in store for the express industry – cannot be predicted. However, seeing the surge in the e-commerce shipments handled by the air express industry, unmoved by foray of e-tailers such as Amazon into logistics space – paints a quiet clear picture of how it is going to be.
Advances in technology, logistics, payments and trust — along with increasing internet and mobile penetration and consumer demand for convenience — have created a $1.9 trillion global online shopping arena, where millions of consumers no longer 'go' shopping, but literally 'are' shopping —@ every moment, everywhere.
Photo Source: UPS