FROM MAGAZINE: The changing face of India's Aerospace Manufacturing Industry
While initiatives like 'Make in India' have been formulated by the Indian government to alter the country's image into a manufacturing power, when it comes to aerospace industry there is much that needs to change, says Aravind Melligeri, Chairman & CEO of Aequs Group. Based in Belagavi (also known as Belgaum), Karnataka, Aequs specialises in […]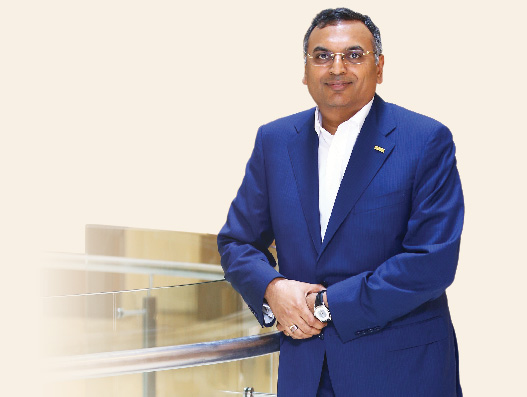 While initiatives like 'Make in India' have been formulated by the Indian government to alter the country's image into a manufacturing power, when it comes to aerospace industry there is much that needs to change, says Aravind Melligeri, Chairman & CEO of Aequs Group. Based in Belagavi (also known as Belgaum), Karnataka, Aequs specialises in precision manufacturing and assembly for aerospace and allied industries. For aerospace manufacturing in India, almost all the materials and equipment used are imported and the process involves nuances from the logistics point of view, he emphasises. In a tete-e-tete with Shalini Nair & Shreya Bhattacharya, Melligeri shares valuable insights on India's aerospace manufacturing industry and calls for better transparency and less political intricacies, which he thinks are stunting the industry's development.
Tell us about the kind of complexities you see in the supply chain while procuring raw materials.
I feel the whole aerospace industry is full of inefficiencies from the supply chain logistics' perspective. It is inefficient and challenging. It comes down to capabilities and all the political compulsions. For example, let us consider B787, how its parts come into it. The wings are made in Japan, fuselage made in Alenia Aeronautica, landing gears come from Safran, etc. Then the detail parts go to the next level, which comes from all over the world. For a cargo door of 787, the order is with Saab (Saab Aerostructures), which is supposed to deliver the door, but that gets delivered to Spirit (aerospace), which makes the fuselage. Later on, the detail parts come from Aequs in Belagavi. Some of the mechanism comes from the US. Then they put everything together and send it which gets clubbed in Wichita. Further, it goes as a fuselage piece, where the front fuselage gets attached to the centre fuselage. So our industry works with this much of complexity.
How soon can India actually reduce import dependency in the aerospace sector?
Much sooner than the oil (laughs). Today in aerospace logistics in India, we have to import almost all the materials and equipment. Technically speaking, there is no such part which is domestically manufactured in our country. Therefore, we import 100 percent of raw materials, machines, cutting tools, cutting oil, fittings, whereas only the manpower is what we are leveraging upon. Hence, we are basically doing value add. In terms of raw material, there is not a single Indian source which can deliver to a commercial aerospace industry. We have a large amount of machine manufacturers in the country only focused on automotive and capability perspective, but they cannot deliver what an aerospace industry needs. So, we import 100 percent of it.
The point is that these are not low hanging fruits; they are indeed a painful process. If you have to focus on doing an aerospace capable machine manufacturing, it means that the volumes are going to be much lower than the automotive machines. So your investments will be much higher. Certainly, you will get paid a little more but it is still a commodity and somebody else outside the country has an established base, with economies of scale and we are competing with them. It is like Airbus competing with Bombardier on C Series. Think about that!
What standards do Aequs maintain for aerospace manufacturing?
AS9100 is the basic fundamental certification standard. We also have customer approvals for facilities and each of the part we make. Today, we make almost 3,000 different parts and each process has to be approved by Airbus, Boeing or someone else. We have certification like National Aerospace and Defense Contractors Accreditation Programme (NADCAP) for surface, heat, chemical treatment, etc. It is a body put together by all the original equipment manufacturers (OEMs).
What are the raw materials you import?
We import raw materials like aluminum, steel and titanium from Europe, US and Russia. Titanium is from Russia, predominantly from VSMPO-AVISMA Corporation and some from the US and Europe.
All these parts manufactured are high value cargo. What kind of safety measures do you follow during transportation?
The biggest complaint we have received is visual defect like scratches, metal-to-metal touching, etc. that happens during transportation. A single scratch leads to rejection. We have put accelerometers on the shipments to see whether it has been dropped. The dropping issue mostly happens in sea cargo than air. When more of packaging is done, customers complain that it takes a lot of time to unpack which leads to waste of their time. We have to address both the issues.
What are the biggest challenges you find in the air cargo industry while transporting your shipments?
In the air cargo industry, if you bifurcate between the commercial airlines as belly vs dedicated freighters, the biggest competition is bellies. The question is how you manage the balance between the two. This is delta revenue for one and a core business for other. Our delivery goes to France through DHL from Bengaluru every day. Earlier, we used to run through bellies now we have DHL freighters. The painful process is when our consumer products get delayed, we have to airlift them. One of the biggest airlifting we did was 40 tonnes of castings for power generation product from Delhi to Naritta by a B747F of Cathay Pacific. My set of concern is whether India is a suitable country to have air freight for consumer products.
Is there a right balance between demand and supply in aerospace manufacturing?
If OEMs are demanding, we will increase the rate of production. I cannot alone increase, everybody has to do it. There are three million parts in an aircraft and we make only few thousands of it. Earlier, Airbus used to manufacture 25-30 aircraft per month and today it has gone up to 60. That basically is the demand and they want to increase it further. Boeing and Airbus are sitting with a 7 and 9 year order back log, respectively. The question is, if we increase the rate of production we would have gone faster, but later on we have to bring it down, which means idle capacity resulting in high cost of capital. Who is going to pay for it? Unless we have ten-year visibility of increased production rate, we cannot commit.