FROM MAGAZINE: The billion $ lift for Flexport
One of the things that made Flexport what it is today is that they were not dogmatic around being a software company. They are attempting to write a very hard set of rules that are universally applicable to deal with the complexities of global freight industry. And Flexport just got what it was looking for […]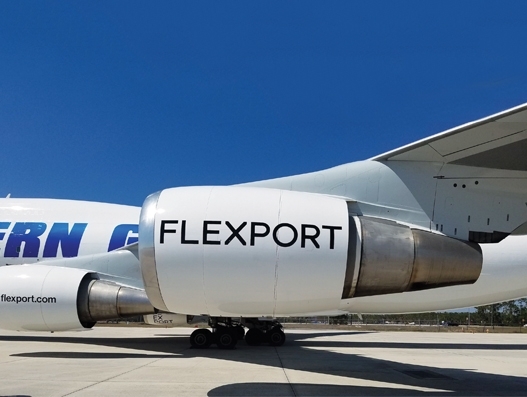 One of the things that made Flexport what it is today is that they were not dogmatic around being a software company. They are attempting to write a very hard set of rules that are universally applicable to deal with the complexities of global freight industry. And Flexport just got what it was looking for – a billion-dollar investment — to realise its dream.
Reji John
On February 21 when SoftBank announced that it is investing a billion dollar in Flexport led by its investment vehicle, the $100 billion Vision Fund, Flexport founder and chief executive Ryan Petersen published a blog post in Flexport detailing what the billion-dollar investment means to Flexport and for the global freight industry.
Petersen wrote: "Like many, I'm inspired by the dedication and vision of the organization's Chairman and CEO Masayoshi Son, and his commitment to an ambitious vision for using technology to advance human happiness. At Flexport, one of our core values is to 'play the long game'. In this respect, we are in awe of the long-term thinking of SoftBank, which champions both a 30-year vision and 300-year growth strategy."
Flexport, founded in 2013, is a software-focused freight forwarding and customs brokerage company based in San Francisco, California. It helps businesses transport their goods to their point of sale.
According to him, Flexport will use the capital to help shape the necessary digital transformation of the $2 trillion global freight forwarding sector, as well as the even larger $7 trillion global logistics industry. "At Flexport, we share a vision to unite the planet in a seamless web of commerce, unhindered by physical borders, boundaries or political agendas. More simply put, we believe that everybody should be empowered to do what makes us uniquely human: to trade," he wrote.
The billion-dollar Softbank investment is the culmination of a two-year off-and-on courtship that heated up after Petersen read SoftBank founder Masayoshi Son's 300-year plan which was unveiled in 2017.
Son, an inveterate dealmaker, funds startups that he believes are driving a new wave of digital upheaval. When Son first detailed his vision, during an investor presentation in 2010, his slides depicted chips implanted in brains, cloned animals, and a human hand giving a robotic one a valentine and there were plenty of scoffs. Many see this machine-driven future as frightening, or even dystopian. But Son believes that robots will make us healthier and happier.
Interestingly both Som and Petersen share an ambition to use technology to connect people through, what Petersen calls "an information revolution".
It is also interesting to know how Son makes personal connections with the CEOs of all companies funded by Vision Fund. He has a distinct deal making style. He is known to invite founders for formal meeting at SoftBank's sleek Shiodome tower in Tokyo, which has expansive views of the harbor and beyond. It is said that when Son comes into the room his advisors know the company through and through and he is there only to make an offer. This is followed by a meal.
The sovereign fund of Saudi Arabia is the biggest investor with $45 billion into the SoftBank Vision Fund. Son is in the midst of launching a second $100 billion Vision Fund and the Crown Prince Mohammed bin Salman of Saudi Arabia has already committed the same amount for the second fund.
Delivering a keynote address at the 2017 CNS Partnership Conference Petersen spoke about the status of the global freight industry and its relationship with the customers or shippers. "Our customers are living in 2017 and the industry is living in 1993 and the role of Flexport and companies like us is going to be that of bridging that gap," he said in his keynote to a gathering of freight forwarders and airfreight industry professionals.
Complimenting Flexport, Zvi Schreiber, founder and CEO of Freightos, an online freight marketplace, said in a LinkedIn post, that it is great to know SoftBank Group seeing the huge potential of global logistics. "This investment shows LogTech is still gaining momentum, customer-centric freight is only getting more important and, yes, it's a wakeup call for more… traditional carriers and forwarders," he wrote. According to Schreiber, Flexport will likely make massive IT investments, expand their physical presence (e.g. more aircraft), and continue advocating the importance of a modern digital freight experiences for customers.
Moritz Claussen, one of the founders of cargo.one, an online booking platform that freight forwarders use to search, compare and book capacities across multiple airlines, sees this investment as a wake-up call for the industry to start investing into technology and to start building customer-centric products. "Flexport proves that a customer-centric and technology-based approach to logistics is sustainable and fundable," Claussen wrote in a LinkedIn post.
Flexport today operates its own Boeing 747 freighters and employs over 1,000 people across 11 offices and four warehouses. It brought in revenue of $441 million for 2018, a previously unreported total that represents annual growth of 95 percent. "Today, we're more committed than ever to creating incredible experiences for our almost 10,000 clients and suppliers across 109 countries," Petersen said.
In his blog post, Petersen gives a glimpse into the three cornerstones as it defines the new way forward for Flexport and the freight forwarding industry in the aftermath of the latest investment. He said that Flexport is building something no one has built before. "The human brain has a strong unconscious bias against tackling really difficult problems. It's probably one of the big reasons no one before us has succeeded in modernizing our centuries-old industry; it's a massive, hairy, complex system that's held back by the inexorable power of inertia. Flexport is dedicated to disrupting this idleness and seeking to make global trade easier and more accessible for everyone. And the way we're doing it is by building what we call the Operating System for Global Trade,"
According to him, more than just technology, the Operating System for Global Trade is a strategic operating model for global freight forwarding that combines technology and analytics, logistics infrastructure, and hands-on supply chain expertise. Petersen promises to offer businesses what they've never had before with their freight forwarders – "deep visibility and control from origin to destination, fast and reliable transit times, and low and predictable supply chain costs".
Secondly, Flexport will double its investment in people. "We must and will continue to invest in industry expertise that will help our clients navigate an increasingly complex global trade environment. Global trade is not easy. And in today's world, half-century-old trade regimes can be seemingly upended at the speed of a tweet. That requires deep expertise across many regulatory environments around the entire world, coupled with a growth mindset that allows us to learn and adapt faster than any other global freight company."
And finally, the latest funding will also result in Flexport increasing its commitment to Flexport.org, the corporate social responsibility and sustainability initiative. "By leveraging our logistics network to support the nonprofits that work tirelessly on some of the world's most intractable problems, we're pioneering a new form of corporate philanthropy. And, even more special, we are getting incredible participation from our vast customer base as we facilitate product donations and deliveries from companies to the causes where they are needed most."
Flexport is now able to spend more money than any other logistics company. They now have twice as much cash on hand than some of the biggest global freight forwarders. Flexport and companies like it are going to challenge the status quo and will test the incumbents.