FROM MAGAZINE: The BIG air cargo uplift
For the global air cargo industry, 2017 has been a year of high demand and big numbers. There have been huge uptick in tonnages, significant rise in load factors and substantial improvement in yield. And it expects to continue the growth in 2018 too.Reji John For the global air cargo industry, 2017 has been a […]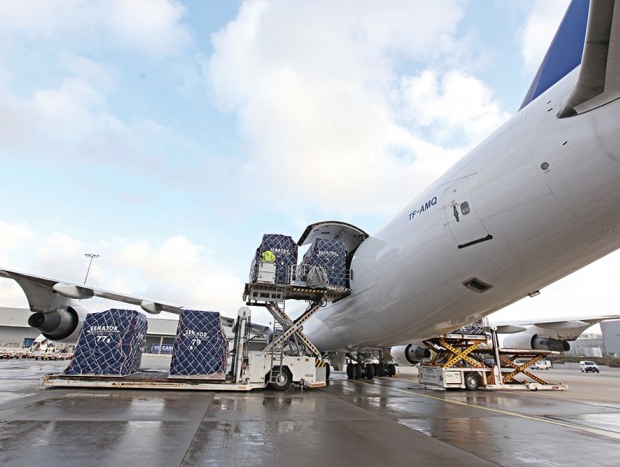 For the global air cargo industry, 2017 has been a year of high demand and big numbers. There have been huge uptick in tonnages, significant rise in load factors and substantial improvement in yield. And it expects to continue the growth in 2018 too.
Reji John
For the global air cargo industry, 2017 has been a year of high demand and big numbers. According to the latest available report from the International Air Transport Association (IATA), the world air-freight market is on track for its strongest year of growth since the global economic-crisis rebound of 2010.
Air freight demand, measured in freight tonne kilometers (FTKs), rose 5.9 percent in October 2017 compared to the year-earlier period. This was a slowdown from the 9.2 percent annual growth recorded in September 2017 but still exceeded the average annual growth rate of 3.2 percent over the past decade.
Freight capacity, measured in available freight tonne kilometers (AFTKs), rose by 3.7 percent year-on-year in October. This was the 15th consecutive month in which demand growth outstripped capacity growth, which is positive for load factors, yields, and financial performance.
While cargo demand remains strong, several indicators show that the industry may have passed the growth peak. The inventory-to-sales ratio in the US is tracking sideways, indicating that the period when companies look to restock inventories quickly-which often gives air cargo a boost-has ended. The new export orders component of the global Purchasing Managers' Index (PMI) is stable. And the upward trend in seasonally-adjusted freight volumes has moderated.
"Tightening supply conditions in the fourth quarter should see the air cargo industry deliver its strongest operational and financial performance since the post-global financial crisis rebound in 2010," said Alexandre de Juniac, IATA's Director General and CEO.
The cargo business continues to benefit from a strong cyclical upturn in volumes, with some recovery in yields. Volumes are expected to grow by 4.5 percent in 2018 (down from the 9.3 percent growth of 2017). The boost to cargo volumes in 2017 was a result of companies needing to restock inventories quickly to meet unexpectedly strong demand. This led cargo volumes to grow at twice the pace of the expansion in world trade (4.3 percent).
Cargo yields are expected to improve by 4.0 percent in 2018 (slower than the 5.0 percent in 2017). While restocking cycles are usually short-lived, the growth of e-commerce is expected to support continued momentum in the cargo business beyond the rate of expansion of world trade in 2018. Cargo revenues will continue to do well in 2018, reaching $59.2 billion (up 8.6 percent from 2017 revenues of $54.5 billion). The global air cargo market is expected to reach a valuation of $130.12 billion by the end of 2025. During the forecast period of 2017 and 2025, the global market is expected to surge at a CAGR of 4.9 percent.
As the air cargo market is growing, there are new policies and strategies ensuring for the growth in the market. 'Open skies' is an international policy that calls for the liberalisation of the rules and regulations in the aviation industry especially air cargo industry has greater impact of this policy.
Stronger economic and trade conditions, including sharp rises in consumer confidence, are expected to support the demand into 2018, even as the boost to air freight from the inventory cycle wanes. Business surveys are consistent with annual FTK growth of just under 7 percent in Q1.
According to a report by consultants Seabury, the transpacific route experienced a decline in 2016, but is up 14 percent this year, while Europe is up 15-16 percent - in both directions - and intra-Asia traffic is up by 13 percent. The signs are the market is set to stay strong. The Association of Asia Pacific Airlines (AAPA) also notes that the solid expansion in international air cargo markets continues unabated. According to their recent analysts, growth is supported by high business confidence levels across the services and manufacturing sectors in major advanced and emerging economies in the region.
"Asian airlines were encouraged by the continued expansion in international air cargo markets," said Andrew Herdman, the AAPA director general. "Furthermore, global air cargo markets saw a robust 10.6 percent increase in freight traffic carried by Asian airlines."
While trans-Pacific ocean traffic was especially robust in the last quarter of 2017, industry analysts were also impressed by the air cargo surge in the region. If this trend is to continue, however, the need for improved airport infrastructure is obvious.
However, Herdman sounded a cautionary note, urging shippers to not become complacent. "The sustained growth in air traffic demand has clearly been positive for the sector," he says.
Nevertheless, against the backdrop of a challenging operating environment marked by highly competitive rates and rising costs, Asian carriers are continuing to work hard to improve profitability, with considerable variations in individual airline performance, both globally and within the region."
Looking ahead, Herdman observes that broad-based expansion in global economic output should help to sustain further growth in air cargo traffic demand in the upcoming months. "The longer term outlook remains broadly positive," he adds.
IATA is also of the same view about the air cargo performance in the Asia Pacific region. "Air cargo had another stellar performance," says Alexandre de Juniac. "Rapid growth in demand means that cargo capacity is now growing in response. The pace of this trend, however, has slowed even as freighter fleets are being utilised more intensely. Overall, that should be good news for much beleaguered cargo yields."
Technavio, a technology research and advisory company, in its latest report says that the global air cargo market is growing on the back drop of the rapid growth recorded in global e-commerce market. Online retailers rely on the air cargo service providers because of the speedy delivery they offer. With the expected growth in the global e-commerce market, it is predicted that the global air cargo market will also witness growth. The rising demand from Asia-Pacific (APAC) economies, such as China, that constituted more than 35 percent share in 2016 in the region's economy, will drive the growth of the air cargo market during 2017-2021.
The report also identifies three emerging trends driving the global air cargo market. They are: expected rise in demand for temperature-sensitive products; rise in popularity of air cargo digitisation; and increased focus on autonomous vehicles in logistics sector.
Transporting and handling temperature-sensitive products gives rise to both challenges and opportunities for all cold chain industry participants. Businesses, such as pharmaceutical companies, depend on air transport for its speed in delivering high-value, time-sensitive, and temperature-controlled products.
There is a rise in the digitisation of systems in all the industries across the world. Similarly, a digital process will increase the air cargo value proposition by starting innovative services and solutions. The air waybill is one of the important air cargo documents, and its conversion to an e-AWB is the first step toward digitisation. To fast-track the global acceptance of the e-AWB, IATA developed e-AWB360. The e-AWB360 programme is planned around an airport community approach to e-AWB implementation.
Autonomous vehicles are becoming increasingly popular with products. It is estimated that companies are expecting the commercialisation of autonomous cars by around 2019 to 2022. The popularity of autonomous vehicles has also ripped into the logistics sector. For example, self-driving vehicles have made inroads in logistics, reaching a level of maturity for commercial use in warehouse operations.
There were several factors behind the increase in demand for air freight in 2017. For one, global economic confidence has pushed trade figures up, but within that there are also specific factors that have contributed to the solid growth of air freight in particular. E-commerce continues to grow.
Retail confidence has driven up the volumes of fast fashion, with brands wanting to get new and successful lines to market within days. Demand for air freight has also been driven by shortened product cycles for electronics and consumer products. This means more frequent product launches and the need to build up inventory in shops quickly.
In addition, the reliability of sea freight has been under pressure due to port congestion, a decline in on-time performance and the introduction of new alliance networks. This is a big risk for manufacturers reliant on just-in-time stocking, and that has seen automotive shipments and machinery parts air freight grow by 18 percent and 14 percent respectively in the first eight months of 2017.
Global air cargo leaders say their focus for 2018 continues to be on technology and processes that shave minutes and money off domestic and international shipments, and boost reliability, consistency, and transparency.
One of the earliest benefits of digitising the supply chain has been bringing transparency to pricing, giving shippers and forwarders instant access to a wider range of carrier rates and scheduling options. Tracking and tracing has been a close second, but the intelligence usually lags the shipment.
Historically, information was attached to the freight itself, which was inefficient because it could only move as fast as the box moved. "By digitalising information, when little pieces of information become available, we can share them immediately with the next party in the supply chain rather than waiting for all the information to be available and then sharing it," said Glyn Hughes, global head of cargo at IATA.
IATA has been pushing for speed as the first value proposition. The last two IATA Global Shippers' Surveys conducted in 2015 and 2017 showed that the number one selling point of air cargo transportation as seen by shippers is speed. Air cargo is the fastest mode of transport. As shown by data, collected through Cargo iQ, on average air cargo shipments take 134 hours to get from shipper to consignee, including 44 hours in the hands of airlines. However, the demand for efficient supply chains is pushing other modes of transport to improve their lead times and compete with air cargo on that front.
For the world, air cargo is a vital motor of the global economy. But to many airlines, the bottom-line value is falling, while shippers are saying that they don't receive enough value for money. Last two Global Shipper's Surveys, in 2015 and 2017, revealed that air cargo rated an average satisfaction score of 7 out of 10, a number that the industry should aim to drive upward.
The air cargo industry continues to face challenges of sustainability, profitability and customer satisfaction. Competition is stronger than ever with other transport modes such as shipping and rail offering new products. Customers are also looking at mixing transport options to balance costs and speed. In parallel, the industry has been slow to adapt to an increasingly electronic world that demands more transparency, speed and efficiency. Global implementation of electronic airway bill to date is less than 50 percent. Each day millions of pieces of paper airway bill are exchanged across the supply chain increasing the chance of error, reducing the efficiency of the process and causing customers and partners numerous pain points and poor quality of service.
The challenge for the industry, therefore, is to increase the efficiency and service quality of air cargo. This is why in 2016 IATA launched the Simplifying the Business of Air Cargo programme, StB Cargo. It is a portfolio of transformational projects addressing existing issues and an innovation framework to foster long-term thinking.
At the heart of StB Cargo is the need to make air cargo easier, smarter and faster. The six goals of StB Cargo are: modernising cargo distribution; capitalising on e-commerce; optimising end-to-end journey; moving data on-demand; developing real time interaction; and making quality relevant.
While the current challenges for the global air cargo industry are many and they will continue to impact the performance of the industry; in terms of outlook for 2018, the feeling is that air cargo will continue to be strong, well at least into the first quarter of the year. What we expect to see in the year ahead are rapid adoption of digitalisation across the air cargo value chain; end-to-end track & trace, reliability in delivery time; smooth cross-border operations; trade facilitation accelerating global trade and capitalising the rapid e-commerce growth.