FROM MAGAZINE: Technology to uplift cargo handling
The air cargo ground handling operators are using artificial intelligence to gather data to enhance operational efficiency post digitisation and mechanisation. The industry is embracing the next level of innovation that ensures information moves faster, it is secure and highly affordable. Renjini Liza Varghese Automation and digitisation are the two words that primarily drove investments […]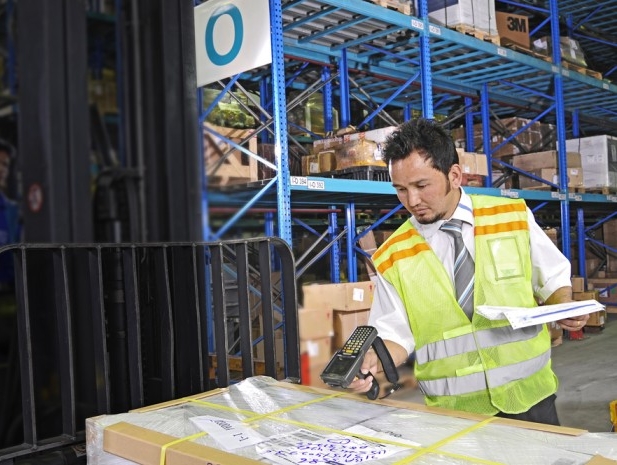 The air cargo ground handling operators are using artificial intelligence to gather data to enhance operational efficiency post digitisation and mechanisation. The industry is embracing the next level of innovation that ensures information moves faster, it is secure and highly affordable.
Renjini Liza Varghese
Automation and digitisation are the two words that primarily drove investments in air cargo segment for the past few years. The digital platform came as a boom when the industry was looking for sustainable ways to augment capacity utilisation. Started with connecting all stations to a centralised system for better management, it went on to implement bar-coding that enabled the ground handlers to track down the cargo easily.
Some airports have made significant advancements by enabling face recognition. The best example is Singapore's Changi Airport where the ground handlers use face recognising tool along with the bar codes. In reality, the control centre can practically follow a trolley wherever it goes.
Majority of the ground handling operators have moved to the mobile app because of the convenience it offers. Today, the moment cargo enters the terminal, one will exactly know what is happening with the cargo. The time of entry, where it is stored, whether it is taken for delivery or being held back. The tool also facilitates the agents to track the movement of every staff who are working inside the terminal. Accessibility from anywhere in the world is an advantage of the mobile-based apps.
Jettainer, a leading supplier and manger of Unit Load Devices (ULD), had released an android application "JettApp" in 2013. This app supports employees at the international stations and repair shops in managing the pallets and containers.
Now ground handlers are moving to the next level. Using artificial intelligence (AI) they are securing data that will help them in analysing the operations patterns in detail. The analysis will further help the operators to enhance efficiency and bring down delay if any.
While at the backend operators opt for digitisation, at the ground level they adapt mechanisation including robotics. Digitisation always had security concerns glaring at it. The recent cyber attack on British Airways that threw the operations out of gear for almost a week was a nightmare that left the aviation industry in utter shock.
How ready are we?
However, technology never fails to upgrade itself and find solutions to the challenges from time to time.
Mark Whitehead, chief executive, Hong Kong Air Cargo Terminals (Hactl), remarked that the digitisation has empowered them to bring in transparency to the system. He said, "Our systems are fully e-freight ready. More than that, we work hard to provide maximum process visibility and transparency to our customers."
The air cargo's shift to the e-platform was way ahead of time, pointed out Tushar Jani, chairman, Cargo Service Center (CSC) "Almost all paper works have been digitised now.
Airlines have gone on e-airway bills, all customs clearance also have become paperless now. Delivery orders are on e-bill basis, the carting given by the airlines are also e-carting. So the process that had started couple of years back is bearing fruits now. The change in the cargo segment to the e-platform was way ahead of time.
"Now we use artificial intelligence for data analysis that will help operators like us to rationalise and optimise service."
Recently dnata, one of the world's leading air services providers, has roped in Siemens Postal, Parcel & Airport Logistics (SPPAL) to implement a cloud-based software platform for cargo operations in Dubai airports. The appointment system will allow all land transport processes up to the hub's dockside to be handled digitally.
Handling over 2.8 million tonnes of cargo annually at more than 40 airports worldwide, dnata continues to invest in e-platform. Kevin Ennis, VP Commercial & Business Development Cargo, dnata, said, "The benefits for dnata from SPPAL platform will include significantly increased transparency and the seamless, IT-based cooperation with freight forwarders, agents and airlines. The platform is based on the AX4 software of the SPPAL subsidiary Axit. This means improvement to cargo handling along the entire logistics chain and enhanced customer experience."
It was reported that in May 2017, the world's largest provider of ground handling services, Swissport has entered into an agreement with India-based Tata Consultancy Services (TCS) for IT transformation.
Swissport that operates in 280 airports worldwide and transports 4.3 million tonnes of cargo annually aims at standardising its global IT network through this agreement. Primarily the initiative will see consolidation of Swissport's data centers and remote location infrastructure, with a worldwide WAN transformation scheme.
On the other hand, companies are also giving equal importance to train staff to bring down the risk factors in operations. This also includes making them adapt to the e-platform operations. To cite an example, Hactl has recently introduced a virtual reality training (VR) module.
Whitehead elaborated by saying; "Our first step with VR has been the creation of an office-based alternative to live initial training on the ramp. VR training means we are less reliant on availability of time, resource and aircraft to provide trainees with exposure to the processes that take place on the ramp and around aircraft. By conducting initial training in the office, we can better prepare trainees to confront the potentially hazardous and fast-paced real-life ramp environment."
Hactl is looking at extending the VR training to other areas of operations. "We have plans to introduce VR training to other areas, such as our introductory training for our new recruits. Rather than sit trainees down for 3 days of listening to lectures, VR can provide an alternative that is efficient, great fun and real for young people. I want our new recruits to be excited by the experience - not falling asleep during endless, dull classroom lectures," elaborated Whitehead.
One of the key aspects in air cargo segment is the containers and pallets. And the companies in this space have also introduced training and damage control programmes. Jettainer GmbH, one such company, a wholly-owned subsidiary of Lufthansa Cargo AG, has introduced 'JettCare', a new programme to create awareness about the value and importance of air freight containers and pallets. Jettainer manages approximately 90,000 units of the ULDs for 24 airlines at more than 450 airports around the world. The company feels there is an increased need for ULD damage prevention.
Martin Kraemer, head of Marketing, Jettainer GmbH, said, "JettCare programme also involves training several thousand ground services staff, making them 'ULD-X-Perts'. During the specially developed training course, participants learn how to handle ULDs correctly, prevent damages and understand the operational and financial effects of any faulty or missing ULDs."
Challenges
The industry feels that one segment alone adapting to the e-platform may not give the right result. Hactl's Whitehead reflected the current concern of the industry. "But we are only one link in the supply chain, and we can only facilitate; other parties must also buy into the process. From the stalling of e-AWB uptake — the easiest and most obvious first step — it's clear that further data integration should take place across the industry, and regrettably there is resistance in some sectors to embrace this," he pointed out.
Jani also spoke on the same lines: "Any change is difficult. I believe once the user tastes the good part of it; it goes smooth. I don't see that as a challenge. Because we are forgetting that we are growing. The fear is that of loosing job. I don't think the job will be gone. The same infrastructure will multiply. Your growth will be taken care."
Mechanisation and use of robotics
Use of robots in cargo terminals is becoming a standard feature. However, it is still to be visible in the air cargo/ground handling segment. In the passenger baggage handling segment some of the airports have introduced use of robots.
According to a recent media report, the future of technology implementation in airports would be 'face scans, robot baggage handlers'. The report said that passengers' luggage is collected by robots, while they relax in a luxurious waiting area complete with an indoor garden before getting a face scan and swiftly passing through security and immigration — this could be the airport of the future.
"It's a vision that planners hope will become a reality as new technology is rolled out, transforming the exhausting experience of getting stuck in lengthy queues in ageing, overcrowded terminals into something far more pleasant."
Tushar Jani is of the opinion that a country like India may not see the use of robotics in the near future, even though the country is fast adopting the e-platform. "Robotics will take time to become popular in India. We are not ready for it yet; in terms of volume, it is not conducive to use robots. But I believe 10 years from now we will see robots in Indian cargo terminals," Jani said.
Investments
It is a fact that the moment a business stops innovating; it starts dying. The industry has been developing or putting in customised intelligent control software to the segment of business they are present.
dnata is on an aggressive mode when it comes to investing in technology. "We are looking at investing in up-gradation of Material Handling System, Traffic Management System, Appointment System for a quick turnaround of freight, Cargoflex – road feeder service to deliver cargo at customers' doorstep and reduce congestion at our terminals. In addition, we are also looking at extending dnata's iCargo solution across all its stations. The end-to-end solution will help manage dnata's air cargo movement worldwide seamlessly," says Ennis.
Jettainer described the advancements they made in this regard. "An innovative lightweight pallet that weighs just 70 kilogrammes is another innovation. Compared to a traditional PMC aluminium pallet, the new verion is lighter by 32 kilos. The weight savings of more than 30 percent make it possible to significantly reduce the fuel consumption of aircraft."
Hactl will continue to invest in projects that streamline its services. "A recent example of a successful project was the company-wide adoption of mobile computing which has transformed our operations, strengthened our customer offering, improved efficiency and reduced our carbon footprint. Our value-added logistics arm, Hacis, will continue to open new depots in China, will increase the scope and frequency of its RFS services, and further strengthen its offering to the e-commerce sector," Whitehead added.
Cargo demand
The growth, investments and forward planning is valid only if the cargo volume registers substantial growth. The first half of 2017 recorded strong global numbers. According to IATA data, the global air freight markets demand, measured in freight tonne kilometers (FTKs), grew by 10.4 percent in the first-half of 2017 compared to the first-half of 2016. This is nearly triple the industry's average growth rate of 3.9 percent over the last five years. According IATA, this was the strongest first half-year performance since air cargo's rebound from the global financial crisis in 2010.
While substantial numbers boost the upbeat mood among the stake holders, the current year also witnessed some major changes in ground handling contracts. In July this year Emirates SkyCargo moved from Frankfurt Cargo Services (FCS, which is part of WFS) to the LUG fold for its Frankfurt operations. Emirates ended a contract which was in existence for last 26 years.
The loss of one ground handler is a gain for another. However, most of the ground handling companies are able to get their pie in this year as well. Some of them have bagged major contracts which extend up to five years.
Hactl said, "We succeeded in attracting three new contracts this year: Vietjet's daily A320 passenger services to Ho Chi Minh, Virgin Australia's 5x weekly A330 services from Melbourne, and Aviastar-Tu's 4x weekly Tu-204C freighters to eastern Russia. We expect to announce more wins before the year end."
Recently, WFS bagged ground handling contracts from Qatar Airways; Singapore Airlines' Stockholm operations; China Airlines in Honolulu; multiple contracts in LAX etc. However, in the current year, WFS has sold its ground handling business in Italy to Inceptus SpA.

Way forward
Strong growth in numbers, the ease of using technology will for sure pay the way for more innovations. The recent report from Singapore suggesting Changi Airport to use the augmented reality glasses (AR glasses) to speed up ground handling is clear indication of where technology is leading us to.