FROM MAGAZINE: Technology, increased cargo volumes propelling Canada aviation
With NAFTA set to be replaced by the US-Mexico-Canada Agreement, trade for Canada is likely to become smoother and more beneficial. The push of e-commerce and perishables cargo, coupled with the quest for technological excellence in operations is paving the way for the progress Canada-style. Canada has been successfully expanding its existing air transport agreements […]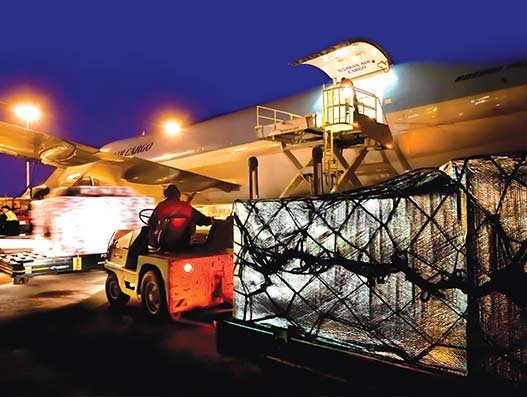 With NAFTA set to be replaced by the US-Mexico-Canada Agreement, trade for Canada is likely to become smoother and more beneficial. The push of e-commerce and perishables cargo, coupled with the quest for technological excellence in operations is paving the way for the progress Canada-style.
Canada has been successfully expanding its existing air transport agreements to facilitate smooth movement of cargo and people. Under its Blue Sky Policy, Canada has concluded new or expanded air transport agreements covering 107 countries so far.
The most recent country to enjoy the benefits of an air transport agreement with Canada is Chile. While the original Canada-Chile agreement entered into force in February 2005, the expanded Canada-Chile Air Transport Agreement will facilitate improved market access for passenger and cargo services, adding to growth of businesses.
Canada is uniquely positioned for air cargo growth as it has trade agreements with all the other G7 countries (France, Germany, Italy, Japan, United Kingdom, USA), as well as trade agreements like the Comprehensive Progressive Trans Pacific Partnership (CPTPP). The CPTPP is a free trade agreement between Canada and 10 other countries in the Asia-Pacific region: Australia, Brunei, Chile, Japan, Malaysia, Mexico, New Zealand, Peru, Singapore and Vietnam. As of today, the CPTPP is into force among Canada, Australia, Japan, Mexico, New Zealand, Singapore, and Vietnam that have ratified the agreement.
If all goes well, the renegotiated US-Mexico-Canada trade agreement (USMCA) could replace the trillion-dollar North American Free Trade Agreement (NAFTA). Last year, after nearly 13 months of negotiations, the three countries signed an agreement to replace NAFTA, and currently the trade deal awaits ratification from US and Canada. Mexico became the first nation to ratify the deal, while Canadian prime minister Justin Trudeau tabled the bill to ratify it in May this year. The unlikely hiccup has come in the form of an impeachment inquiry against US president Donald Trump, which could derail the reworked pact. However, US trade representative Robert Lighthizer recently told reporters that the trade deal would still be approved.
The pact has been tweaked to include changes to create a modern free-trade system that takes into account emerging critical issues like e-commerce, harmonisation of regulatory systems, labour laws, intellectual property rights, environmental standards and digital trade provisions.
The e-commerce and perishables push
Admitad, a global affiliate network, in its annual report for 2018-2019, pegs online retail in Canada for 2018 to grow by 26.3 per cent and reach almost $43 billion (nine per cent of the total Canadian retail income). Statista says the volume of online retail in the country by 2023 will reach $55.4 million. Canada's developing e-commerce market spells good news for the air freight business.

The breaking ground ceremony at the Edmonton International Airport's Cargo Village where Shell Aviation is building tanks that will handle air cargo freighters.

"Edmonton is the manufacturing hub for Canada's oil and gas industry, therefore oil and gas exports continue to be our strongest sector. However, over the past few years we have seen notable growth in e-commerce as well as in the volume of perishable products like meat and fruit, bio-pharma exports, and live animals. As a result, later this year we expect to become the first airport in Canada to have our cargo community achieve IATA CEIV Pharma accreditation. Edmonton International Airport (EIA) also became a Strategic Member of Pharma.Aero," informs Mammen Tharakan, director of e-commerce, cargo and aviation real estate, of Edmonton International Airport, which supports the movement of air cargo freight totalling over US$1.2 billion (approx. CAD$1.6 billion) each year.
For Airline Services International (ASI), a GSSA, its portfolio is diverse as it handles a wide range of commodities for clients with main deck and belly capacity. "However, pharmaceuticals, seafood, aerospace and e-commerce are the most common daily requests," says Michelle Lawrence, director of marketing, ASI. ASI represents Ethiopian Airlines, UPS, Egyptair, United Airlines, among others.
Halifax Stanfield International Airport's main imports and exports have remained consistent in recent years. "Our number one export commodity remains seafood, primarily live lobster both by value and volume, now contributing almost half a billion dollars to the provincial economy alone. Other key commodities include specialised electronics/electrical equipment and aerospace-related business both imports and exports," informs Glen Boone, director, cargo & real estate development, Halifax International Airport Authority (HIAA). For Halifax, 2018 was a record year with 36,938 metric tonnes processed, an 8.5 percent growth compared to 2017.
Beverly MacDonald, senior advisor, communications, Greater Toronto Airports Authority (GTAA) says Toronto Pearson Airport is currently evaluating and planning the long-term strategy for its cargo business. "At this time, our initial forecasts based on annual figures and excluding the recent US-China trade tensions puts Toronto Pearson's cargo annual growth at 7 percent through 2022 to over 700,000 tonnes. This forecast is dependent on the trade tensions easing. We work closely with Air Canada Cargo who identified e-commerce, perishables and pharmaceuticals as the largest growth industries for their cargo operation."
Striving to meet demand
Increasing demand for specific cargo needs has set airlines and airports on the right path to build capabilities.
The Air Cargo Logistics Park, for which construction began in August 2019, is set to open in 2021 at Halifax Stanfield Airport. Built on 25 acres of vacant land at Halifax Stanfield, it will include a new cargo apron area, buildings for cargo handling, an aircraft de-icing facility and associated operational areas both airside and landside.
"Upon the completion of the Air Cargo Logistics Park, we'll be fully equipped to handle the demand and allow us to strategically consider diversifying our product exports and share more of Nova Scotia with the rest of the world. We're also expecting to see increased demand for Nova Scotia seafood due to its growing popularity in Asia and Europe. The new facility will enhance our region's transportation infrastructure; support the flow of goods and improve cargo handling; enhance trade for the province and region; expand international capacity to foster exports; and create jobs," says Boone.
For EIA, the upcoming Amazon Fulfillment Centre being constructed in the EIA vicinity is expected to bring in additional cargo volumes. "Based on conversations with Amazon and their service providers, we expect a significant increase in cargo volumes once their 1.3 million square foot fulfilment centre opens in 2020. We are busy planning for new and expanded infrastructure to accommodate the growth," informs Tharakan.
Tharakan further informed that since 2015, EIA has added almost a million square feet of new airside and landside cargo buildings. "Construction is nearing completion on Air Canada's new cargo and maintenance facility, as well as Shell Aviation's new state of the art jet fuel distribution and storage project. EIA also is in active discussions to develop additional facilities that will support the forecasted growth of EIA's business partners," says Tharakan.
The Greater Toronto Airports Authority (GTAA) is working with Air Canada Cargo to develop an in-transit staging area that would enable a more efficient and effective flow of cargo transferring off one flight and onto another, informs MacDonald.
A compelling case for AI
The awareness of the transformative capabilities of Artificial Intelligence (AI) is gaining momentum and the aviation industry has jumped at the idea with the determination to streamline services. AI is being seen as a game-changer across all industries and air cargo is no different. It is becoming increasingly clearer that AI can bring in competitiveness to an industry that is witnessing a gradual slowdown with consistently falling cargo numbers for most markets.
In August 2018, WestJet became the first airline to launch its AI-powered chatbot, named Juliet, to help customers with their travel needs. While Juliet receives few queries about cargo, the majority of them are related to shipping pets. Juliet is named after one of WestJet's original aircraft, and through a combination of instruction, examples and experience, the chatbot is continuously fed with frequently asked questions to add to her knowledge base.
"Aside from shipping pets, Juliet can also answer questions about hours, accounts, how guests can submit a shipment and pickup/delivery services. Like all other subjects, we analyse frequently asked questions and add them to her knowledge base accordingly. In comparison to other queries, Juliet does not receive as many cargo-related inquiries," informs Tania Hoque, manager of emerging technology, WestJet.
For WestJet, Juliet is only a stepping stone into AI. "We want to invest more in new technologies where it makes sense and Juliet is a great example of that. She has been a positive story from the guest side and WestJet in terms of using our agent's time for more complex queries while Juliet handles the less complicated ones," adds Hoque.
The safety of data collected using AI remains an issue of concern for most users. "Canada is making great strides in the field with investments across various industries. The biggest hurdle when it comes to AI advancements in the advanced world is around the guest concerns around what information is being collected and how will it be used. Having said that, the ethics business around AI is going to grow rapidly in the upcoming years," asserts Hoque.
Air Canada harbours the ambition to become Canada's AI employer of choice within three years, and within five years, the airline plans to leverage AI throughout the organisation to ensure competitive advantage within the global airline industry. To work towards this end, in May 2019, Air Canada launched Artificial Intelligence Labs.
Five months since the launch, the airline has noticed a supportive trend. "In stations where we launched the AI application, we see a strong use of the predictions (capacity forecast) to make more data-driven decisions, which leads to improved utilisation of our aircraft. This is a direct improvement that wouldn't be possible without AI," informs Jean-François Pagé, director, Cargo Artificial Intelligence, Air Canada.

A bird's-eye view of Halifax Stanfield International Airport.

On how AI can change the way cargo is carried by an airline, Pagé says AI will bring automation to non-added value tasks as well as value for the customer, which ultimately translates to an enhanced customer experience, a central point of Air Canada Cargo's three years' plan.
"Big data and AI are now a big part of our business. One example is predictive maintenance from our modern aircraft, like the Boeing 787 Dreamliner. In addition to our normally scheduled checks, we can now predict maintenance of components not yet broken, to repair when the aircraft is less active. This way, we can do other work that we know we're likely to have an issue with, that would not come into the regular cycle," said Calin Rovinescu, president and CEO, Air Canada, when the airline launched Artificial Intelligence Labs in May this year.
Is air cargo really ready for technology?
In International Air Transport Association's (IATA), top-50 countries of origin e-air waybill (eAWB) penetration by percentage [ranked by e-AWB volume from July 2018 to July 2019], Canada ranks 20th. For July 2019, the figure is 49.3 percent, which essentially means nearly half the AWBs are still not being generated online. In this scenario, is it wise to talk about AI as a technology that is multiple leaps ahead?
"We continue to work with directly with our customers to facilitate that transition. We witnessed a spike in our own numbers when we introduced our e-booking tool, which makes it easier for customers to submit and electronic air waybill. As we move forward with our digital strategy, there will be opportunities to enhance customer touch points and further encourage the use of e-AWB. AI can be applied to many different projects and improve processes despite the percentage of e-AWB usage. As an example, AI now allows us to predict capacity of each flight at departure, which is something that isn't affected by whether an air waybill is paper or electronic. We also believe that AI labs in cargo might help us increase conversion to e-AWB. The different numbers generated are quite impressive, I must admit. The beauty of AI is that the models are learning over time, so we expect to get even more impressive figures shortly. We also monitor the performance of the different AI models as it is part of our AI governance," opines Pagé.
A positive outlook
Despite the forecasted global slowdown attributed majorly on the simmering US-China trade war, the outlook for the Canadian cargo market seems positive. "For the remainder of 2019, we expect the air freight market to remain flat, with no expectations for any significant upsurges, downturns, or spikes in demand. Our expectations, therefore, are that any growth will likely be in the low single digits, with certain markets staying stronger than others (i.e: Latin America, Africa, Etc.)," says Lawrence of ASI. She, however, expressed positivity for the Canadian cargo market. "The Canadian air cargo market is small in comparison to our neighbours, and the continuous increase in capacity is impacting the overall yields, making Canada a challenging market. Our approach is to remain selective and strategic in markets we promote. The current political climate is adding to the challenges, but the upcoming Canadian and US elections could change this for the better," adds Lawrence.
"Canada continues to embrace world trade, and the benefits offered by EIA's Foreign Trade Zone give us an optimistic outlook for air cargo. Canada's major air carriers are also in a period of growth, bringing belly capacity to new markets and further buoying the cargo sector. Canada remains a safe and stable environment to do business and offers many of the products and resources in demand around the world. Led by our strengths in innovation and technology development, Canada's air cargo industry will continue to grow as the world becomes an increasingly globalised marketplace," concludes Tharakan.
This feature was originally published in STAT Trade Times' October 2019 issue.