It's Official: Air India goes back to Tatas
It's finally official: The Tata Group is the 100 percent equity shareholder of Air India after 67 years.
The cabinet committee on economic affairs (CCEA) - empowered Air India Specific Alternative Mechanism (AISAM) - including home minister Amit Shah and civil aviation minister Jyotiraditya Scindia - today approved the highest price bid of Talace Pvt Ltd, a wholly-owned subsidiary of Tata Sons, for sale of 100 percent equity shareholding of Air India. 
"The winning bid is for Rs 18,000 crore as enterprise value, and the transaction does not include non-core assets including land and building valued at Rs 14,718 crore, which are to be transferred to Air India Asset Holding Limited (AIAHL)," the official statement said.
The Tatas will also hold 100 percent stake in Air India Express (a low cost carrier airline focused on short haul international operations, especially the Middle East and 50 percent in the joint venture Air India SATS (on ground airport services and cargo handling). "The total permanent and contractual employee strength of Air India and AIXL is 13,500," Tata Sons said in an official release.
Rajiv Bansal, secretary, civil aviation, said Tata Sons will retain all employees for one year. "In the second year, if they aren't retained, they will be offered VRS," Bansal said during the press briefing to announce the deal.

JRD Tata's 46-year aviation career spanned an era from the little 2-seater Puss Moth to the giant Boeing 747
While Air India has a fleet of 117 wide-body and narrow body aircrafts, Air India Express has a fleet of 24 narrow body aircrafts. 
Department of Investment and Public Asset Management (DIPAM) secretary Tuhin Kant Pandey said the bid by Tatas includes taking over Rs 15,300 crore of debt and paying the rest in cash.
"Debt position after take over by the successful bidder will remain Rs 46,262 crore," Pandey said.The total debt of Air India, as on August 31, 2021 is Rs 61,562 crore, Pandey added. The deal is expected to close by the end of December 2021. 
Ratan Tata tweeted: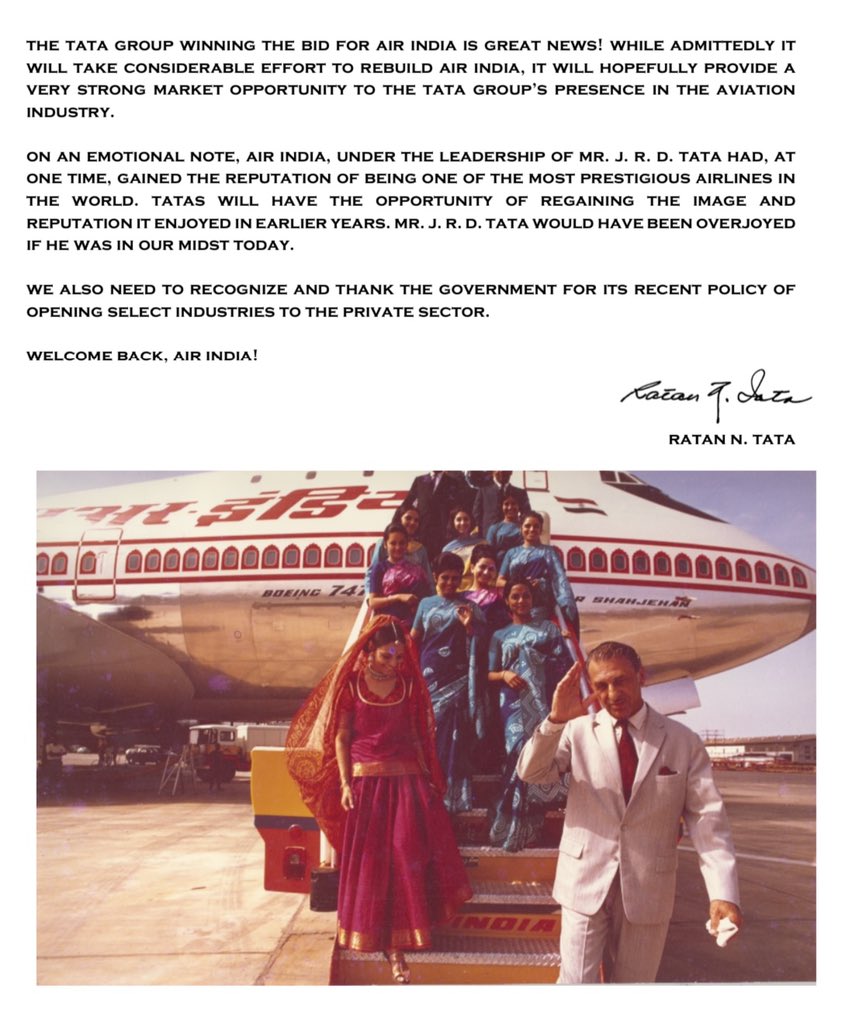 N. Chandrashekaran, chairman, Tata Sons, posted on LinkedIn: "At the Tata Group, we are delighted to be declared as the winner of the bid for AIR INDIA. This is a historic moment, and it will be a rare privilege for our Group to own and operate the country's flag bearer airline. It will be our endeavour to build a world-class airline which makes every Indian proud. On this occasion, I would like to pay tribute to J.R.D. Tata, pioneer of Indian aviation, whose memory we cherish."
Also Read: Air India goes back to Tata 'Parivar'
Civil aviation minister Jyotiraditya Scindia congratulated Tata Sons on winning the Air India bid. "They have a great responsibility. I believe they would be able to serve the people of the country with excellent service. 
Ajay Singh, chairman and managing Director, SpiceJet, who had bid Rs 15,100 crore for Air India in his individual capacity  said: "I congratulate the Tata Group on winning the bid for Air India and wish them all the success. It was my honour and privilege to be shortlisted for bidding for Air India. I am confident that the Tata Group will restore the glory of Air India and make all of India proud. I would also like to congratulate the Government on the successful disinvestment of Air India. They ran a transparent and flexible process and gave new impetus to India's disinvestment program. I have been an Air India fan all my life and it's time for the Maharaja to reclaim its position as a leading airline of the world."
(Photo Source: Tata)