Tapping Africa's civil aviation potential
<p style="text-align: justify;">Feb 22, 2017: Africa's growth story has inspired much optimism about the region's prospects. Despite global political upheavals and collapse of commodity prices, Africa's economic lions have continued to move ahead. Can aircargo industry take advantage?<br /><br />To unearth the growth potential, global air cargo community converged at the Air Cargo Africa 2017, […]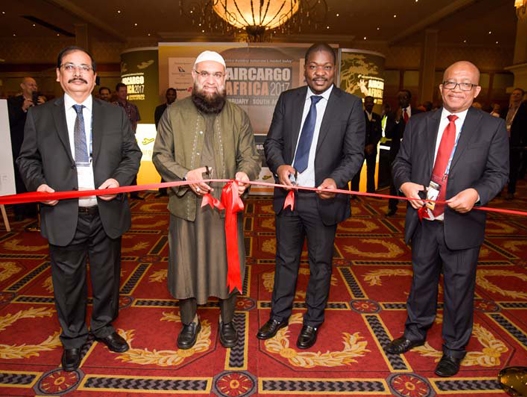 Feb 22, 2017: Africa's growth story has inspired much optimism about the region's prospects. Despite global political upheavals and collapse of commodity prices, Africa's economic lions have continued to move ahead. Can aircargo industry take advantage?

To unearth the growth potential, global air cargo community converged at the Air Cargo Africa 2017, organised by STAT Media Group, at the Emperors Palace in City of Ekurhuleni, Johannesburg.

Dr. Ismail Vadi, Gauteng Member of Executive Council for Roads and Transport, Dr. N Xhakaza, Member of Mayoral Committee, Finance and Economic Development, City of Ekurhuleni Tleli Makhetha, General Manager, South African Airways and RK Patra, Group Editor-in Chief, STAT Media Group together inaugurated the event on Tuesday.

Welcoming the delegates to the fourth edition of Air Cargo Africa, RK Patra, Group Editor-in Chief, STAT Media Group spoke about the revolutionary changes that the aviation industry is going through, where drones and unmanned aerial vehicles are being employed to deliver cargo and Hyperloop is a proposed new way to move people and freight at airline speeds for the price of a bus ticket. Emphasizing on the importance of cooperation he says, "At Air Cargo Africa, through the deliberations in the next three days, we intend to become a facilitator for greater cooperation and collaborations to enhance trade across borders."

Ismail Vadi also pointed out that significant innovations are compelling people to "rethink the way they live, interact, transport domestically and internationally". They are influencing people to rethink about all the "well established norms and practices".

Musa Zwane, CEO (Acting) South African Airways, in his keynote address said, "For South African Airways, the aircargo is an important and significant part of business." He goes on to add, "We are singularly proud that our country is playing host to this event, which seeks to highlight and enhance the development of the aircargo and the opportunities in the African region. We are also excited that for the first time this year, shippers and forwarders are participating fully in the event to both exhibit and deliberate."

For the first panel of the day Glyn Hughes, Global Head of Cargo, IATA; Graham Perkins, Vice President, Sales and Marketing, (EMEIA), Atlas Air, Inc.; Barry D Nassberg, Group Chief Operating Officer, Worldwide Flight Services; Rudolf Steiner, Senior Vice President Cargo, Global Accounts & Commercial, Swissport International; Rainer Mueller, Vice President, Commercial, Saudia Cargo and; Jan de Vegt, Chief Operating Officer, Kenya Airways came together to discuss Africa's civil aviation potential.

Mueller highlighted that even though the infrastructure is somewhat in place when it comes to handling the import shipments or the export shipments at the African airports, there is need to improve the ground transport. "One of the biggest challenges that I see is the ground transport, meaning in several areas of the world, we as an industry are successful, because we can combine the air cargo traffic with the ground transport. This is something, from my point of view is lacking. It cannot be that difficult to set that up," said Mueller. "What I would be hoping is, we as an industry manage for setting up an effective ground transport product in addition to what we are having as an air cargo product."

Steiner however said that investments are being made to improve the current scenario. "We invested in brand new facilities in Africa. We have opted for facilities in Dar es Salaam and Kenya. It is an absolute must to invest in GDP and core facilities, we have done that. Are we yet there? Most probably not, but compared to two years ago we took a big step. We have to work closer to the producer, in order to further improve in the logistics chain," he said.

Meanwhile, according to Barry D Nassberg a lot more can be done and the airports need to be a willing partner in looking at how it would develop a policy where it allows a necessary investment to happen. "There is a lot more than we can do and I say we as not just as ground handlers but putting some of the onus back on airport operators." He adds, "Like we see in Europe and other parts of the world, where an airport has a dedicated cargo development strategy. You could attract the private developers to come in to the airport and develop multi tenet cargo facilities and realize return on that as a property development project, with the right financial incentives. Then it makes it possible for handlers to come in, invest in the internal infrastructure and facility, cool chain products, perishables, pharma, and really up the game.

Graham Perkins pointed out that with regards to the readiness supporting e-commerce, African people are ready to take this on but the question is whether Africa is ready to take it on. He said that custom infrastructure is a major issue as it does not support e-commerce. "In many cases a lot of countries have customs rules and regulations that dates back decades and they are being used unfortunately," he said.

Another significant topic was the Yamoussoukro Declaration that is most likely to be implemented by December 2017. It was adopted out of the recognition that the restrictive and protectionist intra-African regulatory regime hampers the expansion and improvement of air transport on the continent. Commenting on Africa's Yamoussoukro Declaration and the debate on opening skies, Jan de Vegt said Africa needs to take cautious steps and not rush to open skies outside Africa. "We have to come to a situation, where Africa has an open sky within Africa first," he said.

The panel moderated by Glyn Hughes concluded that for all countries across Africa, harmonisation is critical, particularly as the continent has got a growing population, and a young labour force, which would be able to become a young workforce and then a young consumer market.