TAITRA launches Taiwan Trade Shows webinar on May 29
TAITRA has launched a Taiwan Trade Shows (TTS) webinar on May 29, 2020 at 2 pm (Taipei Time) in order to keep stakeholders engaged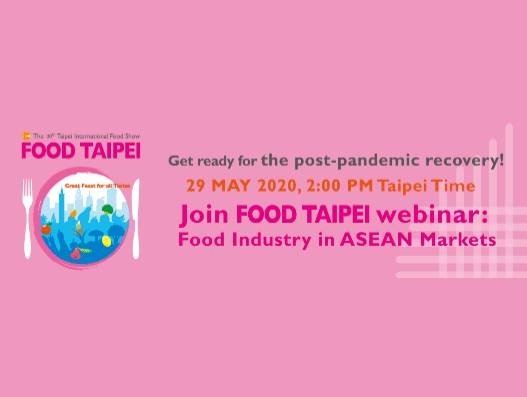 The coronavirus pandemic has dramatically changed the way foods are prepared and made available for public consumption around the globe. Taiwan, as one of the world's big food suppliers, is continuing to supply high quality foods both domestically and internationally amid and post Covid-19.
Due to the Covid-19 pandemic, Food Taipei series trade show has been rescheduled to 17-20, December 2020. TAITRA, the trade show organizer, has launched a Taiwan Trade Shows (TTS) webinar on May 29, 2020 at 2 pm (Taipei Time) in order to keep stakeholders engaged during this period.
The webinar will have keynote speakers from Vietnam, Indonesia and Singapore to share industry insights and explore the impact and opportunities under the Covid-19 outbreak. The speakers include Adhi S. Lukman, chairman of GAPMMI, the Indonesian Food & Beverage Association and the chairman of Permanent Committee for Development of Food Industry, Indonesian Chamber of Commerce & Industry (KADIN); Huynh Kim Quyen, founder/CEO of Queen Food, which is a cradle gathering products from many countries that are famous for nutrition foods of premium quality and good for health; Lim Phing Seng; managing director of Chung Hwa Industries and Chief Executive Officer of Semblog Taiwan (2003-2005).