Swissport handles arrival of two Chinese Pandas at Helsinki-Vantaa airport
January 20, 2018: Swissport Finland recently handled the arrival of two Chinese Pandas-Pyry and Lumi at the snow-covered Helsinki-Vantaa airport. Swissport Finland-a subsidiary of Swissport International, which is world's leading provider of ground and air cargo services to the aviation industry, handled the flight on the ground. The joy and enthusiasm for the Pandas among […]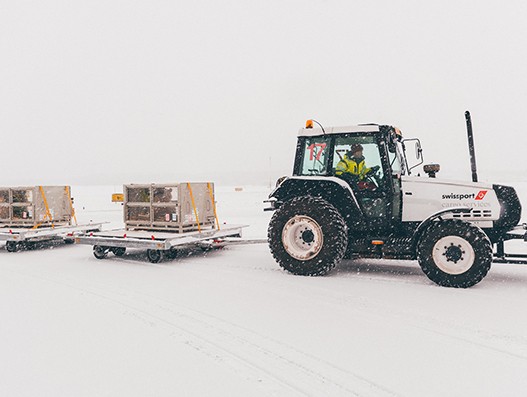 January 20, 2018: Swissport Finland recently handled the arrival of two Chinese Pandas-Pyry and Lumi at the snow-covered Helsinki-Vantaa airport.
Swissport Finland-a subsidiary of Swissport International, which is world's leading provider of ground and air cargo services to the aviation industry, handled the flight on the ground.
The joy and enthusiasm for the Pandas among caretakers, veterinarians, representatives of the htri wildlife park and the government, and Swissport ground agents was great.
Panda caretakers and veterinarians travelled to China to spend the last week with the two Pandas in their home country before their trip to Finland. This shared time with the Pandas was important to familiarise the two Panda to their transportation boxes, and win their trust for the long trip ahead.
Helsinki Airport, Swissport, which globally handles over 45, 000 live cargo shipments every year, handled the aircraft. The ground service provider coordinated the movements of the boxes to the truck, and monitored all processes near the aircraft.
Dozens of Swissport employees were on site and ensured a smooth handling process for these precious new residents of the htri wildlife park.
"The Swissport Finland team is proud to be a part of this happening. We were delighted to meet Pyry and Lumi, and I am sure that thousands of visitors to htri wildlife park will enjoy the two Pandas as well. It was an honor to contribute to their smooth arrival despite the harsh weather conditions. This was only possible due to the great performance of our dedicated staff," said Tomi Viitanen, CEO of Swissport Finland.
Interestingly, Finnish Television company-MTV also held a public vote for additional Finnish names for the two Pandas.
Over 4,000 name suggestions were submitted by the audience, which then voted for the winners among the top five name suggestions, according to MTV.
The male Panda's original Chinese name is Hua Bao, and Jin Bao Bao for the female. The Finnish and the Chinese names will be used in parallel.
Meanwhile, the heavy snowfall in Finland over the past few days will certainly help the two Pandas feel at home as snow is their natural habitat.