Swiss WorldCargo to operate over 10 freight-only A340 flights in April
Over 10 cargo-only Airbus A340 flights of Swiss will operate this month from Mainland China to Switzerland.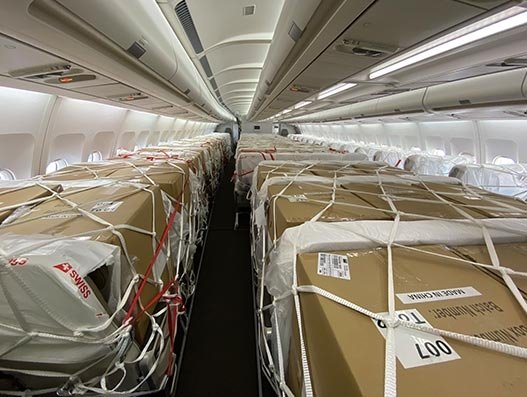 Swiss WorldCargo, the airfreight division of Swiss, will support the operation of a series of flights by the airline to bring critical protective medical equipment from China to Switzerland. This operation is being conducted on behalf of the Zurich Cantonal Pharmacy and in collaboration with knechtcare / Welti-Furrer (the Knecht Group) and Männedorf Hospital.
Under the operation, more than ten cargo-only Airbus A340 flights will be performed this month from Mainland China, bringing over 35 million personal protection items for the use of healthcare personnel including protective suits, medical gloves, safety goggles and breathing masks. All in all, over 200 tonnes of cargo will be transported.

SWISS utilizes the idled Airbus A340 flights to carry critical freight

No passengers will be transported on these flights. They will only carry cargo, loaded in both the hold and the passenger cabin. The first such flight arrived from Shanghai in Zurich at 17:54 on April 5.
Swiss WorldCargo is also working with further partners to transport cargo from Switzerland to China which is of key importance to the Swiss export sector and to global goods flows.
Swiss WorldCargo operated two cargo-only flights to Zurich from Hong Kong and Shanghai as well as one such flight from Beijing so far. Further Swiss WorldCargo flights to and from China are being planned, to continue to maintain the supply chains between Switzerland and the world.