SpiceXpress to operate its new 737-800 freighter in South Asia
Sep 24, 2019: India-based carrier SpiceXpress has taken delivery of its first 737-800 Boeing Converted Freighter (BCF). The standard-body freighter, which is the first 737-800BCF to be operated in South Asia, is on lease from NGF Alpha Limited, a division of Spectre Cargo Solutions. Boeing tells us through a statement that the 737-800BCF carries up […]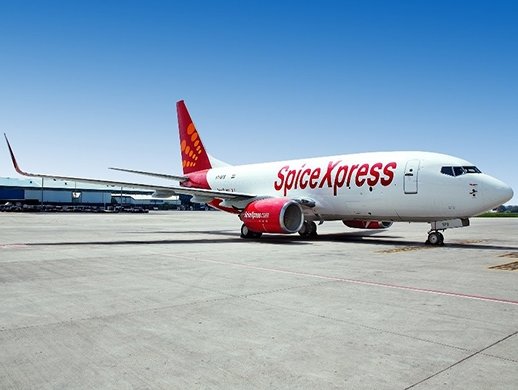 Sep 24, 2019: India-based carrier SpiceXpress has taken delivery of its first 737-800 Boeing Converted Freighter (BCF).
The standard-body freighter, which is the first 737-800BCF to be operated in South Asia, is on lease from NGF Alpha Limited, a division of Spectre Cargo Solutions.
Boeing tells us through a statement that the 737-800BCF carries up to 24 metric tonnes of payload, opening new markets to operators with its long-range capability and high reliability. It is currently operating on four continents (Africa, Asia, Europe, and North America).
The cargo divsion of SpiceJet also operates two B737-700Fs.
"We are expanding the markets we currently serve, particularly in the Middle East, Hong Kong and Bangladesh and the 737-800BCF's reliability and versatility is helping enable our strategic direction," said Ajay Singh, chairman and managing director, SpiceJet.
"It's exciting to bring the 737-800 freighter to India, a market we see growing in the coming years," said Jordan Jaffe, Spectre Air Capital CEO.
"We have already invested over a quarter billion dollars into our 737NG programme, and are thrilled to put our continuing commitment to work serving great operators like SpiceJet. They join a growing family of customers utilizing our diverse product range of freighters."
India's Directorate General of Civil Aviation (DGCA) validated the 737-800BCF's certification, clearing the way for the freighter to serve a rapidly growing region and busy international trade hub.
India's SpiceXpress
to fly from Mumbai-Dubai from Aug 1
SpiceJet became the first Indian low-cost carrier to bring in a dedicated freighter service, SpiceXpress, launched in September 2018.
By 2021, it has plans to add 20 freighters to its fleet which will consist of 777, 767 and 747.