SpiceJet ropes in STG Aerospace for lighting retrofit programme
October 31, 2017: India's third-largest airline, SpiceJet, has partnered with STG Aerospace in a cabin lighting retrofit programme which will see the airline upgrade its fleet of 737-700 / -800 / -900 with LED aftermarket ambient lighting solution, liTeMood. This is the first major retrofit win for STG Aerospace in the Asia Pacific region and […]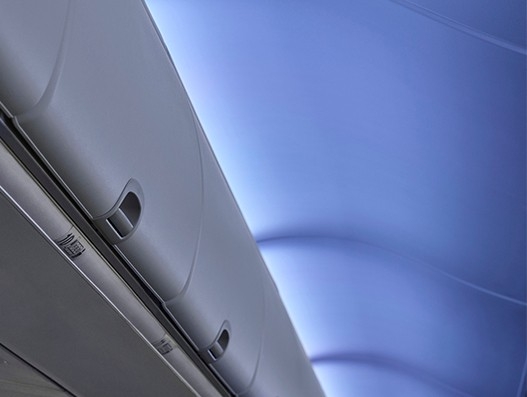 October 31, 2017: India's third-largest airline, SpiceJet, has partnered with STG Aerospace in a cabin lighting retrofit programme which will see the airline upgrade its fleet of 737-700 / -800 / -900 with LED aftermarket ambient lighting solution, liTeMood.
This is the first major retrofit win for STG Aerospace in the Asia Pacific region and the largest lighting retrofit contract that the company has been awarded. Selected on STG Aerospace's ability to quickly deliver the programme in line with the airlines busy maintenance schedule, combined with the simplicity of installation, together made STG Aerospace the number one supplier for the large retrofit cabin lighting contract.
"It has always been our endeavour to provide the best in-flight experience to our passengers. We are extremely happy with STG Aerospace's ability to meet our tight timescales. We are looking forward to enhancing the passenger flying experience on our aircraft and harmonise the look and feel of our cabin interiors of our existing fleet to achieve impactful brand differentiation and fleet commonality" said Arun Kashyap, executive vice president (Engineering), SpiceJet.
A customer of saf-Tglo since 2005 SpiceJet will now combine both liTeMood and saf-Tglo systems to provide a total cabin lighting system that complements each other, resulting in satisfied passengers, increased well-being and reduced stress during the flight.
Marcus Williams, Global Sales & Marketing director, added: "We're delighted to be helping SpiceJet in their mission to become India's preferred low-cost airline. This contract highlights the growing demand for STG Aerospace's cabin lighting products from Indian carriers. Undoubtedly, SpiceJet's decision to install our liTeMood LED lighting system will help us to take full advantage of the rapidly growing retrofit market in India."
liTeMood has become the undisputed cabin mood lighting system of choice for operators of narrow-body Boeing fleets and is already delivering significant cabin transformations for numerous airlines in Europe, USA, Latin America and most recently Asia.