SpiceJet launches dedicated cargo flights to Leh for essentials during winter
The dedicated cargo flights will help transport fresh fruits, vegetables, flowers, perishables, pharmaceuticals, medical equipment, and other general cargo.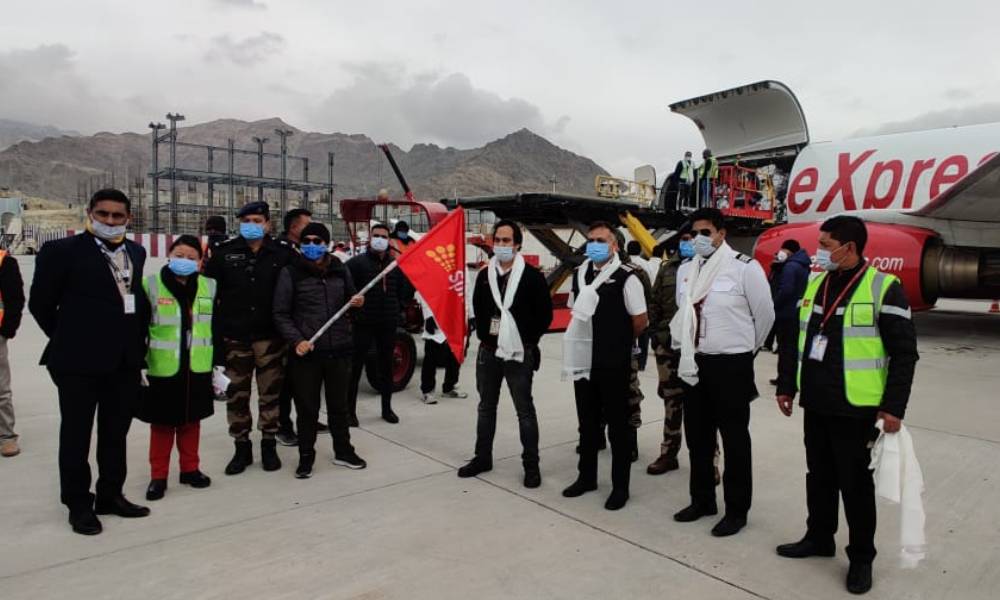 SpiceJet has launched dedicated freighter services connecting Leh with the rest of the country by operating its first freighter flight from Delhi to Leh carrying 13 tonnes of cargo supplies.
The airline's first freighter flight SG 7370 departed from Delhi at 9:05 am and reached Leh at 10:40 am. Its first scheduled cargo flight from Leh departed at 11:25 am and was flagged of by Member of Parliament from Ladakh, Jamyang Tsering Namgyal. The flag off ceremony was attended by senior AAI and SpiceJet officials to celebrate the arrival of the first SpiceJet freighter flight to Leh. SpiceXpress, the dedicated cargo arm of SpiceJet, will deploy its Boeing 737 freighter on this route. With the launch of the cargo services, SpiceJet is the first and only airline to have dedicated freighter flights connecting Leh.
Ajay Singh, chairman and managing director, SpiceJet said, "SpiceJet is proud to launch the country's first dedicated cargo flights connecting Leh with the national capital and the rest of the country. Our flight services are especially significant considering the extreme weather conditions during winter months when temperatures fall below sub-zero levels hampering the movement of essential supplies and cargo for the local populace and administration in Leh. Our freighter services to Leh will ensure seamless and timely transportation of essential supplies to this most beautiful part of our country throughout winters."
The new flights launched are seasonal and will operate during the winter months when surface transportation is disrupted owing to harsh weather conditions. Leh, the largest town of the Union Territory of Ladakh, is primarily dominated by a mountainous landscape which makes surface transport even more difficult during the winters when the terrain is mostly covered with snow most of the time. In line with its commitment to ensure seamless transportation of essential commodities, SpiceJet aims to address the geographical challenges while offering seamless connectivity through its cargo service.
The dedicated cargo flights will help transport fresh fruits, vegetables, flowers, perishables, pharmaceuticals, medical equipment, and other general cargo. Besides improving logistics and connectivity, the new freighter service will ensure transportation of these essential commodities remains unaffected due to dipping temperatures and adverse weather conditions during these winter months.
SpiceJet operates a fleet of 17 cargo aircraft including three wide-body planes and is the only Indian carrier to operate long-haul non-stop cargo flights to Europe, Africa and CIS countries, The airline's international cargo network now spans over 50 international destinations that include Almaty, Abu Dhabi, Baghdad, Bahrain, Bangkok, Bishkek, Cambodia, Cairo, Cebu, Chad, Colombo, Dhaka, Doha, Dubai, Erbil (Iraq), Guangzhou, Ho Chi Minh, Hong Kong, Huangzhou, Incheon, Jakarta, Kabul, Kathmandu, Khartoum, Kyrgyzstan, Kuala Lumpur, Kuwait, Male, Moscow, Myanmar, Shanghai, Singapore, Sharjah, Sulaymaniyah, Tashkent, Ukraine, Yekaterinburg (Russia) among others.
To enhance regional connectivity at various levels, the airline became the first Indian carrier to introduce dedicated cargo flights for north eastern India in September 2020. A pioneer of India's 'Marine Krishi Udaan', SpiceJet had launched dedicated freighter flights earlier this year in February 2020, from Chennai and Vishakhapatnam to Surat and Kolkata to boost the country's shrimp farming. The airline's cargo services operate on both domestic and international routes, powered by fully integrated transportation network including air cargo, ground transportation and warehousing facilities across the country.
Since the nationwide lockdown began, the airline has operated more than 10,600 cargo flights and transported over 83000 tonnes of cargo since March 25, 2020.