Speeding up aid just-in-time
When infrastructure is battered due to natural disasters or by a war, the aviation sector has the unique ability and a keen desire to touch human lives in those affected areas. Building a better understanding on shipment processes among the partners, before the next emergency, helps ensure that the people involved throughout the process can act quickly if complications arise.
Shalini Nair
Yemen, one of the Arab world's poorest countries, has been torn apart by the brutal civil war claiming 16,000 lives and leaving more than 13 million people on the brink of starvation. The Yemen Humanitarian Response Plan (YHRP) 2018 designed by the World Health Organization (WHO) is seeking assistance worth $2.96 billion.
Natural disasters and humanitarian crises vary widely in scale and on their impact on human communities. Some regions see families displaced by natural calamities and others are forced to leave because of conflict. No matter the cause, there is only one consequence - people are left in need of assistance. Medicine, water, food and shelter are often urgently needed in the wake of a major calamity, and once those needs are identified, the complex task of delivering aid begins.
Help is on the way
Disaster response is complex. Time is short, needs are high and humanitarian relief organisations are keen to provide emergency supplies that are needed. This push to provide supplies can lead to bottlenecks in the supply chain if cargo is not expediently moved from the pick-up point till the final destination.
United Nations International Children's Emergency Fund (UNICEF) transport supplies for children through hundreds of routes from multiple origins of products located in over 50 countries to programmes and partners in close to 150 countries, with 66 percent of all shipments destined to African countries. Another characteristic of the UNICEF supply chain is the diversity of products, ranging from general cargo to temperature-controlled and therefore requiring different modes of transport.
Pablo Panadero, chief transport centre, supply division, UNICEF comments, "Air shipments primarily transporting vaccines and other supplies requiring cold chain as well as supplies in response to emergencies, represent less than 20 percent of the total volumes transported and approximately 60 percent of the total freight spend (vaccines representing 65 percent of the air freight spend). To optimise budgets and carbon emissions, UNICEF works with partners to ensure adequate planning and transportation by sea or road for most of the internationally procured supplies, which include pharmaceuticals, immunisation devices, cold chain equipment, relief products, water and sanitation supplies."
The Airbus Foundation has conducted 64 air transport missions for 40 humanitarian partners, transporting more than 800 tonnes and around 420 people to 23 countries till date. The most recent ongoing relief effort is in Palu, Indonesia, which was affected by an earthquake and tsunami in September 2018. Daniel Werdung, spokesperson, Airbus Foundation comments, "The Indonesian government, the Royal Malaysian Air Force (RMAF) and the Airbus Foundation have been working together to support humanitarian relief efforts in Palu, with the deployment of a RMAF A400M and the distribution of emergency supplies to the city. The A400M's cargo included fuel trucks from Indonesian oil firm Pertamina and excavators from industrial products manufacturer PT Pindad. The aircraft also transported food and drinks, clothes and medical supplies collected by the Indonesian ministry."
Meanwhile, RSA National's new air cargo terminal in Dubai World central (DWC) is well equipped to provide expedited support to areas that may be affected by disasters. RSA National is a joint venture between RSA Global and National Airlines and the latter is US Department of Defense (DoD) certified and has successfully supported humanitarian cargo missions in Nepal, Philippines, Liberia, Mexico and few other countries. Alan White, vice president - operations, RSA National states, "We can provide end-to-end logistics coordination, in-transit visibility, an on-the-ground project response team and unmatched agility. We can also handle oversized and sensitive items. Since we have direct access from landside to air side, we have enough space and flexibility to handle large movements. Moreover, with in house customs and policies, we can accelerate the process of acceptance, screening and loading."
Most recently, Airlink and digital freight forwarder Flexport joined forces to improve the tracking and handling of relief cargo needed in South Sudan. "By combining Airlink's invaluable, unique network with Flexport's platform and logistics professionals, non-profits gain access to affordable and reliable logistics services. This partnership allows non-profits to focus even more on their core services instead of worrying about the status of a shipment," says director of Flexport.org Susy Schoneberg. Flexport.org is designed to reduce global carbon emissions and provide low-cost logistics solutions for shipments dedicated to humanitarian aid.
Since its inception in 2010, Airlink and its airline partners have transported more than 4,000 passengers and more than 3,000,000 pounds of cargo in support of a broad range of humanitarian initiatives. The estimated value of these movements is at about $8,000,000.
Technology
When Fiji was affected by Cyclone Keni in April 2018, Amrita Lal, the first local drone pilot, who served as the coordinator of South Pacific Flying Labs based in Fiji helped in carrying humanitarian cargo. Similarly, DHL Parcelcopter 4.0 completed the 60-kilometre flight of delivering medicines to Ukerewe Island in Lake Victoria, Tanzania in 40 minutes on an average. Through the overland route, it takes six hours to cover due to poor infrastructure and difficult terrain. The gradual steps towards Fourth Industrial Revolution.
RSA National is using Hermes, a leading provider of CMS hub management system and business intelligence, at their new air cargo terminal. Hermes provides one integrated platform to handle key areas such as customs, service management and revenue accounting. Thus, helping them to optimise cargo handling capabilities and generate smarter process flows. Moreover, the system will be configured to the requirements of their customers so that it can provide seamless visibility and control.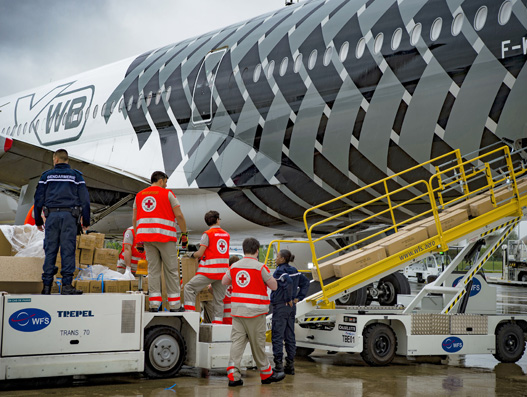 photo:  Airbus
Loading 30 tonnes of emergency goods and 84 medical personnel from Toulouse Airport, France onto an A350 aircraft to Pointe-à-Pitre, Guadeloupe
Peter Musola, cargo commercial manager, Kenya Airways opines, "We have a system called 'Track & Trace'. We have done several enhancements on this system in the last couple of years. This year, we have launched KQ cargo app for convenient shipment tracking to our customers. We are in the process of prospecting new freighters. As we have a very rich intra Africa network, we deploy Embraer with not much off a payload, and the 738s about 2-3 tonnes. Whenever there is a small shipment, we also visit belly as it is cost effective to the humanitarian agents."
With Airlink, Flexport.org has played a pivotal role in assisting with cargo tracking, keeping the team on the ground informed of the cargo's arrival. The coordination and facilitation of the cargo movement ultimately resulted in emergency and long-term relief efforts throughout South Sudan. "The 1.5 tonne shipment into South Sudan was unique in several ways. We were working with multiple non-profit partners to coordinate for proper shipment of the medicines and we were delivering to a region that is experiencing prolonged conflict," says Steven Smith, CEO, Airlink.
Challenges
Transportation of humanitarian cargo is challenging due to the infrastructure logistics, access and security concerns experienced by countries affected by natural disaster or conflicts. In addition, the nature of humanitarian aid requires timely delivery of supply to support the affected population. Since 2015, UNICEF has shipped over 50 charter flights with over 500 metric tonnes of vaccines to Yemen. Various approvals and permits must be first obtained from Yemen, Djibouti and Saudi Arabia authorities prior to shipment, including the approval to enter Yemen airspace which is granted by a designated window time given the day before the flight.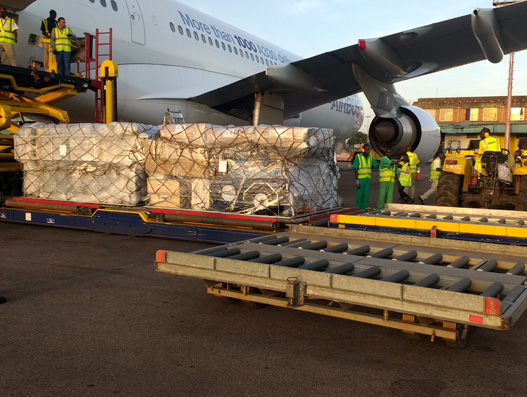 photo:  Airbus

Unloading 17 tonnes of relief equipment and specialised water and sanitation equipment from East Midlands Airport, UK to Entebbe, Uganda from an A330 aircraft
Commenting on Yemen currently being one of the most challenging operations in terms of transport, both for air and sea shipments, Panadero says, "Vaccine shipments to Yemen require detailed planning and coordination with multiple partners. Due to the ongoing conflict in Yemen, there are no reliable commercial airlines for highly time and temperature sensitive products like vaccines. All shipments need therefore to be coordinated by regular charter operation. Vaccines for Yemen are sourced globally from manufacturers in countries such as India, Europe, South-Korea or Indonesia, and are pre-positioned in Nairobi, where UNICEF's contracted freight forwarder arranges charter aircrafts to Sana'a, or Aden, via Djibouti. In this context, the biggest challenge to date has been responding to emergencies in recent years, including the supply of oral cholera vaccines (OCV) required urgently for outbreak response."
Speaking on Airlink's recently published guide on Air Logistics Preparedness Guidance Note, Liz Bloomfield, director of humanitarian programmes, Airlink comments, "Our goal is to facilitate efficient and effective movement of relief goods and passengers by air. The best way to accomplish that is to ensure the supply chain is operating smoothly. Through research and interviews with subject matter experts, we have developed a 10-step guide to help disaster responders navigate the complexities of the shipping process."
From preparation of a cargo movement request, to dispatch of the shipment to the point of embarkation, the guide clearly outlines each step in the shipping process and potential hurdles organisations may face. The second step-compliance with dangerous goods regulations (DG) reminds non-governmental organisations (NGOs) to carefully check their shipment for common relief items, like bug spray, and serves to outline additional paperwork and packing requirements associated with shipping these specific products. Building this kind of understanding ahead of time helps non-profit and NGOs prepare before the next emergency, and helps ensure that they can act quickly should complications arise.
Musola says, "At Kenya Airways, employee safety comes first so our team gives an assessment of the area before we deploy our operations to the affected location. Once our security department gives the clearance of that area, our crew takes off. Through B737Fs, we have moved lot of pharmaceuticals and vaccine shipments to Juba, South Sudan together with UNICEF in the last couple of years. There are cases where we have moved over 200 tonnes of humanitarian cargo only to Juba in a year. In association with the World Food Programme, we have done shipments to Central Africa Republic especially Bangui with around 80 tonnes at the start of 2018."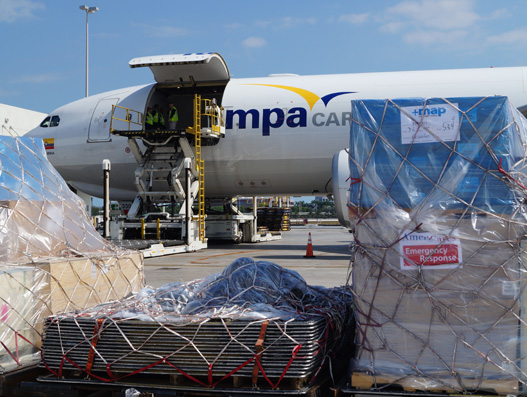 photo:  Airlink

Avianca charter being loaded up for the Ecuador earthquake
In September 2018, the Airbus Foundation and Indian Red Cross Society (IRCS) have partnered to provide relief to communities reeling under the impact of Kerala floods in India. Heavy flooding caused by monsoon rains peaking in mid-August caused 483 deaths and displaced more than a million people in this region. Using a multi-role H135 helicopter, Airbus Foundation provided airlift service of 50 flying hours, carrying essential relief, including medicines, water purifiers, clothes and tents, across the most affected districts. The Foundation also helped move relief from IRCS warehouses in Mumbai and Chennai en route to Kerala.
So far, National Airlines has primarily used its own fleet of B747-400Fs and B757-200s for such operations. However, with cases like Nepal, where bigger airplanes were not allowed in Kathmandu during the catastrophe, its own B747s were used to move relief materials (medicines, tents, clothes, food) to New Delhi and had a leased A300F to move cargo between Delhi and Kathmandu.
Flying lifeline
Through the Airbus Foundation Humanitarian Flight Programme, the foundation offers service to Airbus customers to use the delivery of their new aircraft to contribute to humanitarian efforts. By doing so, the programme helps the humanitarian community reduce its high logistics costs by delivering medical and school supplies, food, water, sanitation equipment, toys, clothing and emergency response units to the most vulnerable areas. Both Airbus-owned test aircraft as well as delivery flights of airline customers have been used for humanitarian flights.
With dedicated commercial airline partners like United Airlines, Cathay Pacific Airways, and Emirates, Airlink is able to utilise a broad network to move responders and cargo into disaster affected regions. Airlink moves relief cargo either via the belly space of its 40+ airline partners or through dedicated charter flights. Airlink has typically utilised Boeing 767F and MD-11 aircraft for charter flights. In rare cases, the organisation may charter a Boeing 747 to complete long deliveries. Airlink's network consists of more than 40 commercial and charter airlines and over 80 international non-profit organisations.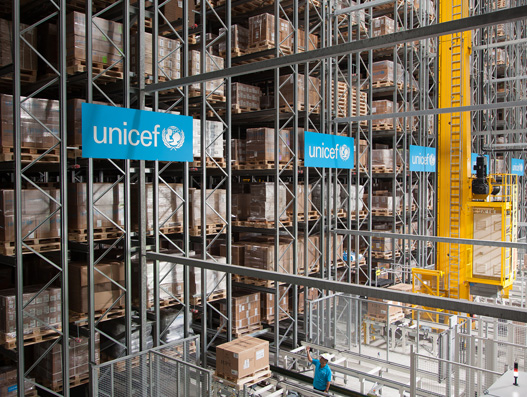 photo:  UNICEF

Inside the high bay in UNICEF's global warehouse, Copenhagen. The warehouse, a donation from the Danish government, handles 4% of UNICEF's total annual procurement.
Following the disaster at Palu, the Indonesian government required international organisations to submit requests to enter the country to provide assistance. "As Indonesia moves toward recovery, it is possible that Airlink will be able to support relief cargo into Palu. However, the logistical challenges both in geography and documentation, persist in this response, and we will continue to work with our non-profit and NGO partners to help them understand and overcome these challenges," says Bloomfield.
Power of partnerships
During the Ebola crisis in West Africa, Airlink has sent healthcare workers and 100 shipments of aid for 37 different NGOs using 11 airlines. White says, "In Liberia, when the Ebola virus attack broke out, we joined in with governmental and relief agencies in moving passengers as well as medicines. We placed a station manager in Liberia for more than a month to coordinate this operation efficiently. We formulate a blue team within operations who coordinate with relief agencies, governmental and semi-governmental agencies or NGOs, and synchronise the planning, pick-up and delivery of relief materials. We usually have our own personnel travel with the airplane or reach the destination beforehand to coordinate with the local authorities for a smooth delivery."
Airlink partnered with Emirates SkyCargo and Flexport.org to move nearly two tonnes of medical supplies to Kerala. MedShare, the Airlink non-profit partner supported by the effort, received the services provided free-of-charge. On the similar lines, a four-tonne shipment of medicines and supplies to treat survivors of Super Typhoon Yutu in the Commonwealth of the Northern Mariana Islands arrived in Saipan last week. Airlink partnered with United Airlines and Flexport.org to move the shipment of emergency supplies free-of-charge for Americares, a non-profit disaster relief and global health organisation headquartered at Connecticut, US. The shipment, valued at more than $1.8 million, included antibiotics, wound-care supplies, tetanus vaccines and other essential health and hygiene products. Donated trucking from Airlink partner American Logistics Aid Network (ALAN) transported the supplies from Saipan Airport to Commonwealth Health Centre, the main hospital serving the island.
On the other hand, UN has launched a joint response plan (JRP) for Rohingya Humanitarian Crisis with its partners calling for $951 million to continue delivering lifesaving assistance from March to December 2018.
"In addition to regular delivery of supplies through surface transport or regular commercial flights, the response to the Rohingya crisis required various charter flights. These were both commercially contracted through freight forwarders from commercial carriers and arranged through donations from partners such as UPS operated for delivery of vaccines, pharmaceuticals, hygiene and relief supplies," states Panadero. UNICEF works with freight forwarders who are selected through competitive procurement process. Upon request from UNICEF, the contracted freight forwarders identify and provide several options with various carriers to UNICEF, from which the option providing best value for money will be selected by UNICEF taking into consideration availability of air assets, costs, timelines and other relevant operational factors. UNICEF does not have a direct contractual relationship with airlines. "Through our contracted freight forwarders, we work with carriers known to be reliable and having high service levels to ensure on time and safe delivery of supplies to some of the most difficult to reach destinations in the world," he comments.