Speed, reliability override cost of air cargo chartering
Air cargo chartering is one of the most profitable businesses out there right now due to the uncertainty created by the pandemic and the desperate need for economies to get back on track by moving goods.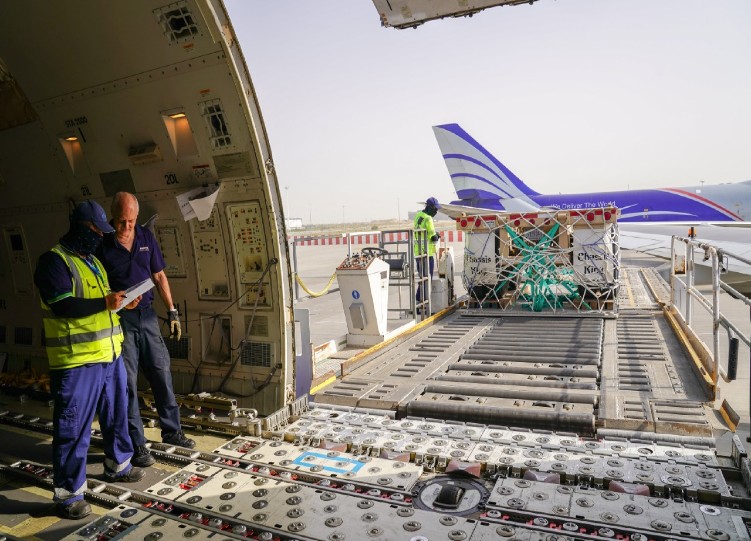 With relentlessly high rates air cargo chartering is already thriving in the chaos caused by pandemic, container shortage and it will be due to Suez Canal blockage. However the cost charged by the brokers and airlines can be justified with the speed, reliability and security offered.
Air cargo chartering is one of the most profitable businesses out there right now due to the uncertainty created by the pandemic and the desperate need for economies to get back on track by moving goods. It is also the most expensive mode of transport in the entire world to move anything from one place to another however they are the most reliable and the fastest method as well.
Particularly during times of crises, like that of the pandemic, the reliability and speed with which charter operators could move these goods and shipments especially those that are urgent outweighs the cost.
Since 2020 March it was a series of chaos from the loss of belly capacity to delays in maritime due to container shortage to seasonal surge to the exponential rise in e-commerce and till the latest Suez Canal blockage. Thus the pandemic turns out to be one of the most profitable eras in the history of air cargo chartering.
According to Allied Market Research, the global airfreight market was valued at $270.2 billion in 2019 and is projected to reach $376.8 billion by 2027, while according to BlueWeave Consulting, the global air charter services market is estimated to be $36.4 billion by 2027 from $26.1 billion in 2020.
Ekaterina Andreeva, commercial director, Volga-Dnepr Airlines, said, "Traditionally scheduled operations outnumber charter flights, but last year we estimate that the situation was 60 percent scheduled vs. 40 percent charter, given that with the ease of restrictions in the second half of the year we have seen re-introduction of schedules by major carriers."
Robert Jubb, head of freight, UK, Air Partner, said, "Over the past 12 months, we have seen higher demand for air cargo charters to transport general cargo. Forwarders are now choosing the security of a charter solution to have their cargo delivered on time and in full.
With pandemic causing sharp capacity decrease and yield surge, e-commerce customers were seeking price-wise solution which will not influence the end consumer.
Ekaterina Andreeva of Volga-Dnepr Airlines
"When a client needs to move 100 tonnes of cargo on scheduled services, it can take weeks to get everything to the destination. A charter solution can move all of this in one flight timed to suit the client, and a charter operation is certainly competitive on price with scheduled options. With sea freight costs being at an all-time high this also makes air charter operations, particularly when you take into account the quick delivery times, a reasonable alternative," he added.
Commodities before & after Covid
There has been a significant shift in the type of commodities transported by charter airlines before and after the Covid-19 pandemic. Even though charter operators carry commodities that are urgent and only when scheduled carriers don't have space, still they had a certain set of goods that they usually carry. However, the pandemic has shifted that to anything and everything that is urgent.
Andreeva, said, "Air charter option has usually been the case for urgent or project cargo shipments, likes of outsized and heavy cargo which requires thorough preparations, humanitarian missions, special live animals or fresh flowers flights on the eve of dedicated holidays."
She notes that the air charter option has been rarely used for e-commerce as these shipments need speed, variability of flights per day and normally consist of general cargo. "With the pandemic causing sharp capacity decrease which resulted in yield surge, e-commerce customers were seeking for price-wise solution which will not influence the end consumer and the item price tag. This resulted in ACMI or long-charter programmes which have been in demand by our customers," she added.
Jubb, said, "Pre-pandemic commodities were mainly perishables, aerospace, automotive, oil & gas, pharmaceuticals or highly valuable and/or time-critical cargo. During the pandemic, we were moving an unprecedented amount of PPE and pharmaceuticals and we continue to do so to support vaccination programmes. We are also seeing a huge uptake in charter solutions for cargo with a lower value but still have to be at its destination on time."
He informed that the huge surge in online shopping across the world has meant that air charter services have been used to fulfil increased e-commerce-related demand. "For example," he added, "seasonal sales which require timely transportation of goods such as garden furniture or clothing. It is likely that the appetite for online shopping will remain high when life returns to normal, sustaining the demand for charter operations."
Nihal Wickrema, vice president, strategy & revenue optimization, National Airlines, noted, "Before Covid-19, the type of cargo that has been transported by air charters across the world, were mostly perishables because these have low shelf lives and are highly time-sensitive shipments. Once the pandemic hit the world, any type of commodity is being moved by air."
"For example," he said, "Due to the ongoing global trend of work from home, the demand for IT equipment has increased manifold. Such new trends are offering opportunities for air freighter operations across the globe."
Airfreight rates, geography
If you really want to move your goods on air, and particularly air charter, make sure that you are well updated about the current prices. Last year, the world already has seen crazy numbers and graphs with prices going up to all-time high.
"Clients are ready to pay top dollar for the best freighter services," as Wickrema informs.
According to the April 2021 market data from CLIVE Data Services and TAC Index, reduced capacity levels saw the load factor and prices remain relentlessly high. "Airline cargo capacity down 14 percent versus 2019, loadfactor remained at 73 percent, 7 pecent points higher than in 2019," it reads.
China and Hong Kong - Europe pricing for the last three years reveal an increase of 30 percent and 17 percent respectively year-on-year or a rise of over 50 percent versus 2019. (March 2019 - $2.70/kg, March 2020 - $3.51/kg, March 2021 - $4.09/kg)
Wickrema added, "As always, far east dominates the demand in specific routes like China to the US, China to Europe and also Japan to the US."
Andreeva said, "The busiest trade lanes have been and will be Europe to APAC, Europe to America, Asia/China to the US given the capacity constraints, slow recovery of passenger carriers amid the revival of manufacturing in China and APAC. With re-introduction of some industry projects, we have also seen some demand across the Middle East, Africa and CIS countries."
We cannot expect normalcy in passenger operations for 2 to 3 years. Therefore the role of charter operations will remain vital to sustaining many global needs and demands.
Nihal Wickrema, vice president, National Airlines
Jubb noted, "Asia to Europe and Asia to the US remain very busy routes. The manufacturing industry in Asia is very significant and the demand for their goods in Europe and the US is high. As the demand for cargo capacity grows on the Europe - US route, there is a lack of capacity on scheduled services and so we are also seeing an increase in demand for charter here, too."
There is a lot of hype about air cargo these days due to the rates flying high, but Russi Batliwala chairman of board, Chapman Freeborn is really doubtful about if this trend will continue as he was talking in a recent video interview organised by STAT Media Group under Cargo Masterminds series. For example, he said, the rates are so high that you can operate a medium-sized aircraft, say, B767 on transatlantic profitably. "In normal times, I'm not sure you can do that," he said. He doubts that whether those rates will be sustained going beyond two years or three. "But then as e-commerce increases, there will be always a requirement and it probably will," he added.
Suez Canal blockage, modal shift
Charter brokers and airlines already report that there are new enquiries coming in from freight forwarders checking prices due to the recent blockage at the Suez Canal. Even though the ship was floated after efforts of one week, it is expected to have implications on all trade routes and particularly between Asia and Europe.
Liana Coyne, chief operating officer of Coyne Airways, said, "We have received enquiries from several forwarders checking prices. Shippers who have not yet settled on the mode of transport may reconsider air cargo for the greater certainty, security and reliability and in view of container shortages, increased sea shipping rates and delays."
In a recent statement, Mike Hill, SVP Asia Pacific, Air Partner, said, "There has already been a marked shift from sea to air over the last months, due to ongoing sea freight problems as a result of pandemic-related major disruption. Sea freight capacity currently requires around 3-4 weeks advanced booking time, and sea freight shipments scheduled to leave Asia in the next 1-2 weeks have been affected.
"While Air Partner is not feeling an immediate Suez effect, looking ahead, resultant disruption to global supply chains could still be felt for months to come. This could further increase the amount of cargo moving from sea to air," he added.
Wickrema said, "Land transportation has been heavily affected due to border closures, especially in Europe. Sea transportation is also affected due to the imbalance of containers and restrictions across the world."
For example, "The pandemic has heavily affected the automotive industry. 90 percent of spare parts that were transported by sea are now being moved by air," he added.
National Airlines reported that they recently saw a big boom in compost rubber being transported from Thailand. Wickrema informed, "Industry found it cheaper to get compost rubbers to stations in Europe where tyres will be produced."
Aircraft trends
Fourteen months back freight business was dominated by the bellies and when they disappeared a lot of them have to find their way by shifting to freighters. One of the greatest trends in airfreight and chartering is the use of preighters or passenger aircraft used for cargo-only operations. Many described this trend as something that will last only for few months. However, preighters still rules the airfreight market and charter brokers are now booking for coming months as well, even though the long term sustainability of such operations are doubted.
Batliwala, said, "In January and February of 2020, the whole industry was in a downward spiral. People were returning aircraft. We, in Chapman and Magma, returned Boeing 747s to the lessor in February and only wish we had it back in March. From March, the demand started to climb throughout the year. The need for freighters boomed in all verticals. We also had a very good and successful year with freighters. With our own leased assets like the B747s flying flat out for some of the major forwarders. Aircraft specialise in automotive were incredibly busy in moving automotive freight in Europe. Our third party chartering and preighter chartering are very strong and continues up to today."
"With 40 freighters," Andreeva informed, "Volga-Dnepr Group is ready to leverage various types of cargoes including outsized or super heavy on An-124 or Il-76, charters to unique destinations like Il-76 to Antarctica or a series of charters for special types of cargo like livestock to the Far East on B747 and flower charter to Russia & CIS."
She pointed that preighters have been a one-time solution and predict that they will slowly disappear due to high time and labour consuming operations. "Besides, they have a lot of limitations in terms of cargo commodity and cannot be viable for outsize and super heavy/long shipments."
Jubb informed that they are educating clients on the benefits of using preighters and expect to see more demand as a result. "Preighters are offered by a large number of operators, but they are still quite an unknown and consequently there is some hesitancy to use them. Purpose-built freighter aircraft, such as the B747, B777, B767 or A330, are the preferred choices, due to the volume that these can take per flight," he added.
Wickrema said, "Industry discussions and experiments are underway to find options to use even A380 for freighter movement by removing the main deck seats. This can be a future option. However, passenger aircraft have a limitation in capacity optimization, so freighters are the best option."
He noted that the trends in the type of aircraft used by charter operators have remained the same. "Some of these aircraft types include B747F, B777F, A330F, B767F, B757F, B737F and even IL 76. It is believed that till 2024, much new freighters will not be coming into the market. Even conversion freighters are limited. Capacity inducted in the market is limited. Therefore, National Airlines is in an advantageous position by increasing the fleet size from two B747Fs to five," he added.
He also pointed that we cannot expect normalcy in passenger operations for 2 to 3 years. Therefore the role of charter operations will remain vital to sustaining many global needs and demands.